Shenandoah National Park to the James River
Driving Distance: 64 miles
This stretch of wild blacktop harbors highlights aplenty. Stop off at the Humpback Rocks Visitor Center at mile 5 and get oriented with the Parkway, then check out the authentic log structures at the William J. Carter Farm, near the Humpback Rocks.
Continuing south, drive past Sherando Lake, then stop at The Priest Overlook, milepost 17.6, where the Appalachian Trail courses through Three Ridges Wilderness and The Priest Wilderness.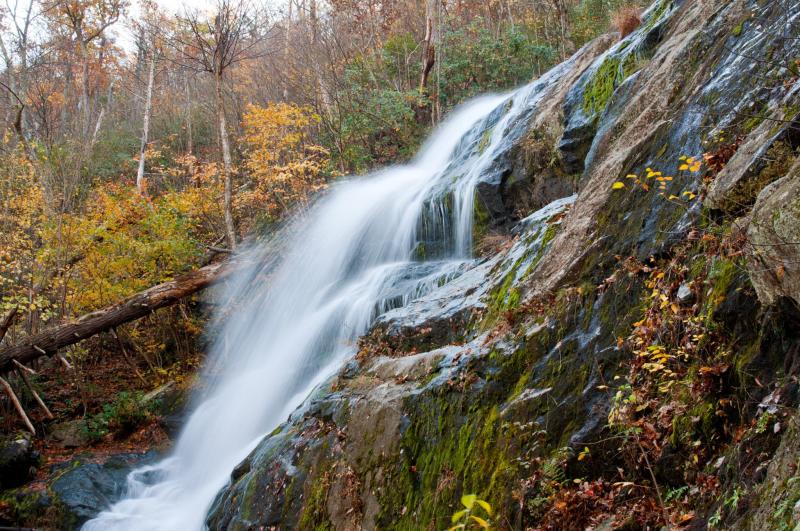 Crabtree Falls
It is a rewarding mile walk to White Rock Falls from The Slacks Overlook, milepost 20. Back on the Parkway, reach Tye River Gap, milepost 27.2, providing an exit to Steeles Tavern and the spur road to famed Crabtree Falls. At milepost 34.4, Yankee Horse Ridge, Parkway drivers will find petite, cascading Wigwam Falls, and a reconstructed logging railroad with historical displays.
US 60 crosses the Parkway at mile 45.6, allowing access to Buena Vista, the charming town nestled along the Maury River beneath the Blue Ridge. At mile 53.1, motor into the only Parkway tunnel in Virginia, boring 630 feet through Bluff Mountain. The scenic road then descends along Otter Creek to the regal James River, where you find a visitor center and the lowest elevation of the entire Parkway at 649 feet. Here, US 501 leads off the Parkway to lovely Lynchburg or iconic Natural Bridge and I-81.
Driving Distance: 56 miles
Experience literal highs and lows on this Virginia Parkway parcel. Drive from the lowest spot on the Parkway at James River to the state's highest Parkway point atop Apple Orchard Mountain, over, 3,900 feet. Stop at Sunset Fields Overlook, milepost 78.4, for an evening view or a walk down to 200-foot Apple Orchard Falls.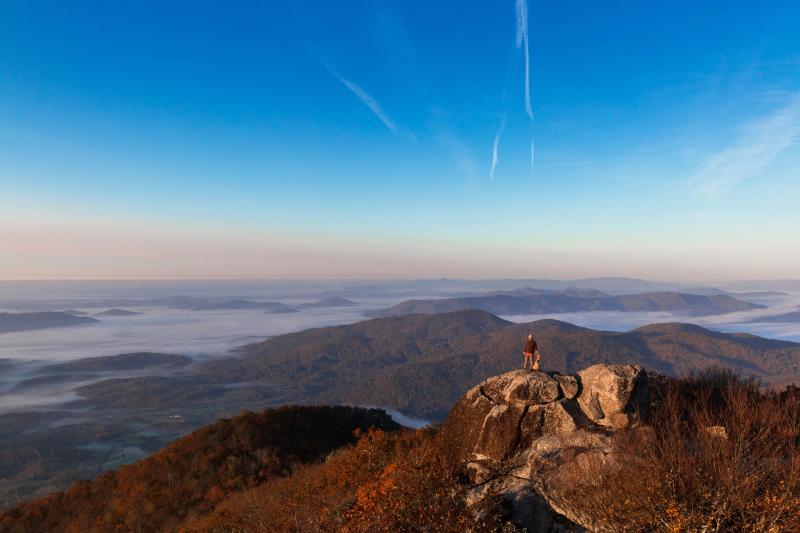 Sharp Top Mountain
The Peaks of Otter area, milepost 83.1 to 86.0 is a highlight cluster and the primary attraction of this Parkway drive. Here, you can hike, camp, fish, see historic sights and even stay in a lakefront lodge. Destinations such the historic Johnson Farm, Sharp Top, Flat Top, Fallingwater Cascades, and Abbott Lake make this a must stop. The town of Bedford can be accessed from here, too.
Soak in a view at The Great Valley Overlook, milepost 99.6, before rolling on toward Roanoke, where you descend to the Roanoke River. At milepost 115.1, you will find a visitor center and Explore Park, an agglomeration of historic buildings and nature trails beside Roanoke River. End this drive in the shadow of Roanoke, where citified offerings are as bountiful as curves on the Blue Ridge Parkway.
Roanoke to Blue Ridge Music Center
Driving Distance: 98 miles
This drive courses through a more pastoral section of the Blue Ridge. Leaving Roanoke, first visit Roanoke Mountain, milepost 120.4, with its fun trail network and vast picnic area, then stop at Roanoke Valley Overlook, milepost 129.6, allowing a panorama of the populated valley below. Smart View, milepost 154.5, presents a historic cabin, picnicking and woodsy trails – plus a "right smart" view.
The Rocky Knob area, milepost 167 to 174 is another collection of scenery and activities. Views abound from the high meadows here. Explore Rock Castle Gorge or stop in the visitor center and learn about the network of rewarding nature trails. Pitch your tent or park your rig at Rocky Knob Campground. Fairy Stone State Park isn't far off the Parkway from Rocky Knob, either.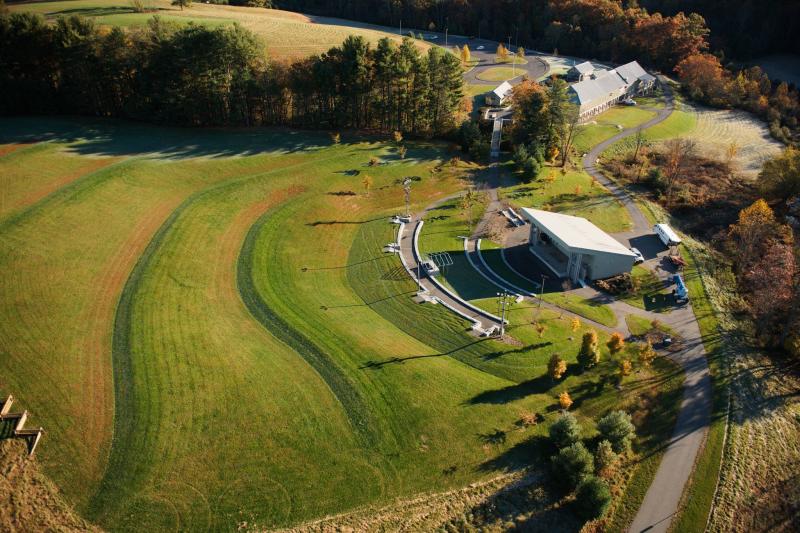 Blue Ridge Music Center
Mabry Mill, milepost 176.2, is a must stop and possibly the most photographed spot on the entire Blue Ridge Parkway. Visit the restored mill astride a reflecting pool where living history displays are held. Enjoy some country cooking while there. Grab a quick view from Groundhog Mountain Tower, milepost 188.8, then motor on to the Blue Ridge Music Center, milepost 213.0, a unique Parkway venue offering a variety of Appalachian music and a free museum telling the story of the Roots of American Music. Check the schedule at www.blueridgemusiccenter.org. This is the last big stop on Virginia's Blue Parkway before entering North Carolina 3 miles farther. From there, the Parkway continues south to reach Great Smoky Mountains National Park.
Milepost Services
Milepost 0 - Rockfish Gap leads north to Skyline Drive in Shenandoah.
Milepost 5-9.3 - Humpback Rocks features Appalachian cultural sites, hiking, and access to Sherando.
Milepost 58-63.6 - Otter Creek and James River for Appalachian cultural sites, hiking, campground, picnic.
Milepost 86 - Peaks of Otter features Appalachian cultural sites, a Visitors Center, gas station, camp store, picnic area, campground, hiking and fishing.
Milepost 154.5 - Smart View for picnics and hiking.
Milepost 169 - Rocky Knob features a Visitors Center, gift shop, cabins and campground.
Milepost 176.1 - Mabry Mill features Appalachian culture, gift shop, restaurant and hiking.
Milepost 210 - Blue Ridge Music Center for Appalachian culture and outdoor amphitheater.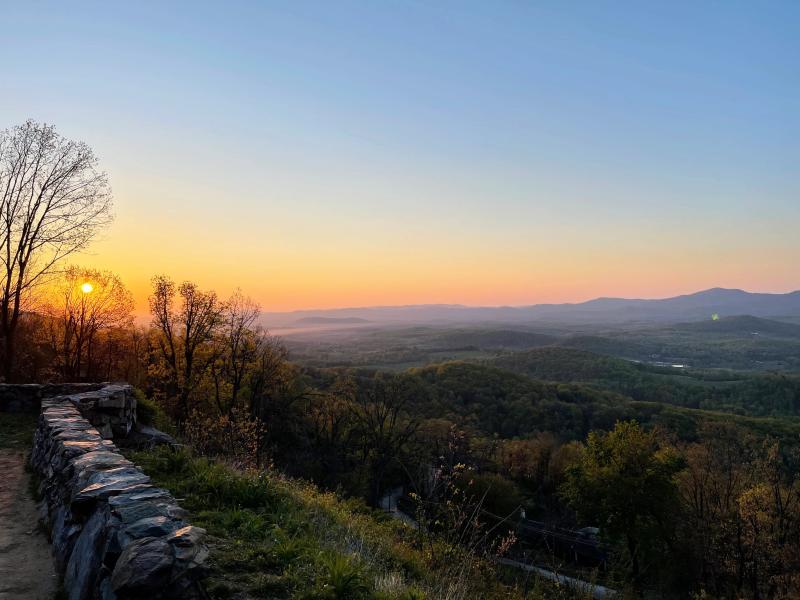 Rockfish Gap
Just off the Parkway
In case your trip down the Blue Ridge Parkway requires replenishment, visit one of the communities just a hop, skip and a jump away.
Milepost 0 - Waynesboro
Milepost 46 - Buena Vista
Milepost 86 - Buchanan
Milepost 120 - Roanoke
Milepost 160 - Floyd
Milepost 176 - Meadows of Dan
Milepost 200 - Fancy Gap
Experience the beauty of national parks and 400 years of history on an unforgettable East Coast…
Virginia's Skyline Drive is a National Scenic Byway that runs 105 miles along the crest of the…