Handmade Instruments: Luthiers and Fiddle Makers
Luthiers and fiddle makers are common along the Crooked Road. One of the greatest teachers of the art was the late Albert Hash of Whitetop in Grayson County, who influenced some well-known luthiers and fiddle makers along the Crooked Road.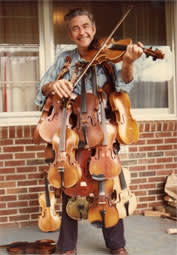 Albert Hash's daughter, Audrey Hash Ham, carries on the tradition today, handing it handed down to another generation, as has been done for centuries.
One of Hash's apprentices was Wayne Henderson of Rugby. Henderson, a master guitar maker and award-winning picker, is known around the world for his guitars. Even Eric Clapton waited several years for one! You can read all about it in the book, "Clapton's Guitar" by Allen St. John.
Henderson taught Gerald Anderson how to make guitars and other fretted instruments, such as the mandolin. Anderson has built more than 100 mandolins over the past 40 years. Anderson's mandolins are modeled after the classic instruments made by Gibson in the 1920s.
Today, one of Gerald Anderson's apprentices is Spencer Strickland. Anderson and Strickland made the hand-crafted mandolins and guitars offered as prizes in The Crooked Road Sweepstakes.  
Jack Branch of Bristol is a fiddle maker, another early apprentice of Albert Hash, who happened to be his brother-in-law, too. Branch also learned the techniques of making fine Italian-made instruments, even double basses, from Karl Becker, a famous luthier in New York.
Another one of Hash's apprentices is Tom Barr of Galax, who owns and operates Barr's Fiddle Shop in Galax, where many professional musicians hang out and jam as well as purchase their instruments and music supplies.
Randall Eller of Chilhowie, studied with Hash. Today he and his sons make fiddles and mandolins at Cabin Woodworks. Eller plays fiddle and guitar with the old-time band, Cleghorn.
Other notable luthiers and fiddle makers along The Crooked Road include John Dancer of Damascus in Washington County; John Huron of Bristol; Mac Traynham of Willis in Floyd County; James Savage of Pipers Gap in Carroll County; Walter Messick with Cabin Creek Musical Instruments in Mouth of Wilson, Grayson County; and Wayne Powers and Bradley Hill of Haysi in Dickenson County.
For more information on how you can purchase a beautiful handmade fiddle, guitar, mandolin or other stringed instrument, please contact the folks at the Visitor Center in the region you plan to visit.
Travelers who crave something real, meaningful and pure are finding their way to Virginia. The Old Dominion's cultural traditions are as diverse and beautiful as the people who keep them alive - from the hollows of Appalachia to the tobacco barns of Southern Virginia to the crab shacks of the Chesapeake Bay. These are the places where visitors can touch, hear, see and be something extraordinary, even if only for a moment.
Wayne Henderson
Wayne Henderson's passion and skill for building acoustic guitars reached all the way from Virginia's Appalachian Mountains to the eyes and ears of Eric Clapton. Between jam sessions, concert dates at Carnegie Hall and delivering mail, Henderson built Clapton's guitar - and the legend was born.
Henderson, now a master luthier, has given up life as a mail man and puts all his energy into crafting guitars and authentic mountain music along The Crooked Road, Virginia's Heritage Music Trail - one of the places in Virginia where visitors enjoy a brush with authenticity. Fans can catch Henderson strumming one of his own at his annual Wayne C. Henderson Music Festival and Guitar Competition at Grayson Highlands State Park in Mouth of Wilson. Held on the third Saturday of June each year, the festival brings together the region's top bluegrass and mountain musicians in a family-friendly setting.
Biography
Wayne Henderson has remained firmly planted not far from his boyhood home in Rugby, population seven. Ever humble, he remains unfazed by the "world class guitar maker" hype.
Born: May 3, 1947, Grayson County
Built First Guitar: age 14, from a dresser drawer bottom
Production Time: two to three weeks
Waiting Period: up to 10 years
Notable Clients: Eric Clapton, Doc Watson, Gillian Welch, Peter Rowan
Eric Clapton ordered two identical guitars - one for himself and one to auction for charity. The process is chronicled in Allen St. John's book, Watching Wayne Henderson Build the Perfect Instrument: Clapton's Guitar. The duplicate was auctioned off in May 2006 at Christies. It sold for $31,200 - the highest ever paid for a guitar made by a living American luthier.