Harrisonburg
Nestled in the heart of the serene and breathtaking Shenandoah Valley, Harrisonburg offers visitors a rich historical and cultural experience, a plethora of ethnic dining options, and an abundance of outdoor activities. It's here you can relax with your activity of choice, whether it be sipping on locally-made beer and wine, digging into farm-fresh dishes, scooping up tickets to see the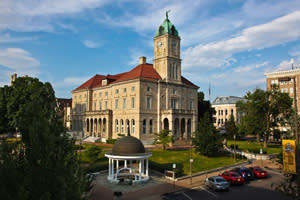 area's performing artists, or renting a bike to tour the city's picturesque landscape and acclaimed trails all during your trip to Harrisonburg.
Harrisonburg is also known for its vibrant downtown; the first designated Arts & Cultural District and the first Culinary District in Virginia. This 10-block walk is rich in Civil War History, iconic 19th century architecture, bike-friendly streets, family-friendly museums, innovative foodie spots, and trendy locally-owned shops. It also lures visitors and residents alike with buzz-worthy festivals and events, including a summer film and music series, weekly live music performances, biannual Taste of Downtown week, and numerous beer, wine and music festivals.
Begin your adventure at the Hardesty-Higgins House Visitor Center, where you can chat with a hospitable travel expert and learn more about the city's many amenities. With a variety of lodging options that warmly welcome travelers, Harrisonburg is ready to welcome you during your stay.
While you're here, our rich supply of recreational activities, local and ethnic dining, boutique shopping, Civil War history and family fun will allow you to see why we're "Friendly By Nature."
Contact:
Harrisonburg Tourism & Visitor Services
212 South Main Street
Harrisonburg, VA 22801