Scenic Skyline Drive in Shenandoah National Park
Virginia's Skyline Drive is a National Scenic Byway that runs 105 miles along the crest of the Blue Ridge Mountains starting in the north of the Shenandoah Valley at Front Royal to Waynesboro, where it meets the Blue Ridge Parkway. Skyline Drive is Shenandoah National Park's linear conduit, with 75 overlooks connecting travelers to all the major visitor centers, campgrounds, lodges, picnic areas and most trailheads. Concrete posts numbered every mile keep you apprised of your whereabouts. The Drive is a worthy destination in its own right.  
Fall is the most popular time to travel along Skyline Drive, with its colorful foliage from late September to mid-November. But spring offers the most colorful wildflowers along the drive, as well as blooming azaleas and mountain laurel.
Front Royal to Thornton Gap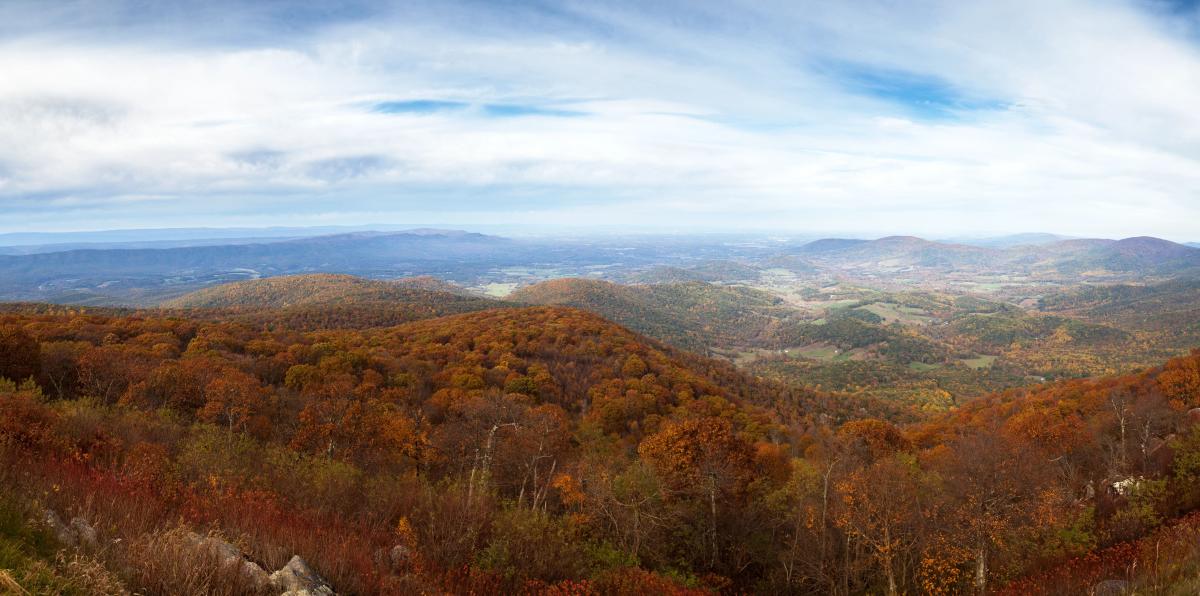 Driving Distance: 31.5 miles
This most northerly section, winding through the park's North District, rises from the town of Front Royal. Climb to historic Dickey Ridge Visitor Center, milepost 4.6 of Skyline Drive, once a dining hall with a stellar view. After orienting, consider walking the Fox Hollow Interpretive Trail, visiting old homesites. Next, stop at Hogback Overlook, milepost 20.8, the longest overlook in the park. Views stretch wide to match the overlook. Walk to Piney River Falls from milepost 22.1.
Overnight at Mathews Arm Campground, milepost 22.2, and make numerous hikes directly from your campsite. Grab some ice cream during the warm season from Elkwallow Wayside, milepost 24.0, or enjoy your own meal at the adjacent picnic area. Don't miss the view from Thornton Hollow Overlook, milepost 27.6, before rolling into Thornton Gap.
Thornton Gap to Swift Run Gap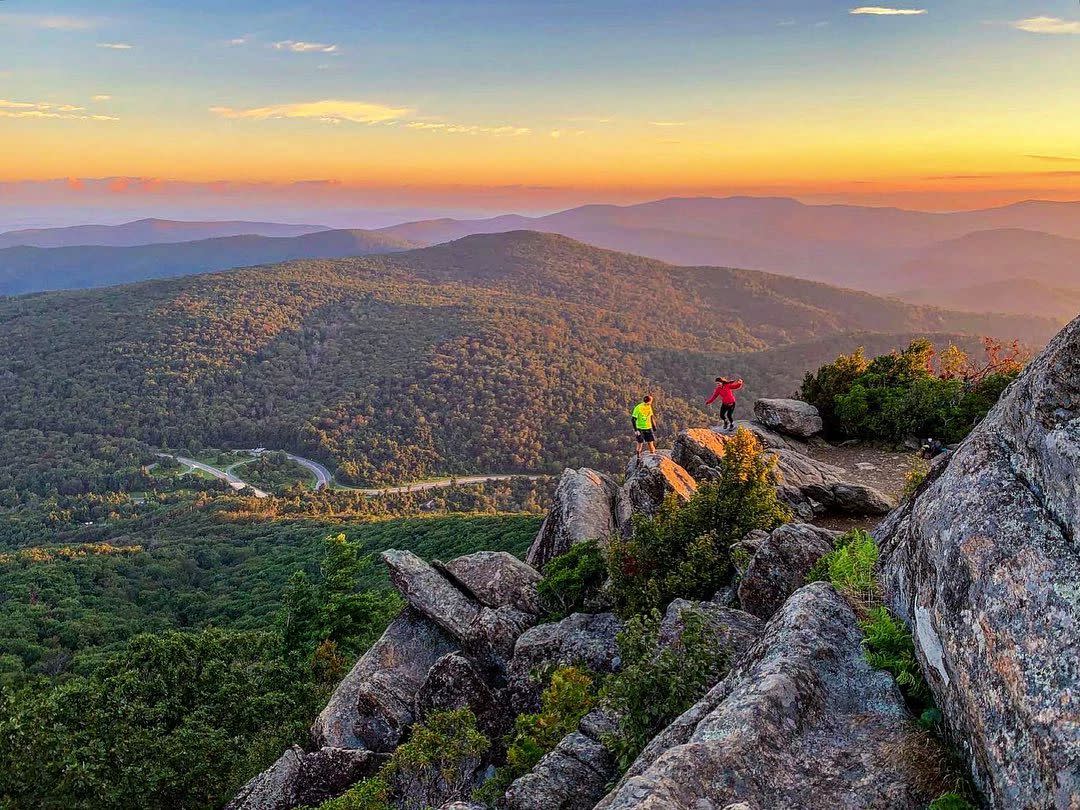 Driving distance: 34 miles
The Central District, from Thornton Gap to Swift Run Gap, is the land of superlatives – highest park elevation, highest point on Skyline Drive, most land mass, two lodges, two campgrounds, historic cabins, trails galore and two visitor centers. Some would argue the best views, too. Start your view-fest from both road and trail by hiking to Mary's Rock from Meadow Spring parking area, milepost 33.5.  Mary's Rock has 360-degree vistas from an outcrop and is my favorite lookout in the entire park. Pinnacles Overlook, milepost 35.1, presents auto-accessible views and a nearby picnic area. You can't go wrong overnighting at Skyland Lodge, milepost 41.7, and combining it with a hike to Stony Man, highest spot on the Appalachian Trail in the park. Speaking of high points, it is a ritual to head to Hawksbill, the park's highest peak, from milepost 46.7. At the peak you will find an embedded directional indicator, pointing out all the sights you will see from this lofty height.
The next must-stop is Big Meadows, milepost 51.0, where deer are often spotted. Big Meadows includes a lodge, campground, visitor center, dining and picnicking. Explore the displays here; this visitor center is a great place to stop and learn about the park and plan your next moves. Big Meadows Campground is the park's highest at 3,500 feet. Load up with goodies at the camp store, or hit the lodge dining hall. Nearby waterfall walks include Dark Hollow Falls, Rose River Falls and Lewis Spring Falls.
Visit the site of the first presidential retreat from Milam Gap, milepost 52.8, Rapidan Camp, where Herbert Hoover trout fished and entertained world leaders. View Big Rock Falls on the way to Rapidan Camp. Agile teens and adults will have fun navigating the boulders of the Bearfence Mountain Rock Scramble, milepost 56.4. Enjoy great views, too. Consider renting a cabin or pitching your tent at smallish Lewis Mountain Campground, milepost 57.5. It offers a more serene experience than does Big Meadows Campground. Finally, visit 83-foot South River Falls from the South River Picnic Area, milepost 62.8.   
Swift Run Gap to Rockfish Gap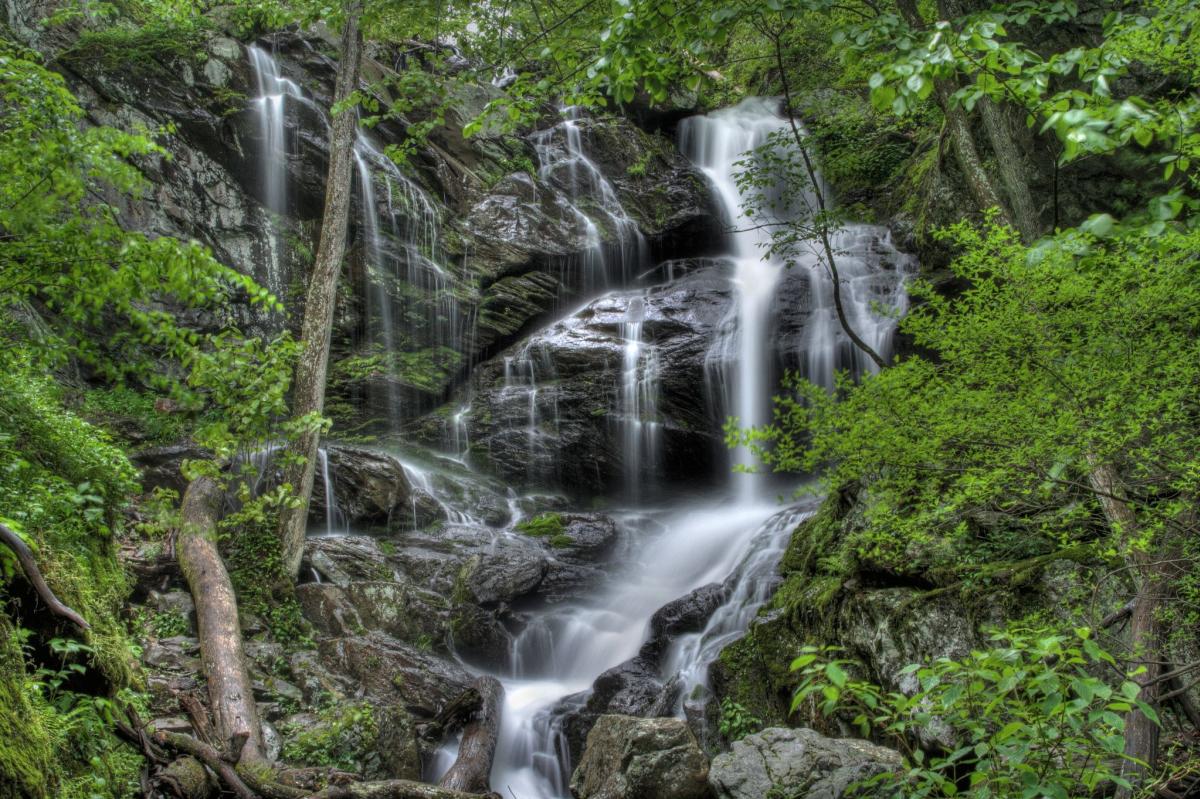 Driving Distance 40 miles
The South District holds claim to the longest and most quiet section of Skyline Drive. It is also long on wilderness and less on developed facilities. Known for its extensive rock formations, talus slopes, and outcrops, the South District reveals the most untamed side of the park, highlighted by the trails of the Big Run area. Interestingly, despite being a very rocky area, the area also has the park's biggest stream in Big Run, plus other aquatic destinations such as Doyles River and Moormans River. The primary developed area is at Loft Mountain, with a camp store and the largest campground in the park. Dundo Picnic Area and group camp is the only other developed facility in the South District.
Overlooks are plentiful from this segment of Skyline Drive. Heading south from Swift Run Gap, you can see the geologically revealing peaks from the Rocky Mount Overlook, milepost 71.2, where boulder fields, known as talus slopes, are exposed. Another geological show is revealed at Rockytop Overlook, milepost 78.1. The Loft Mountain area is found at mile 79.5, where you can get supplies, books and souvenirs at the camp store. A side road takes you to appealing Loft Mountain Campground that also offers showers. 
Bag three major waterfalls on one loop hike from Browns Gap, milepost 83.0 – two on Doyles River and one on Jones Run. Browns Gap is also a jumping off point for exploring the wilds of Big Run, with cool clear pools for a summertime dip. The park narrows heading south, limiting opportunities. However, a short walk to Chimney Rock from Riprap parking area, mile 90.0, will put an exclamation point on your Skyline Drive experience. 
Entrances to Skyline Drive:
Front Royal at Rt. 66 & 340. The Dickey Ridge Visitor Center has maps and information about Skyline Drive and Shenandoah National Park
Thornton Gap at Rt. 211 - See Marys Rock Tunnel near this entrance.
Swift Run Gap at Rt. 33
Rockfish Gap at Rt. 64 - this is also the northern entrance to the Blue Ridge Parkway.
Speed Limit: 35 mph - various animals might walk down the middle or cross the road.  
Where to Stay:
Where to Dine:
More Information:
Scenic Front Royal Getaway
Experience the beauty of national parks and 400 years of history on an unforgettable East Coast…
The Blue Ridge Parkway was designed for auto touring so it is no surprise that a drive along…