If waterparks are a little too formal or busy for your vacation style, here are some natural water holes that will soothe your travel-weary feet and soul.
COASTAL VIRGINIA AND CHESAPEAKE BAY
Assateague Island National Seashore on Chincoteague Island features both the Atlantic Ocean and the Chesapeake Bay. You might even spot some wild ponies nibbling on sea grasses!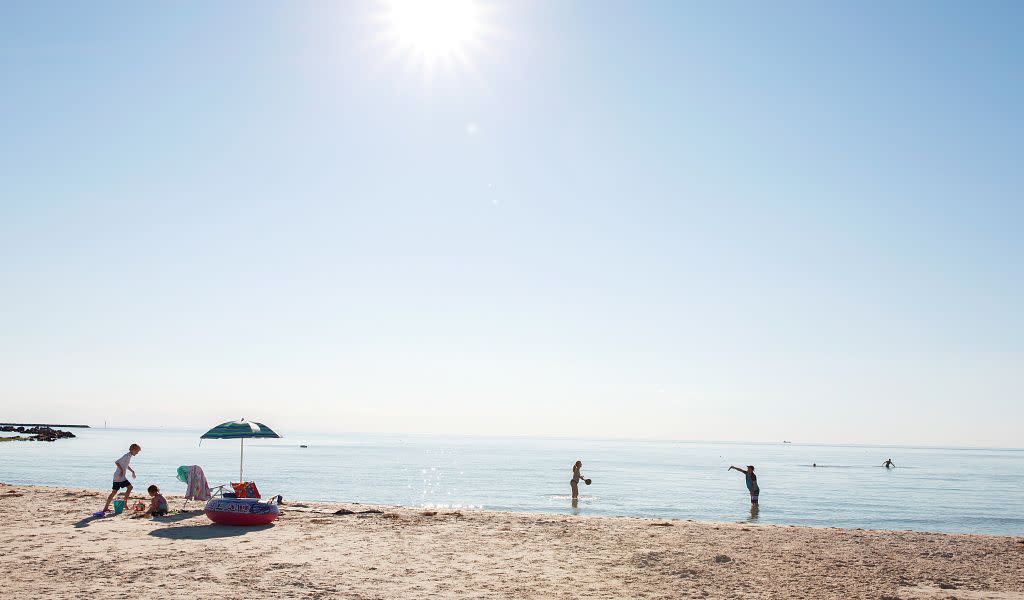 Cape Charles Beach is a free public beach. The shallow waters of the Chesapeake Bay, clean and refreshed by our proximity to the confluence of the Atlantic Ocean, make delightful vacations for families. There are no waves here. Mom and Dad can relax here while their children splash and play in the oversized wading pools of Cape Charles beaches.
Buckroe Beach borders the Chesapeake Bay in Hampton and offers eight acres of family-friendly sandy beach. Rent chairs, umbrellas, and paddle boats for a full day of fun. Food vendors are often on-site with hot dogs and sno cones.
Huntington Park is a 60-acre park with a public beach on the James River in Newport News. Lifeguards are on duty and concessions are available daily during the summer.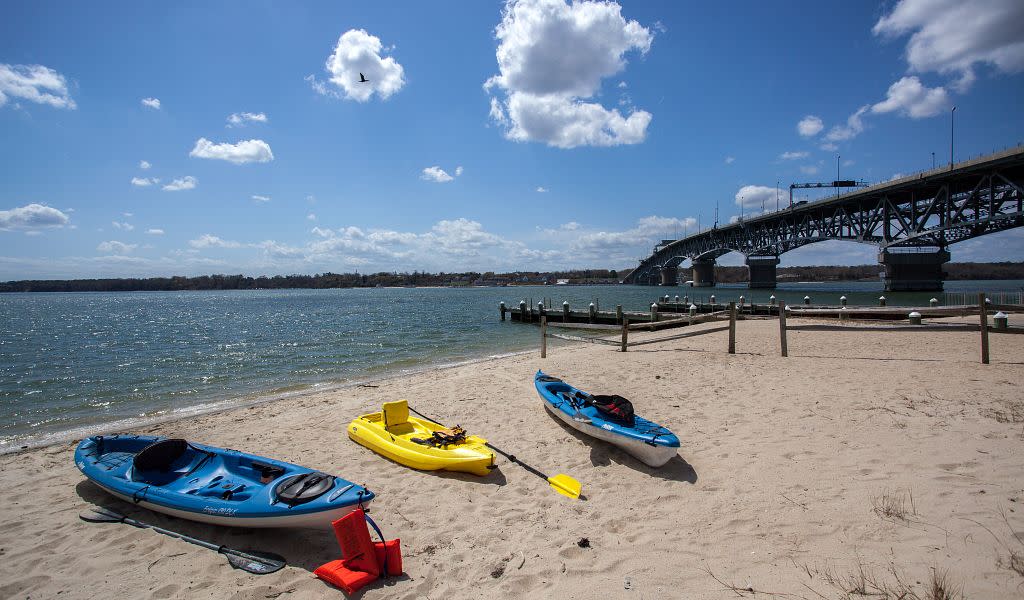 Gloucester Point Beach Park on the Chesapeake Bay features a shady and grassy park area with picnic areas and a shelter. The swimming area and sandy beach are perfect for sunbathing, wading, sand castles and other beach fun!
SOUTHWEST VIRGINIA
4-acre High Knob Lake is a cold water lake  with its 300' sandy swimming beach! Picnic, enjoy the bath house with showers, and keep an eye out for some entertainment at the nearby amphitheater. Camping available, too.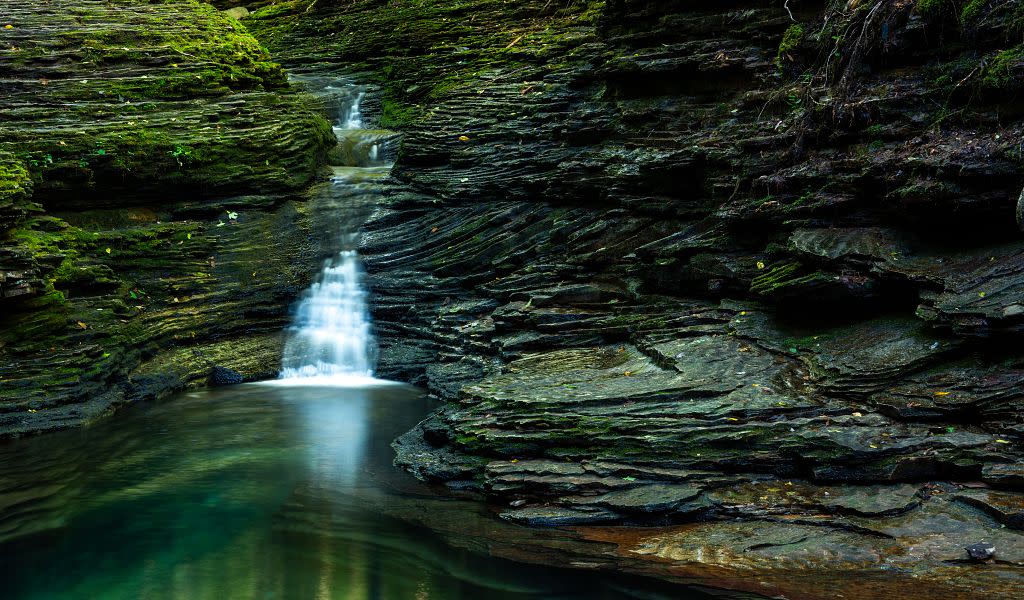 Devil's Fork Loop Trail is perfect for the true back country enthusiasts who are willing to get their feet wet. All hikers should be prepared to scramble over boulders, and should plan their visit during relatively low water conditions. The highlight of the trail is the spectacular Devil's Bathtub, a naturally smooth swimming hole.
Dismal Falls is 40 feet wide with a 12 foot drop into a plunge pool bordered by wide stone terraces that make for ideal viewing or repose spots. It's an easy hike for those who are less eager to venture far off the beaten path.
Fairy Stone State Park features a 168-acre lake adjoining Philpott Reservoir just minutes from the Blue Ridge Parkway. This park is famous for its fairystones, which are little cross-shaped crystalline stones.
Narrows Town Park is located on five acres situated between Wolf Creek and Park Drive in Narrows. There is a swimming area along Wolf Creek.
VIRGINIA MOUNTAINS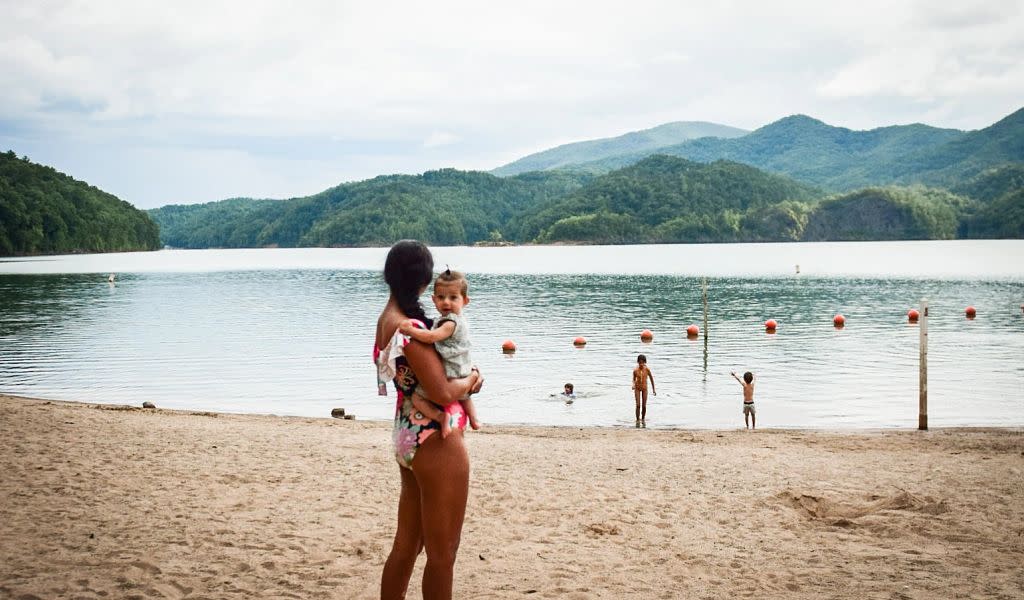 Lake Moomaw offers a mere 2,530 acres of lake! A convenient bathhouse makes the beach area quite enjoyable. Other activities at the Lake include boating, water sports, fishing, camping, picnicking, hiking and in-season hunting.
Blowing Springs Recreation Area is a campground in the Jefferson National Forest with Back Creek running alongside. There are numerous swimming holes to cool down in on hot summer days.
NORTHERN, CENTRAL, AND SOUTHERN VIRGINIA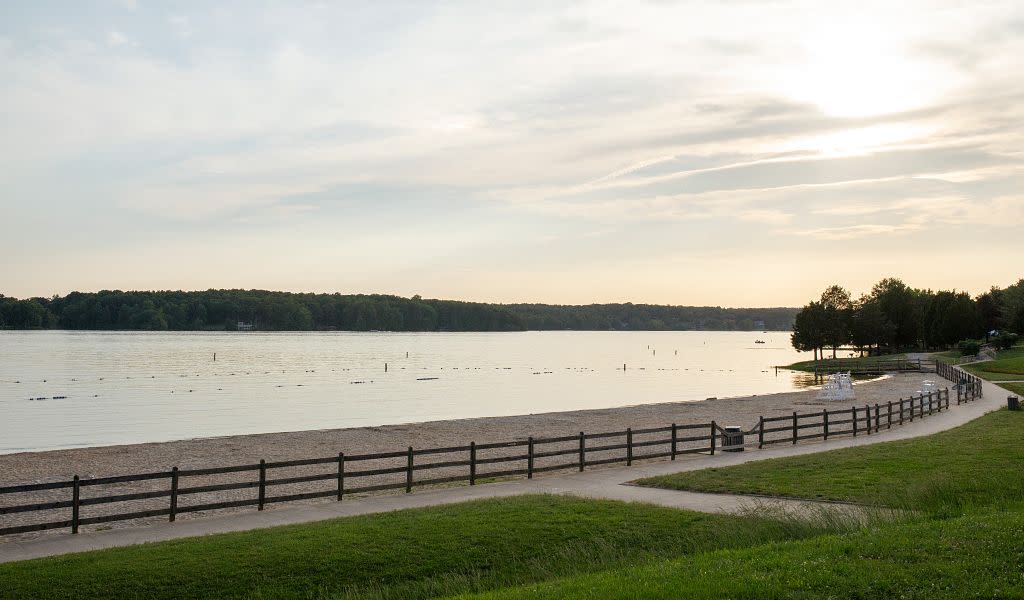 Lake Anna State Park features a swimming beach on one of Virginia's most popular lakes. Panning for gold and nature programs are other popular activities.
Bowens Creek Park in Bassett is Phillpot Lake's day use facility. Your family can spend an entire day boating, swimming or enjoying a picnic at one of the picnic areas.
Sherando Lake features swimming, camping, picnicking, hiking, and fishing. You'll find the sandy beach, shady grass area, and warm showers in the bathhouse to be quite inviting.