Wineries and Cideries
Many of Virginia's wineries and cideries practice eco-friendly methods, but a few stand out as "Green" businesses, incorporating organic and ecologically-responsible practices into every aspect of their wineries and cideries.
North Gate Vineyard — Purcellville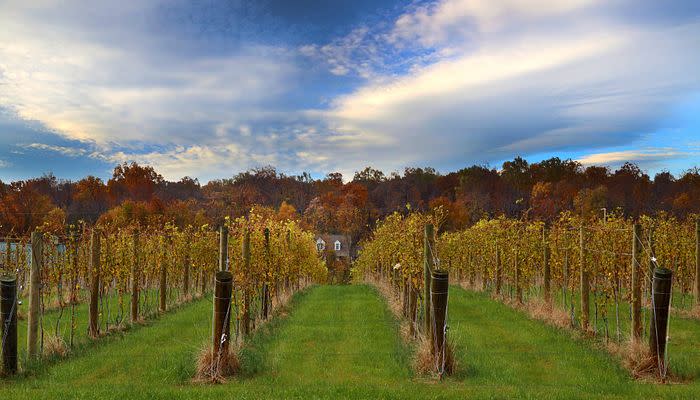 Located in the foothills of the storied Blue Ridge Mountains, North Gate Vineyard uses 100% solar power to run their tasting room. This eco-friendly winery was built to LEED Gold Specifications (Leadership in Energy and Environmental Design) using local reclaimed, recycled, and sustainable building materials and decor such as reclaimed wood tables, bar tops, and mantelpieces. Visitors can take in the picturesque views of the 26-acre vineyard from inside the tasting room or on the covered patio.
Cooper Vineyards — Louisa
With a LEED Platinum certification, the tasting room at Cooper Vineyards utilizes a rainwater harvesting system to filter water used for irrigation and toilets, as well as solar panels that cover approximately 15% of the building's electrical needs. A geothermal HVAC system provides heating and cooling, and energy-efficient lighting and solar tubes are installed throughout the tasting room. Recycled and locally-sourced materials such as natural stone and native cypress siding were also used in the tasting room construction, resulting in one of Virginia's most ecologically-responsible wineries.
Courthouse Creek Cider — Maidens & Richmond
The owners of Courthouse Creek Cider take a holistic, organic approach in tending their 4.5-acre orchard, crafting delicious ciders using natural production techniques. They do not add sulfites or any chemicals to the juice to change the appearance or flavor, and all ciders are unfiltered and aged in barrels and wooden vats. The tasting room is located on the farm, allowing visitors to get a first-hand look at Courthouse Creek's eco-friendly production practices.
DuCard Vineyards — Etlan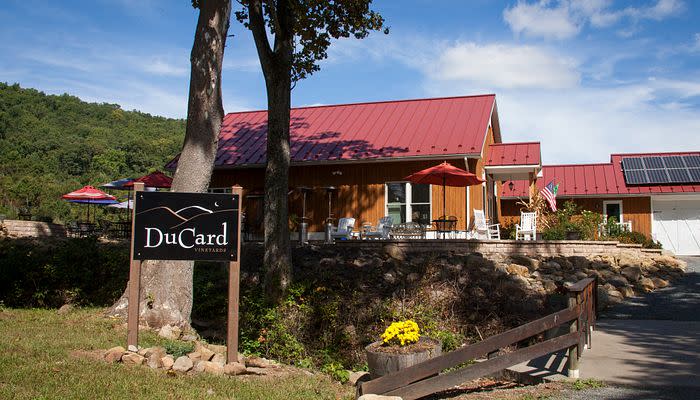 Recognized as the "Greenest Winery in Virginia" by Virginia Green, DuCard Vineyards limits the use of chemical sprays whenever possible, instead opting for organic materials and biological methods to protect their vines. After extracting the juice used in the wines, the grapes are composted and then returned to the soil. The winery also processes the winery wastewater using an artificial wetland system that uses plants to filter the water of sugars and other matter. In the tasting room and winery, solar panels generate green power for heating, cooling, and lighting. Every step of production at DuCard Vineyards has been extensively developed to ensure nothing is wasted and minimal ecological impact results from the winery's operations.
West Wind Farm Vineyard & Winery — Max Meadows
West Wind Farm Vineyard & Winery was the second winery in Virginia to be certified Virginia Green by the Department of Environmental Quality, subscribing to the principles of sustainability and minimizing their impact on the environment whenever possible.
Sunset Hills Vineyard — Purcellville


Sunset Hills Vineyard is dedicated to sustainable efforts, utilizing 245 solar panels to run about 75% of the winery and winemaking electrical power. As one of the largest producers of solar energy in Loudoun County, the 140-year-old farm often overproduces their monthly power and donates it back to the electrical grid for their neighbors to use. The solar panel system at Sunset Hills Vineyards produces 80,000 kilowatt hours of clean power per year, which is the equivalent of planting 240,000 trees to reduce CO2 emissions, and they also use sustainable agriculture practices, resulting in one of Virginia's most notable environmentally-responsible vineyards.
Pippin Hill Farm & Vineyards — North Garden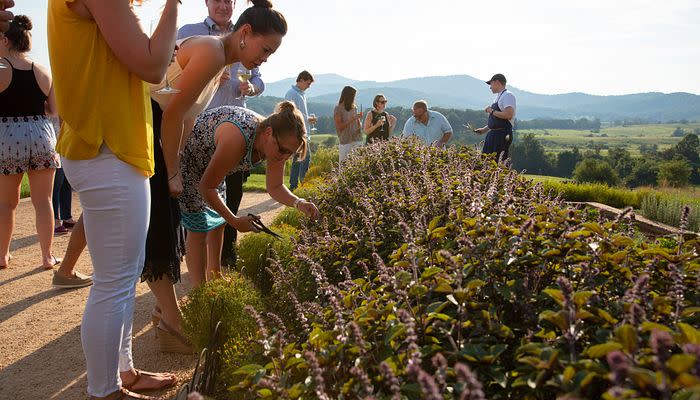 Recognized as a distinguished agri-tourism destination, Pippin Hill Farm & Vineyards has become known for their award-winning wines and incredible views. The winery is committed to sustainable and responsible viticulture, with practices like minimizing chemical repellents and instead using natural sprays to keep vines productive and healthy. The grounds include an all-natural garden, where the chef of the on-site restaurant harvests over 100 varieties of herbs, vegetables, and other produce used in the kitchen. Pippin Hill has also added a chicken coop and an apiary with more than 300,000 bees, which help promote sustainable practices and also provide fresh ingredients to be used in the restaurant.
Glass House Winery — Free Union


Glass House Winery was built to run as environmentally friendly as possible, using both solar and geo-thermal energy sources. Additionally, they often use materials on the grapes such as clay to keep pests away, rather than more harmful sprays. The winery is well known for its tropical conservatory tasting room where you can enjoy a glass of their excellent wine while surrounded by exotic plants and flowers.
Little Washington Winery — Washington
Little Washington Winery is committed to responsible and sustainable methods in its farming, growing their 10 acres of grape varietals, including Chardonnay, Viognier, Merlot, Cab Franc, Cabernet Sauvignon, and Syrah using the dry farming technique, which relies on only natural rainfall in the region to grow the grapes. Each section of the vineyard is completely unique, with a combination of soil, micro-climate, and root stock affecting the growth. Environmental concerns are another aspect of the winery's focus, with a goal to reduce or eliminate fungicide and pesticide applications.