Cold Mountain
Filmed in Virginia
Virginia is proud to have been chosen for filming of "Cold Mountain," the feature film version of Charles Frazier's best-selling Civil War novel of the same name. This much anticipated film from Miramax stars Jude Law, Nicole Kidman and Renée Zellweger. It was adapted for the screen and directed by Anthony Minghella who also wrote and directed "The Talented Mr. Ripley" and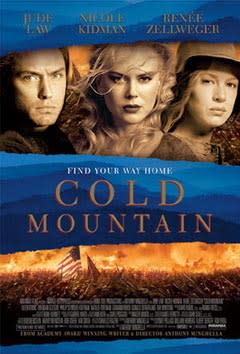 "The English Patient." "Cold Mountain" chronicles the journey of Inman, a wounded Civil War soldier (Jude Law) who undertakes a perilous journey to find his sweetheart Ada (Nicole Kidman). As Ada struggles for survival at home, she finds help from Ruby, an unusual young drifter (Renée Zellweger).
In an early scene of the movie, it's July 30, 1864 - the fourth year of the Civil War. Outside Petersburg, Virginia, the Union and Confederate lines face off on a siege that has been going on for months. Trenches and graves mar the landscape. Then, the scene erupts into a terrible battle. Although this scene was filmed in Romania, which has unspoiled landscapes that would have been found in 1864, it represents one of the most fierce and fearsome parts of the conflict in Virginia.
The soldier, Inman, badly hurt in the battle is taken to a colonial mansion in Charleston, South Carolina, that has been turned into a hospital for Confederate Soldiers.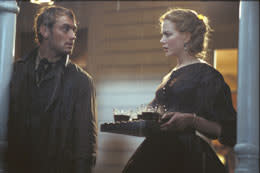 The scenes in the movie featuring the exterior of the mansion were filmed at Carter's Grove Plantation in Williamsburg. In despair, Inman leaves the hospital to begin the long trek back home to Ada, the girl who is waiting for him on Cold Mountain. During his journey he "walks along a rocky track, falling away to the river at one side, a steep cliff to the other, the way itself broken and precarious," as described in the screenplay for the film. There he meets Veasey, a minister with a dark secret. This scene was shot at Belle Isle, in the James River in the heart of Richmond.
There are many opportunities for a visitor to Virginia to experience life during those perilous and turbulent times.
MORE THINGS TO DO:
Virginia is an American history icon. Learn about the great leaders of our country at one of the…
Tours - Virginia Is For Lovers