The next time you're traveling Interstate 95, take a detour for fun, great food, and true Virginia experiences.
OCCOQUAN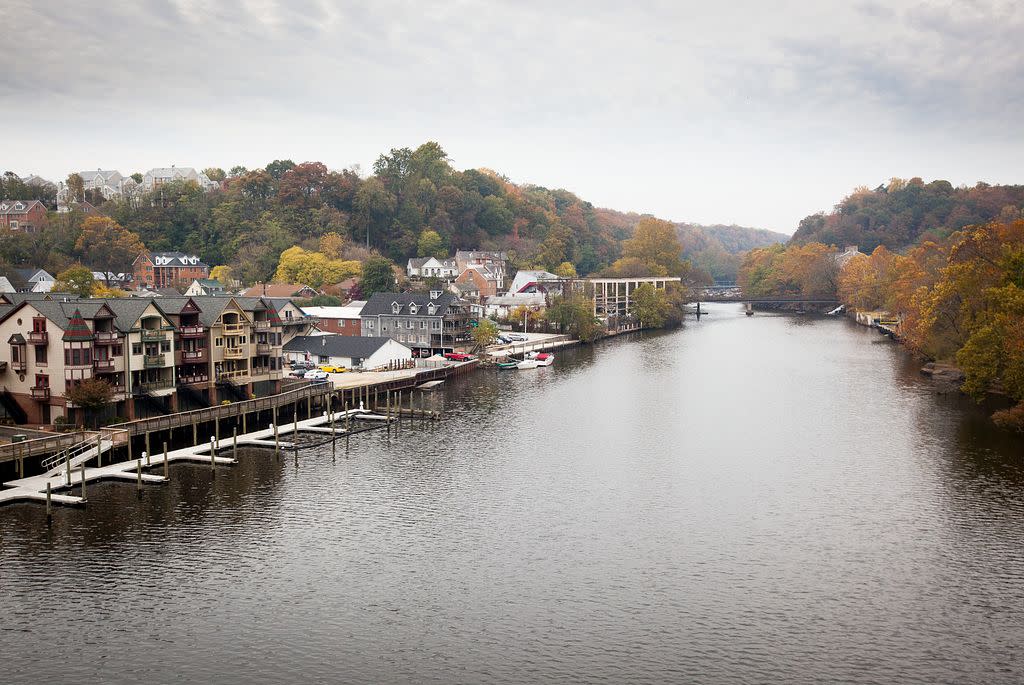 The sweet 18th century mill town of Occoquan is situated along the Occoquan River, a Potomac River tributary. Hop off I-95 at exit 160 and treat yourself to a glance back in time. The historic buildings house more than 100 art galleries and boutiques, and great dining. Your first stop into town should be at Mom's Apple Pie. It feels like a country general store and offers freshly baked treats. You might need to stop again on the way out of town. You know, to have a snack for the road. Don't Miss: - Madigan's Waterfront Restaurant has deck seating perfect for warm weather and sunshine (more dining).
TRIANGLE
Triangle is the home of the National Museum of the Marine Corps and is a seven-mile hop-skip-jump from Quantico, which you've no doubt heard of if you watch any kind of prime-time crime. Exit 150 is where you want to go. As you approach the exit, you'll see an interestingly shaped building jutting above the trees. That's the Marine Corps Museum, and it should be your first stop. Don't Miss: - The 12,000-acre one-time World War II covert ops training ground now known as Prince William Forest National Park is tucked quietly away and feels a world away for those accustomed to the hustle and bustle of metro Washington, D.C. life. Among other things, this acreage was also a child relief camp during the Great Depression, a pyrite mine, the 1865 free Black community of Batestown, and the hunting and fishing grounds of the Doeg. There are 37 miles of hiking trails, cabins, and even backcountry camping (hike-in/hike-out). - Quantico National Cemetery is the final resting place of decorated war heroes, four-star generals, and famed Mt. Suribachi, Iwo Jima flag-raising photographer Louis Lowery.
FREDERICKSBURG
Photo Credit: Bill Crabtree Jr.
"Dripping in history" is how I would describe Fredericksburg. Don't Miss: - The James Monroe Museum honors our fifth United States President. See pieces from the 1,600+ collection and enjoy the galleries, garden and gift shop. - Historic Kenmore Plantation and Gardens is a beautiful Georgian that dates to the 1770s. Take the tour and see the amazing plasterwork on the ceilings. You'll be amazed at the intricate details. There's something for kids, too! They can get hands on with a portion of "The Patriots Lewis: What Would You Give," an exhibit highlighting the decorative pieces of Kenmore. - If you have an appreciation for artisans and their crafts, a stop at LibertyTown Arts is a must. You'll likely come across the artists at work! - Take a cue from the locals and eat where they eat. Try Mason-Dixon Cafe for lunch and follow it up with Carl's Frozen Custard, a Fredericksburg institution dating to the 1950s. -For even more inspiration for your Fredericksburg pit stop, check out our Three-Day Guide to Fredericksburg.
HANOVER
Virginia is dotted with Founding Father history and Hanover is a key dot, if you will. Take exit 92 east on Patrick Henry Highway. That's a giveaway, right? In this area you'll find historic sites related to Patrick Henry, like Hanover Tavern, which was once owned by his wife's parents and is one of only a few surviving colonial-period taverns. You can eat there, too! Make a reservation. Don't Miss: - Hanover Courthouse was where Patrick Henry argued the Parsons' Cause in 1763, which some nod to as a jumping off point for the American Revolution. - The Hanover Tomato Festival is held annually on the second Saturday in July. If you're timing coincides, do stop and enjoy this nationally known delight. To continue your Patrick Henry-inspired detour ... - Take Route 301 south to 643, followed by a left on Route 1750 to Historic Polegreen Church. It's about 11 miles from Hanover Courthouse. - From Polegreen, continue to drive south on Route 643 to pick up Route 360 south. You'll take 360 all the way into Richmond where you'll take a left on East Broad Street. Drive seven blocks to find St. John's Church on the right. It was at St. John's that Patrick Henry delivered his "give me liberty or give me death" speech on March 23, 1775, which is reenacted Sundays from late May through early September. - Hungry? You passed Patrick Henry's Pub & Grille on the way up the hill to the church. Try The Patrick Henry Burger. It's eight ounces of Angus beef topped with lettuce, tomato, mayo, and/or your choice of 22 other flavorful additions.
CHESTER
Shortly after the founding of Jamestown, the Citie of Henricus was founded. It was 1611 and Sir Thomas Dale found himself settling one of the first successful English settlements in the New World. The "success" wouldn't last, however, as a raid by the Powhatan destroyed the village in 1622. Pocahontas grew up along those same James River banks at Henricus and it was at Henricus that she converted to Christianity, was baptized, and took the name Rebecca. Henricus' demise in 1622 abruptly ended the peace treaty Pocahontas had been able to arrange between her people and the colonists. Don't Miss: - Half Way House Restaurant, a Richmond area tradition since 1760. Esteemed guests have included George Washington, Thomas Jefferson, Robert E. Lee, and many others. You'll be delighted with the fine dining you'll find at this authentic manor house. - The Dutch Gap Conservation Area is an 810-acre playground that includes opportunities for kayaking, canoeing, wildlife watching, fishing, hiking and biking. Park Map