Virginia is full of well-known summer destinations- think, stunning State Parks, Virginia Beach or historic destinations like Colonial Williamsburg. While these are all awesome spots for a summer vacay, they tend to get booked up early and are, of course, a little more crowded. For anyone looking for something a little more low-key, we still have you covered.
All around the state you will find hidden gems perfect for warm weather, sun bathing and new adventures. These lesser known destinations also make for great Wanderlove road trip inspo. Wanderlove is all about connecting with what you love. Experience different regions all around Virginia at your own pace, stopping through these hidden gems and secret spots along the way. Check out the list below for some of the well-known Virginia summer destinations and their lesser-known counterparts that we can't recommend enough.
Exploring the Beach Towns of the Chesapeake Bay
A Lesser known Virginia Vacation similar to Virginia Beach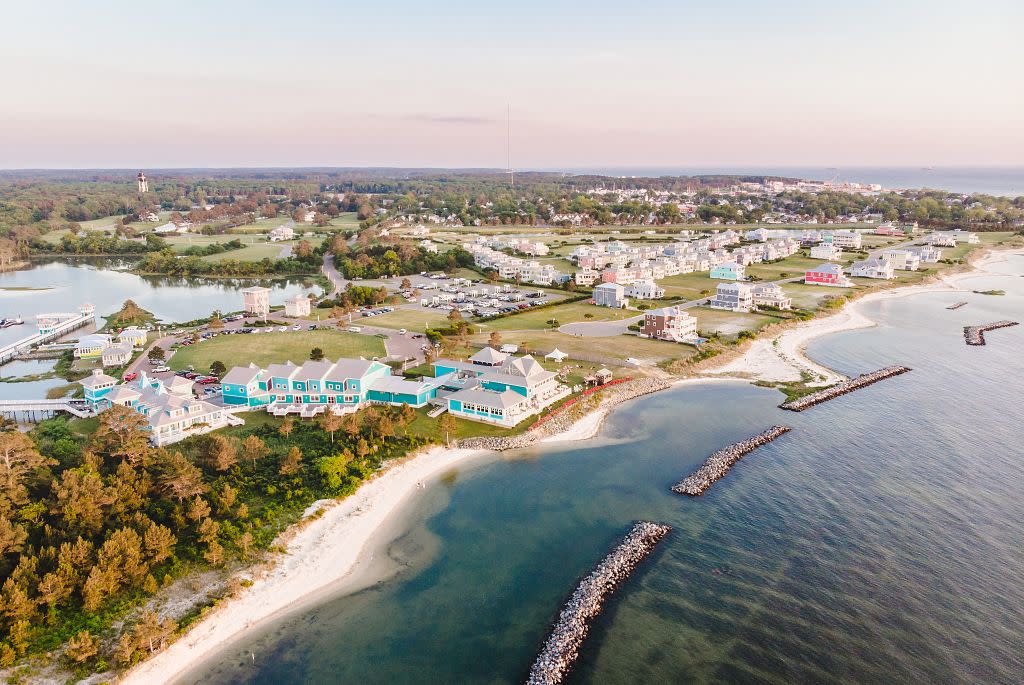 Photo Credit: Adam Lewis, @adamtlewis
When people think of summer vacation in Virginia, one of the first thoughts that comes to mind is a family trip to Virginia Beach or the more residential beach neighborhood of Sandbridge. And there are sound reasons for this; Virginia Beach and Sandbridge offer many upscale places to stay at affordable prices, a bevy of fantastic and fresh seafood, and the experience of soaking up the sun and listening to the Atlantic Ocean crash into the shoreline. It's pretty unbeatable.
However, during the busiest weeks of summer, you may want to find a quiet and peaceful alternative for your vacation, and some of these lesser known beach towns on the Chesapeake can scratch that itch. Colonial Beach is a quaint, riverside resort town nestled between the Potomac River and Monroe Bay. Complete with sandy beaches and a variety of marinas, it's known as a boater's paradise. No wonder they call it the Playground of the Potomac. 
If you like to soak up both history and sunshine on your beach excursions, consider Yorktown Beach or Fort Monroe. With museums covering everything from maritime to colonial history, and an adorable Riverwalk Landing complete with shops and local seafood restaurants, Yorktown Beach is perfect for a family afternoon outing. Situated at the mouth of the James River, Fort Monroe has several secluded beach fronts that line the Chesapeake Bay. This bayside community was once a former military base, and a visit to Freedom Fortress will show you just how integral the fort is to much of Virginia's history. 
If you're seeking to really find some peace and quiet, then Onancock is right up your alley. Called "the Gem of the Eastern Shore" this small town is chalk full of waterfront excursions, award winning restaurants, and a diverse arts scene. Visitors can also also catch a ferry to nearby Tangier Island, which are offered daily when in-season. 
Looking for more Virginia beaches to discover? Well these are where those in the know like to go. 
Where to Stay
Where to Eat
Bonus Destinations: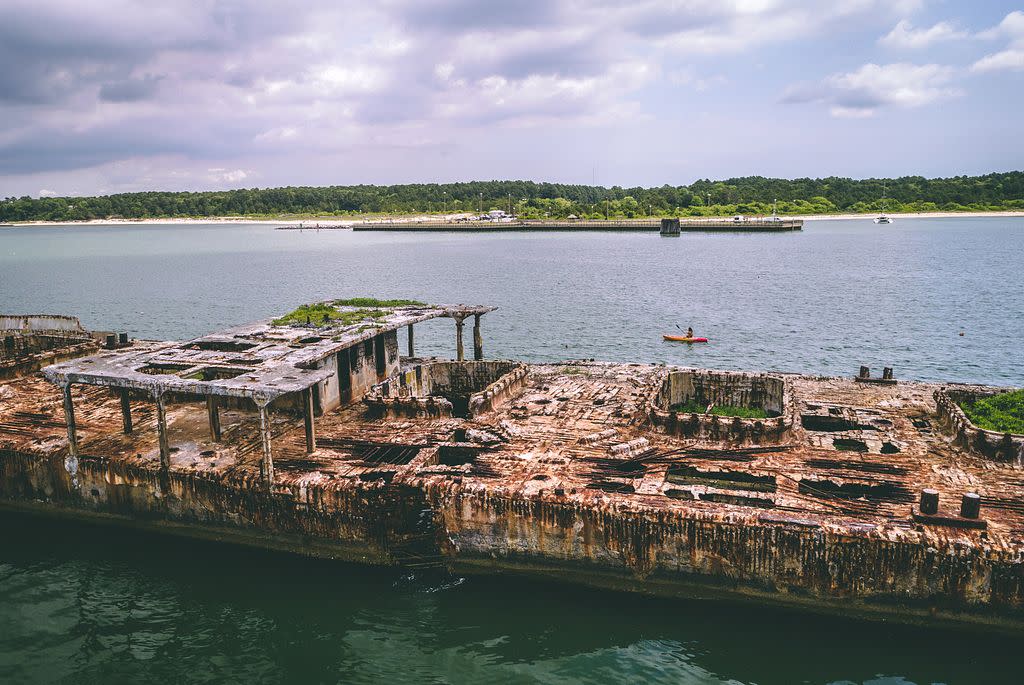 Photo Credit: Chad Williams, @echadwilliams
Kiptopeke State Park invites guests to learn about Chesapeake Bay ecology and the natural history of the region while enjoying a variety of outdoor activities. You can kayak or fish the Bay, hike the miles of maintained trails through the state park, or head to the park's swimming beach to get a firsthand look at the Bay.
If you're interested in learning about the Chesapeake Bay while also getting out on the water, book a kayak tour with SouthEast Expeditions, which leads trips out of Cape Charles, Onancock, and Chincoteague. They provide several interesting tours for every type of traveler, including kayak trips to great Virginia wines at Chatham Vineyards in Machipongo, a guided paddle through the Eastern Shore National Wildlife Refuge, and an aqua-culture tour where you'll harvest your own clams for dinner.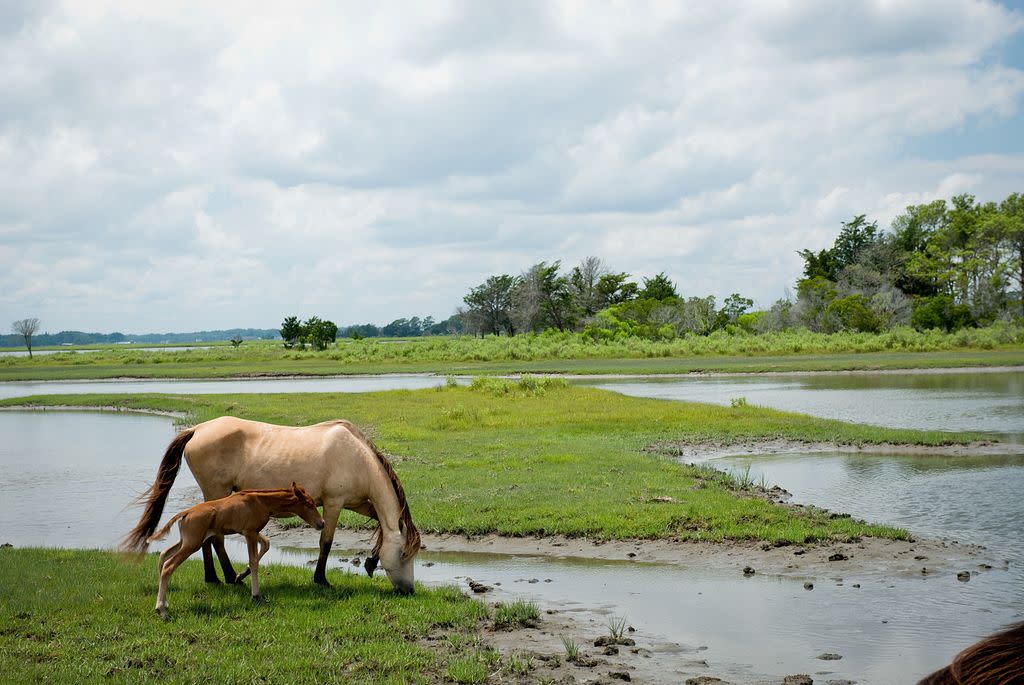 Another must-see stop on the Eastern Shore of Virginia is the Assateague Island National Seashore, a protected barrier island off the eastern side of the peninsula complete with miles of pristine white sand beaches, a historic lighthouse, and of course, the beautiful wild ponies made famous in the classic book "Misty of Chincoteague". Finally, take a ferry from Onancock to Tangier Island, a remote island off the coast accessible only by air or sea, which has been called the "Soft-Shell Crab Capital of the World". More Hidden Beaches for Summer Fun
ATV, River, and Other Outdoor Adventures in Southwest Virginia
A Lesser Known Virginia Vacation similar to touring Virginia's State Parks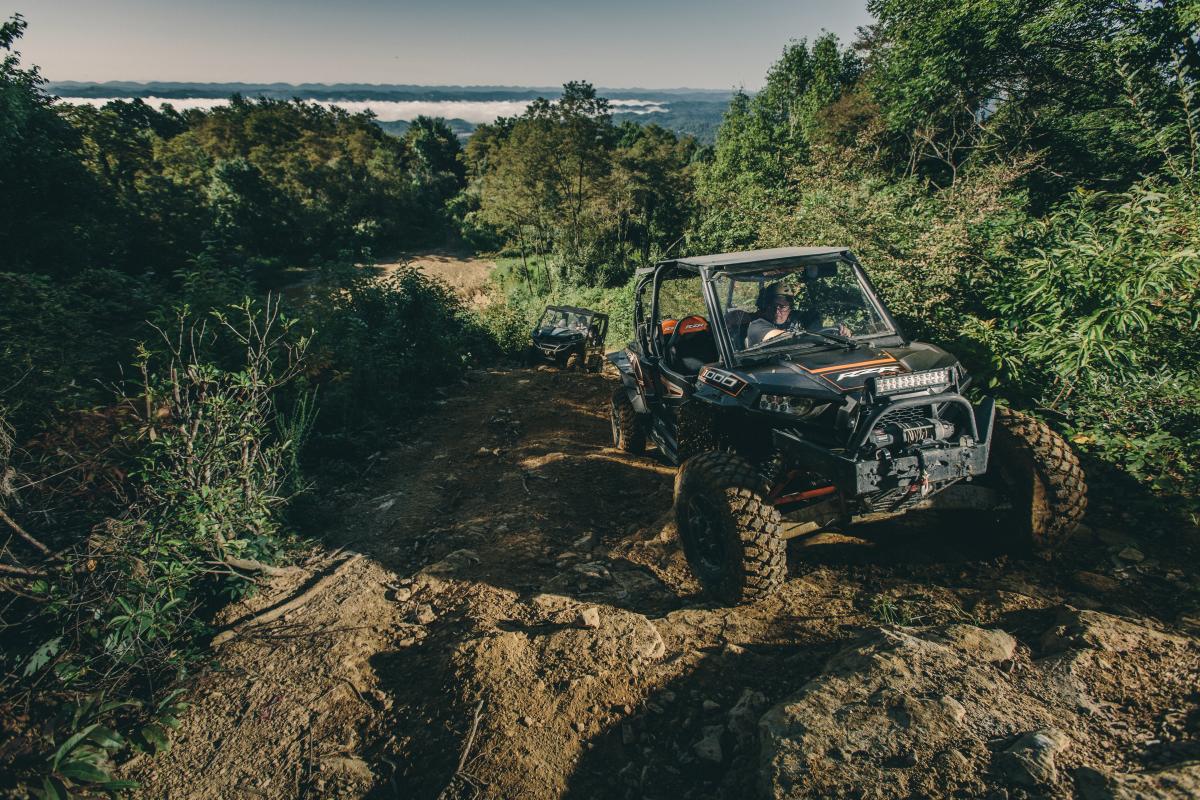 With incredible destinations like the Clinch and New Rivers, Spearhead Trails, Mount Rogers, Breaks Interstate Park, and Burke's Garden, Southwest Virginia is a veritable utopia of outdoor recreation. Kayak the New River to explore the region on the rushing water, or if you are a mountain bike or ATV lover, head to the Spearhead Trails systems, which wind through more than 350 miles of Southwest Virginia mountains and valleys. The latest addition, Haysi's Ridgeview, added over 60 miles to the trails, welcoming dirt bikers, mountain bikers, ATV riders, and hikers to take in the spectacular views from the mountain peaks. Don't own an ATV? You can rent one during your visit at Southern Gap Outdoor Adventures. After you've ridden the trails, sign up for a tour with Southern Gap to view the nearby elk herds, which are slowly growing in population after a more than 100-year absence. Finish the day with an overnight stay at one of Southern Gap's cabins.
Where to Stay:
Where to Eat:
Bonus Destinations:
Follow some of the 300 miles of the Crooked Road through Southwest Virginia to hear the sounds of Virginia's Heritage Music Trail. Stop at major venues along the way like the Birthplace of Country Music Museum in Bristol and Rex Theater in Galax and learn about the legends that put Virginia's mountain music on the map.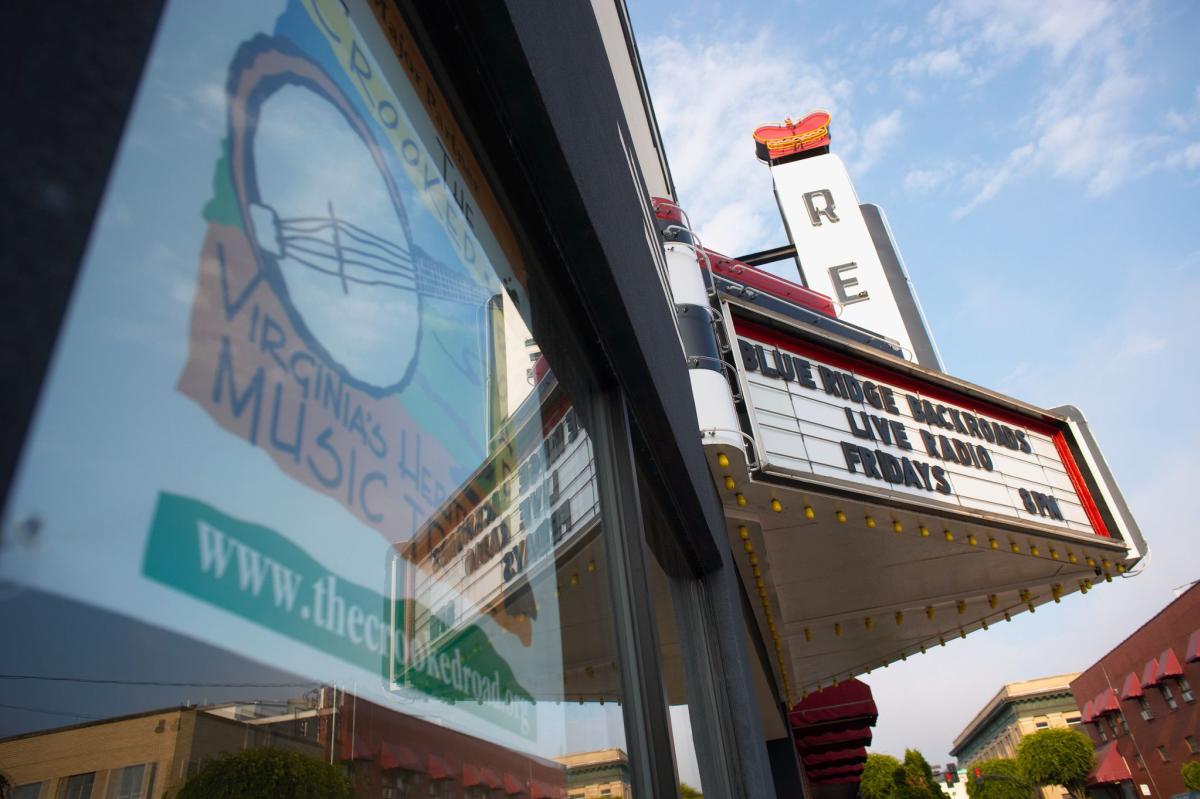 Next, head to the Southwest Virginia Museum in Big Stone Gap to learn more about the region's history. More Extreme Outdoor Vacation Ideas
Explore George Washington & Jefferson National Forest
Shenandoah National Park has become a legend, with songs, poems, and letters penned by famous authors memorializing the stunning scenery of the landscape, and for good reason. The park is one of the most beautiful in the world, bringing thousands to see the views with their own eyes each year. However, the George Washington and Jefferson National Forests also contain impressive scenic beauty that is not to be missed. These national forests combined in 1995 to form a 1,664,110-acre park through the Appalachian Mountains of Virginia, running all the way from the Tennessee border in Southwest Virginia to the northwest corner along the West Virginia state line. You can hike or bike the over 2,200 miles of trails, fish, kayak, or canoe the 2,300 miles of streams, or simply take a drive to admire the wildlife and abundance of native plants untouched by civilization. To get the full experience out of this summer vacation, consider skipping the hotels and staying at one of the national forest's many campgrounds.
Where to Stay:
Where to Eat:
Bonus Destinations: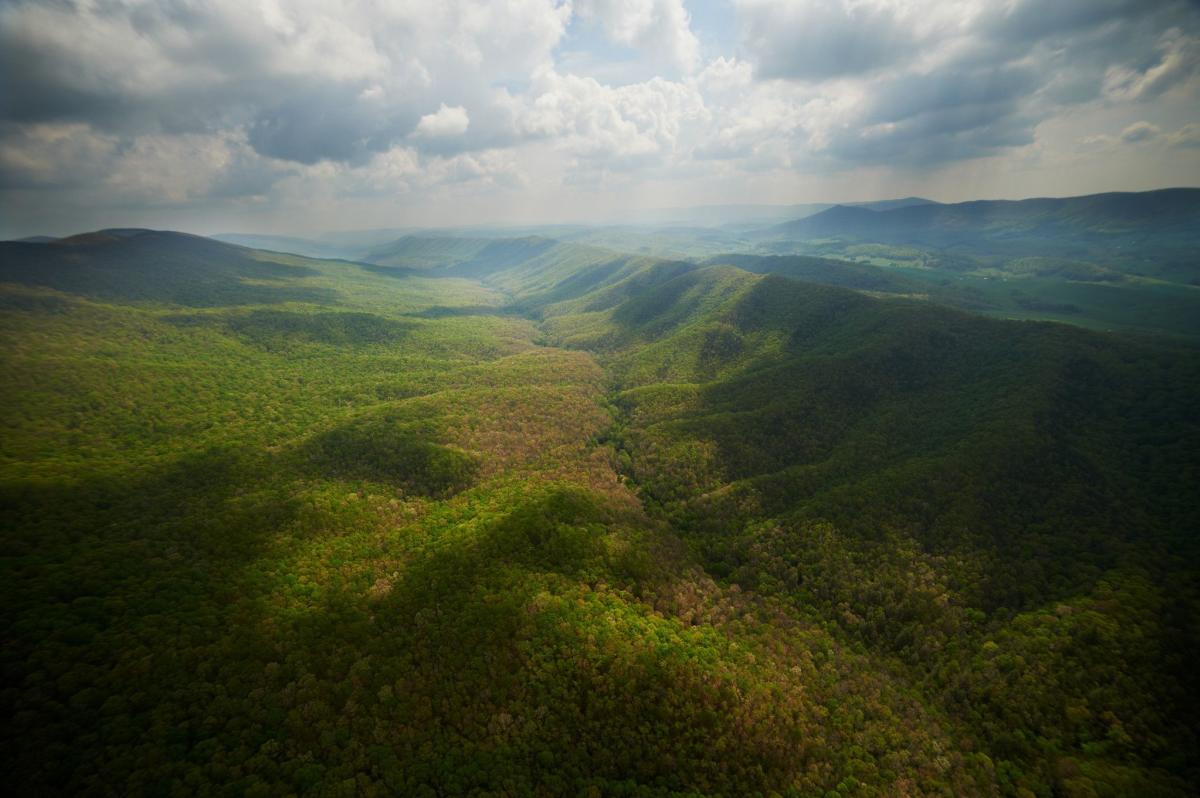 Photo Credit: Cameron Davidson
The George Washington and Jefferson National Forests cover hundreds of miles of Virginia, and there is plenty to keep you busy the entire vacation. Stop by Burke's Garden in Tazewell, an awe-inspiring mountain-ringed valley known as "God's Thumbprint because of its aerial appearance.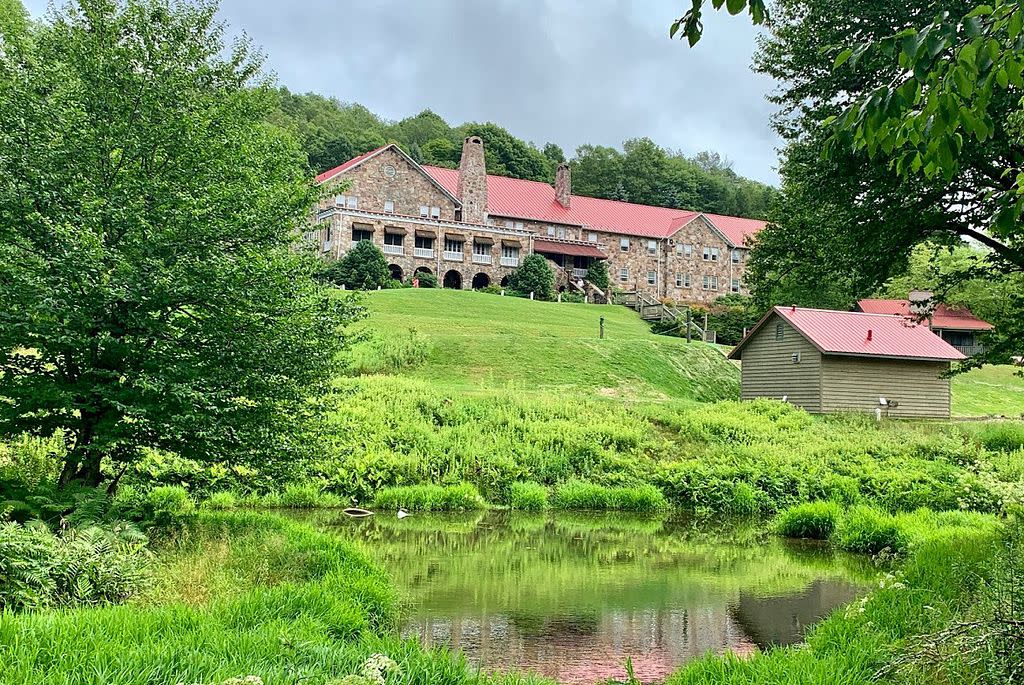 If you're a film buff, plan a visit to Mountain Lake Lodge, the film location of the 1986 movie "Dirty Dancing".
The resort also offers all kinds of fun activities for both the kids and the adults, including zip-lining, archery tag, and Bubble Ball, where teams compete in giant inflatable body balls.
Take the Journey through Hallowed Ground
A Lesser Known Virginia Vacation similar to Colonial Williamsburg
Where to Stay:
Where to Eat:
Bonus Destinations:
Walk through the University of Virginia campus, also designed by Thomas Jefferson. Don't miss seeing the Rotunda, built by Jefferson as a smaller version of Rome's historic Pantheon, on the North end of the Lawn, a rectangular grass space enclosed by the original college dormitories (Edgar Allen Poe even lived in one of these!).
Photo Credit: Brantley Ussery
Stop in to one of Charlottesville's many breweries or wineries like Starr Hill Brewery or Jefferson Vineyards for a refreshing break from the historic tours. As you head north, you'll get into Loudoun's wine country, which features more than three dozen wine tasting rooms, or if you're more of a beer fan, check out the LoCo Ale Trail. More Iconic History Places
The New River Valley
A Lesser Known Virginia Vacation similar to The Shenandoah Valley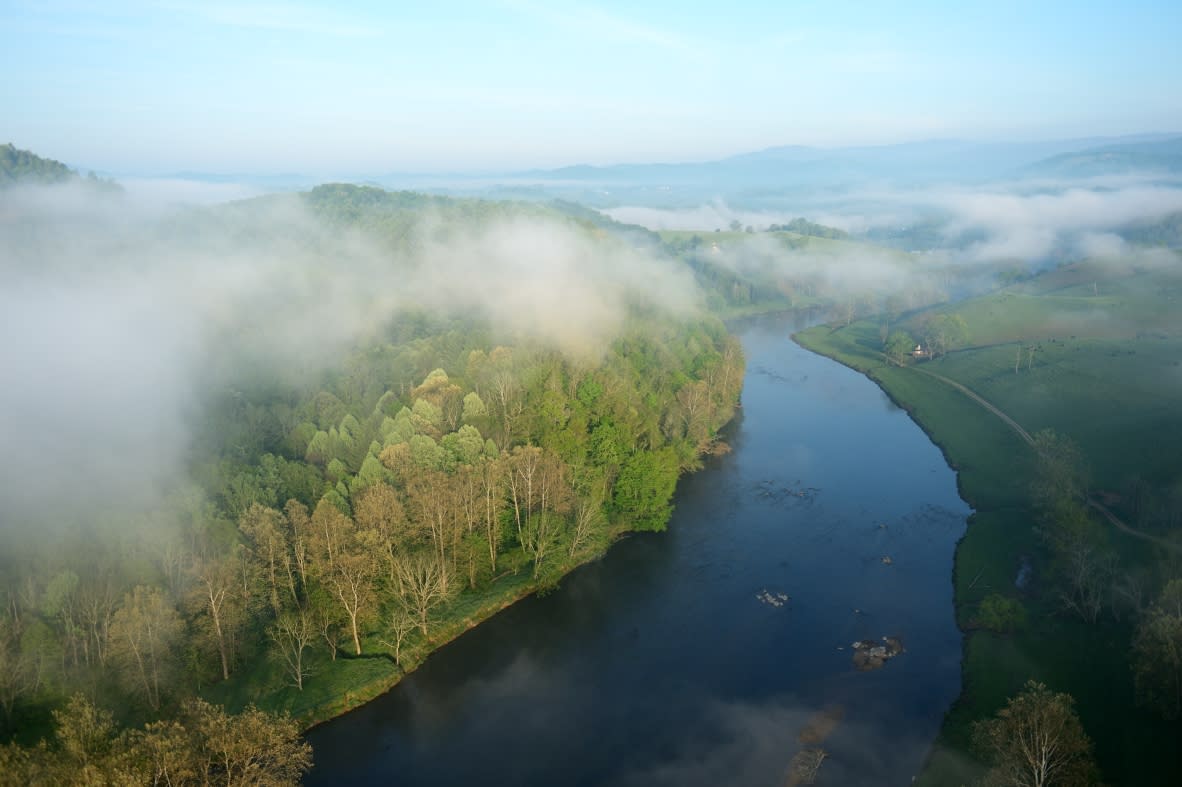 Photo Credit: Cameron Davidson
Organized along the New River between the Blue Ridge Mountains and the Appalachian Mountains, the New River Valley in Southwest Virginia contains cities like Blacksburg, Christiansburg, Pulaski, and Radford. With the New River as the focal point, water sports in the valley are becoming a big draw for travelers interested in exploring Virginia's rushing waterways. Plan a paddle trip with New River Outdoor Co., an outfitter that rents kayaks, canoes, and rafts along the New River or cast a line on a guided fishing trip with Greasy Creek Outfitters. Explore the area on foot with a section hike of the challenging Appalachian Trail, which runs through the New River Valley, or traverse the landscape on a mountain bike through trails in New River Trail State Park.
Where to Stay:
Where to Eat:
BONUS DESTINATIONS:
Starting near Galax, the Crooked Road, Virginia's Heritage Music Trail, follows the New River west until it reaches Mouth of Wilson. There are several notable sites to see along this section of the Crooked Road, including the Rex Theater in Galax and the Blue Ridge Music Center in Caroll, and if you continue west along this historic music trail, you'll reach the Southwest Virginia Cultural Center & Marketplace in Abingdon and the Birthplace of Country Music Museum in Bristol. Wine lovers should stop at Chateau Morrisette Winery in Floyd, where they can tour the vineyard, sip on the resulting wines, and enjoy a meal at the winery's on-site restaurant.
For outdoor enthusiasts, visit Cascades National Recreation Trail, a popular 4-mile hike that ends at a 66-foot waterfall within the Jefferson National Forest, or head to Claytor Lake State Park and rent stand-up paddleboards through Mountain 2 Island for a scenic paddle tour of the lake.
Alleghany Highlands
A Lesser Known Virginia Vacation similar to The Blue Ridge Mountains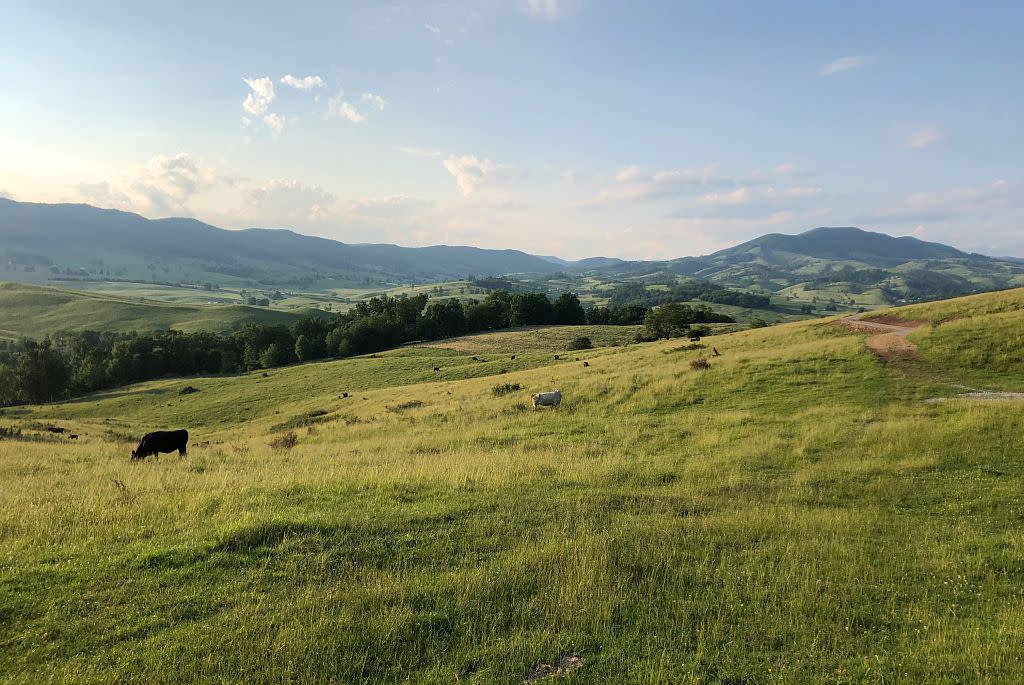 On the western edge of the Virginia Mountain region, the Alleghany Highlands cover the Highland, Bath, and Alleghany Counties of Virginia. The area is known for its beautiful mountain views, outdoor activities like hiking and mountain biking, and delicious maple syrup that is harvested within the Highlands. It is the perfect destination for those looking to get "off the grid" and unwind with a little peace and quiet. With Highland County referred to as Virginia's "Little Switzerland", this mountainous region is a must-see vacation spot in the Commonwealth.
Where to Stay:
Where to Eat:
BONUS DESTINATIONS:
While in the Alleghany Highlands, make your way to the Garth Newel Music Center in Hot Springs for live music performances and a taste of the musical heritage of the region. History fans should visit McDowell Battlefield, the site of Confederate General Stonewall Jackson's first victory in the legendary Valley Campaign of the Civil War. After, go to Highland County Museum, which served as a hospital during the Civil War and tells the story of the Battle of McDowell and the story of the rural mountain community. If you're an outdoor enthusiast, you have plenty of gorgeous sites to choose from within the Alleghany Highlands, including parts of the George Washington & Jefferson National Forest, the Jackson River, Douthat State Park, and Lake Moomaw.
Hike at Buck Run and Locust Spring Run Trails or some of the almost 40 miles of trails within Douthat State Park, which are also open to mountain bikers.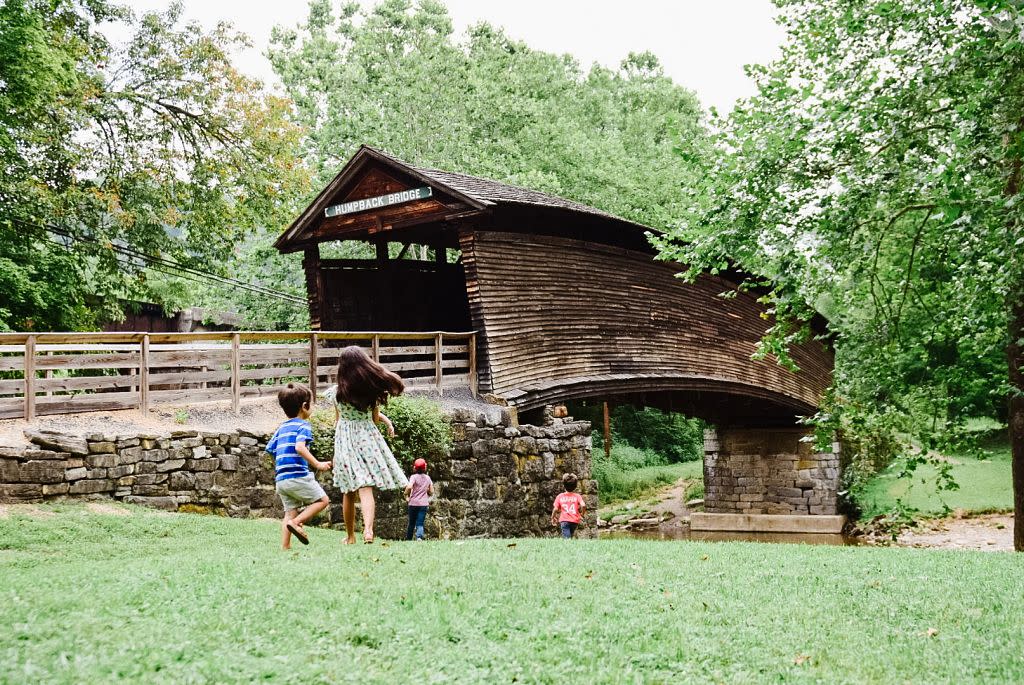 Photo Credit: Preethi B. Harbuck
Iconic spots within the Alleghany Highlands include Humpback Bridge, the only covered humpback bridge still standing in America, Falling Spring, a breathtaking 80-foot waterfall in Covington, and the Historic Masonic Theatre, Clifton Forge's opera house and masonic lodge that dates back to 1905. Before leaving the Alleghany Highlands, stop by Sugar Tree Country Store to pick up a few bottles of premium Highland County Maple Syrups.
Chesapeake
A Lesser Known Virginia Vacation similar to Virginia Beach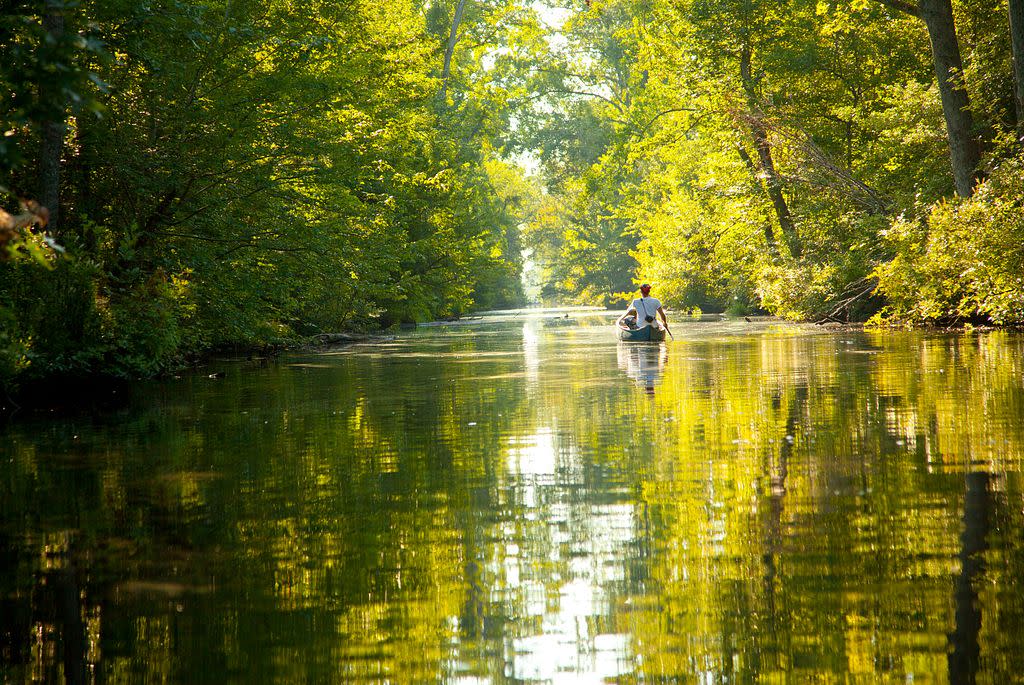 Photo Credit: John Henley
On the Intracoastal Waterway in the heart of Coastal Virginia, Chesapeake has about 22 miles of waterways to explore. The small city is about 30 minutes west of Virginia Beach, but while Virginia Beach has become the go-to destination for visitors looking for sun, sand, and surf, Chesapeake has remained a quieter, more tranquil destination for those looking to explore Virginia's coast. Furthermore, it's an ideal base for exploring the region, with Norfolk, Suffolk, and Hampton Roads all just a short drive away. While staying in Chesapeake, head to the Great Dismal Swamp National Wildlife Refuge, an 113,000-acre wilderness that contains miles of hiking trails, endless wildlife including over river otters, black bears, and over 200 species of birds, and the hauntingly beautiful Lake Drummond.
Where to Stay:
Where to Eat:
BONUS DESTINATIONS:
While visiting the Great Dismal Swamp outside of Chesapeake, book a kayak excursion on Lake Drummond for an unforgettable coastal experience.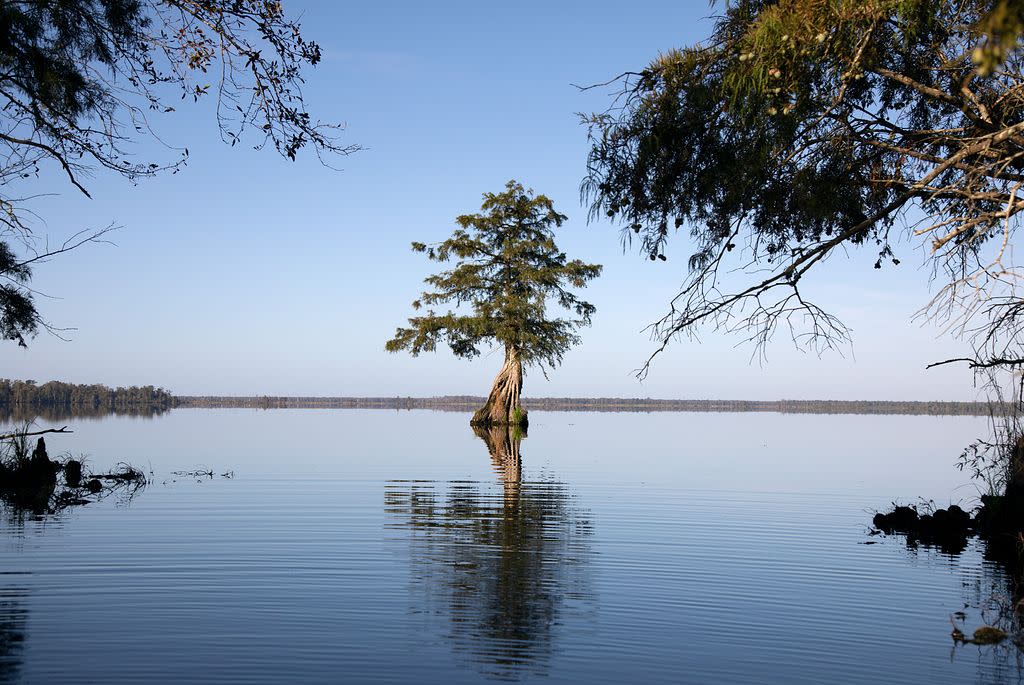 Photo Credit: Trevor Frost, @tbfrost
Hike along the scenic trails of Northwest River Park, winner of the "Best of Chesapeake", and bring along your camping gear to stay overnight at one of the park's 70 campsites. To learn about the unique flora and fauna of the region, visit the Chesapeake Arboretum, a 48-acre garden with hardwood forests and a fragrant garden containing a stunning antique rose garden. Outdoor adventure enthusiasts can see the coastal region from the air with a skydiving trip from Skydive Suffolk.
A Lesser Known Virginia Vacation similar to Smith Mountain Lake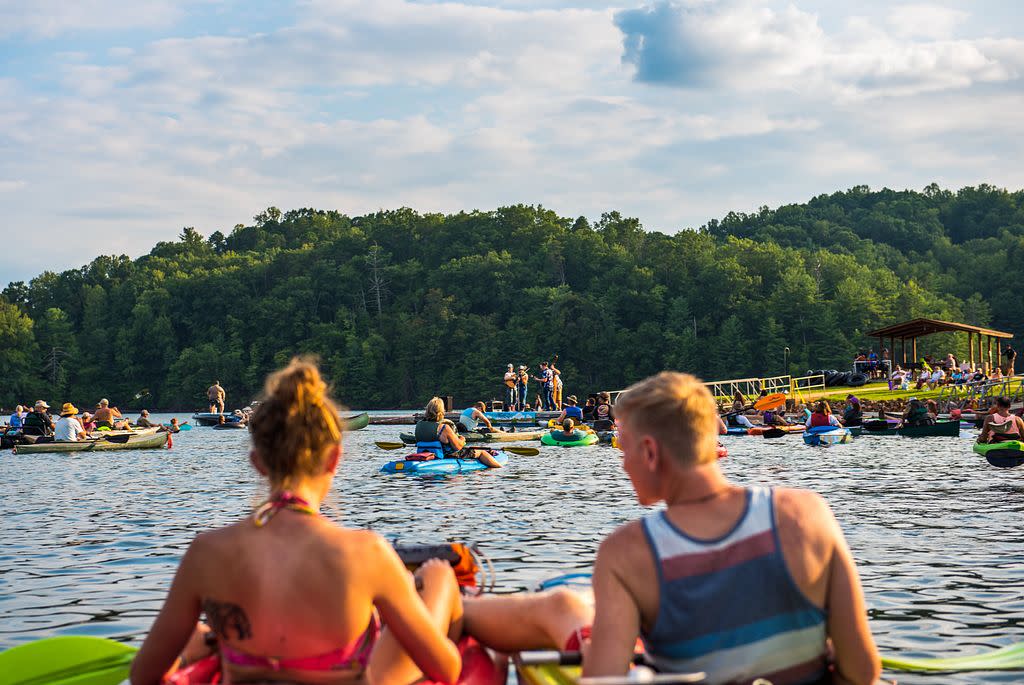 Photo Credit: Matt Ross
Philpott Lake sits within the rugged foothills of the Blue Ridge Mountains in Southwest Virginia, about an hour south of Roanoke. This 3,000 acre lake has over 100 miles of shoreline that is mostly protected recreation areas and state park lands, creating pristine coasts teeming with Virginia wildlife. The lake offers tons of recreational activities, from swimming and fishing to hiking and camping. With a total of eight campgrounds, six beaches open for swimming, and nine boat launches along Philpott, the lake has everything you need for a secluded summer vacation.
Where to Stay:
Where to Eat:
BONUS DESTINATIONS:
Philpott Lake is located along the border of Franklin County, known as the Moonshine Capital of the World. Visit Twin Creeks Distillery in Henry to samples these world-famous spirits. While exploring the lake's shoreline, be sure to see Fairy Stone State Park, named for the legendary "fairy stones" found in the waterfront park.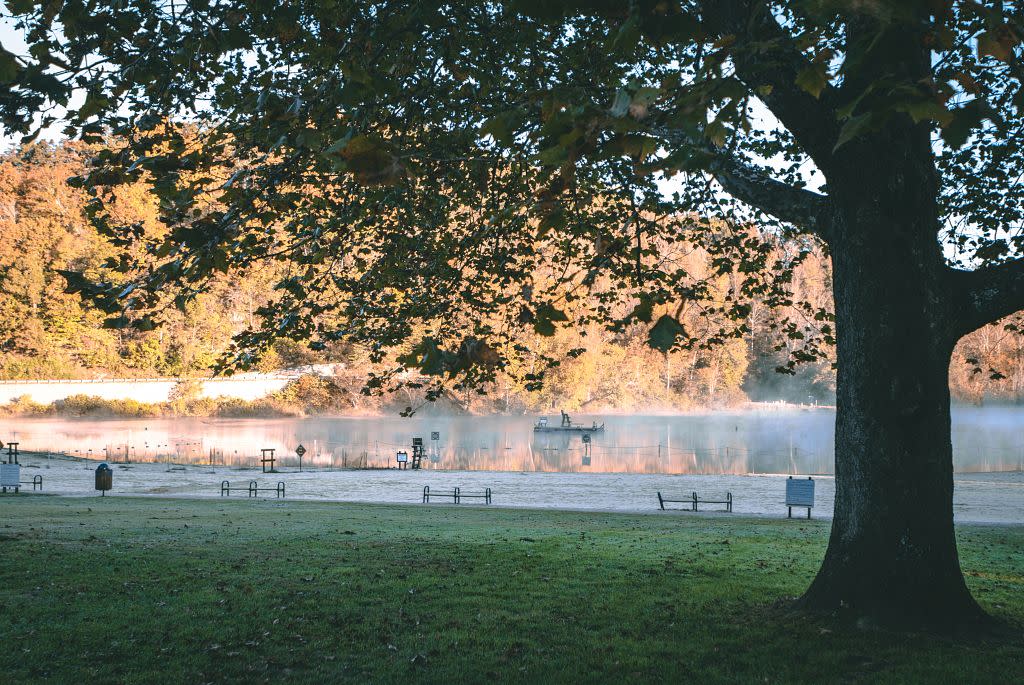 Photo Credit: Chad Williams, @echadwilliams
Walk the trails and search for these lucky stones, which you can take home as a souvenir of your summer vacation. Head to Floyd County, about 30 miles northwest of Philpott Lake, to experience traditional Appalachian music at The Floyd Country Store, which hosts live music and dancing every Friday evening at the Friday Night Jamboree.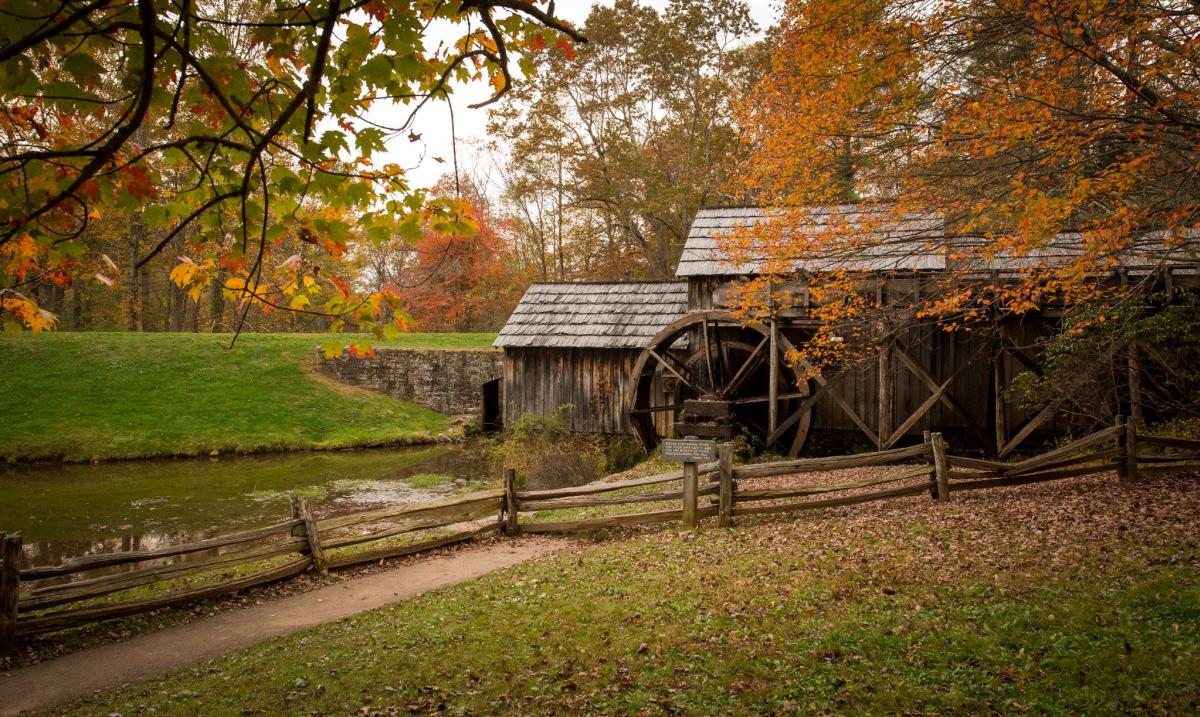 For a memorable photo opportunity, take the Blue Ridge Parkway to Mabry Mill, a restored gristmill that still hosts old-time skill demonstrations including basket weaving and making apple butter.