A Virginia vacation just isn't the same without your best friend to share it with, so we've rounded up some of the most scenic pet-friendly cabins throughout the Commonwealth. These 20+ charmingly rustic rentals provide the perfect overnight accommodations for you and your four-legged friend.
Occoneechee State Park Cabins—Clarksville
Photo Credit: Cameron Davidson
Plan a getaway with your pup to the peaceful shores of Buggs Island Lake and stay at the Occoneechee State Park Cabins. The park has eleven pet-friendly cabins and two larger lodges that sleep up to 16 people. Over 18 miles of trails wind through the forests and along the lake shore, allowing you and your dog to get a little exercise while enjoying the peaceful scenery of the park.
Lily Ridge Cabin—Whitetop
A luxury cabin that sits on 50 acres of secluded mountain lands, Lily Ridge Cabin is just down the road from the Virginia Creeper Trail and Whitetop Station, making it an ideal lodging option for outdoor enthusiasts looking to travel with their pet.. Although there is enough surrounding acreage to take your pup on a leisurely hike without ever leaving the property,  Grayson Highlands State Park is another pet-friendly outdoor destination just a short drive away. Spend time soaking in the spectacular mountain views from one of the cabin's three timber porches, with perfect vantage points allowing you to catch the sunrise from one porch and the sunset from another.
The Cabins at Fariss Farms—Allisonia
Photo Credit: Adam Farris
Located in the picturesque Blue Ridge Mountains of Southwest Virginia, the cabins at Fariss Farms make for an ideal vacation spot for you and your pet. In addition to tranquil scenery, the property also has an on-site vineyard and winery where you can relax on the patio with a glass of wine and your furry friend. The farm is close to the New River, Claytor Lake, the Blue Ridge Parkway, and many other outdoor destinations that you can explore with your pet.
Natural Retreats Shepherd's Cottage—Hot Springs
Stunning pet-friendly cabins nestled in the Allegheny Mountains, the rentals of Natural Retreats are just a short distance from the historic Omni Homestead Resort. Many of the homes feature wood-burning fireplaces where you and your dog can get cozy on cooler days. In addition to the upscale accommodations and outdoor patio areas, guests have full access to the Old Dairy Community Center, which includes an outdoor pool, a spa with a hot tub and sauna, a fitness center, and a gaming room.
A Buck's Peak Cabin—Luray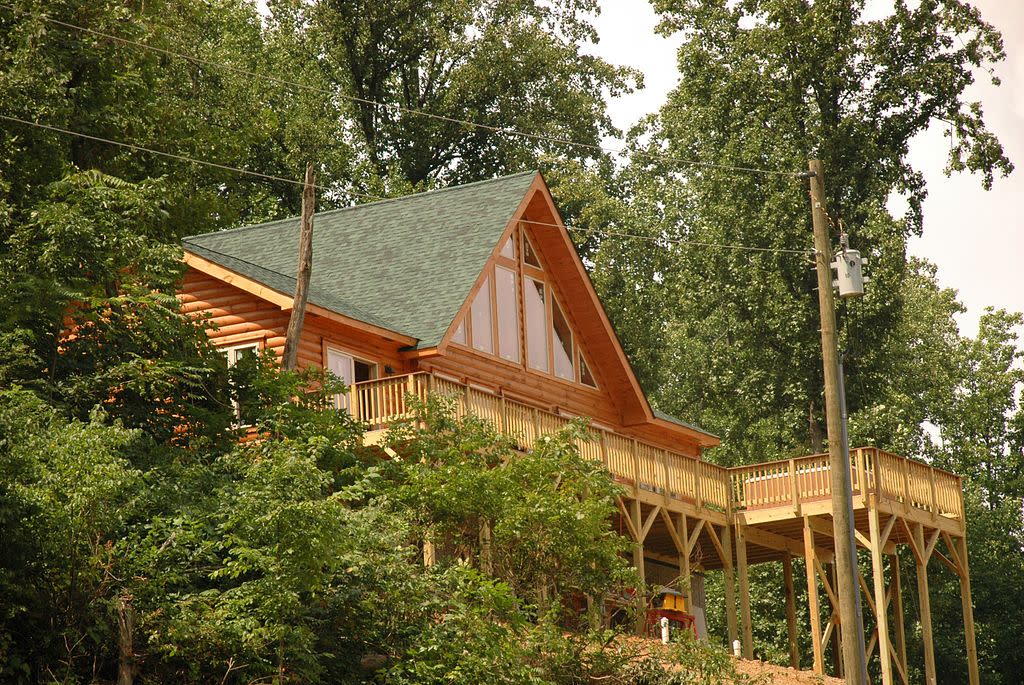 Photo Credit: Carly Ey
Take your pup on an adventure to Shenandoah National Park and stay overnight a few miles off Skyline Drive at A Buck's Peak Cabin in Luray. The mountain hideaway is ideal for families or groups, with four master bedrooms sleeping a total of ten people. Catch the sunset from the cabin's deck, where you'll get an incredible view of the surrounding Blue Ridge Mountains, and enjoy a relaxing soak with a view from the patio hot tub. Kids (and kids at heart) can find plenty of entertainment in the cabin's game room, which is outfitted with a shuffleboard table, dartboard, and video game system, complete with games. In addition to being pet-friendly, A Buck's Peak Cabin is also ADA accessible, and features a handicapped-accessible shower that accommodates a wheelchair.
Snug Harbor Waterfront Cottages—Chincoteague
There are few greater joys for a dog than running through the sand and surf! Book one of the waterfront cottages at Snug Harbor for an Eastern Shore getaway that both you and your pup will love. The cottages overlook Assateague Island and Chincoteague National Wildlife Refuge for uninterrupted views of Virginia's coastal beauty.
The Cabins at Crabtree Falls—Tyro
Friendly dogs are welcome to stay at the Cabins at Crabtree Falls, a group of five mountain cabins with varying accommodations that sleep 4-8 people. The rentals offer amazing views of the surrounding mountain landscapes, and are just down the road from Crabtree Falls, providing the perfect base camping for your hiking excursion. A $25 per night pet fee is charged for dogs.
Southern Gap Outdoor Adventures—Grundy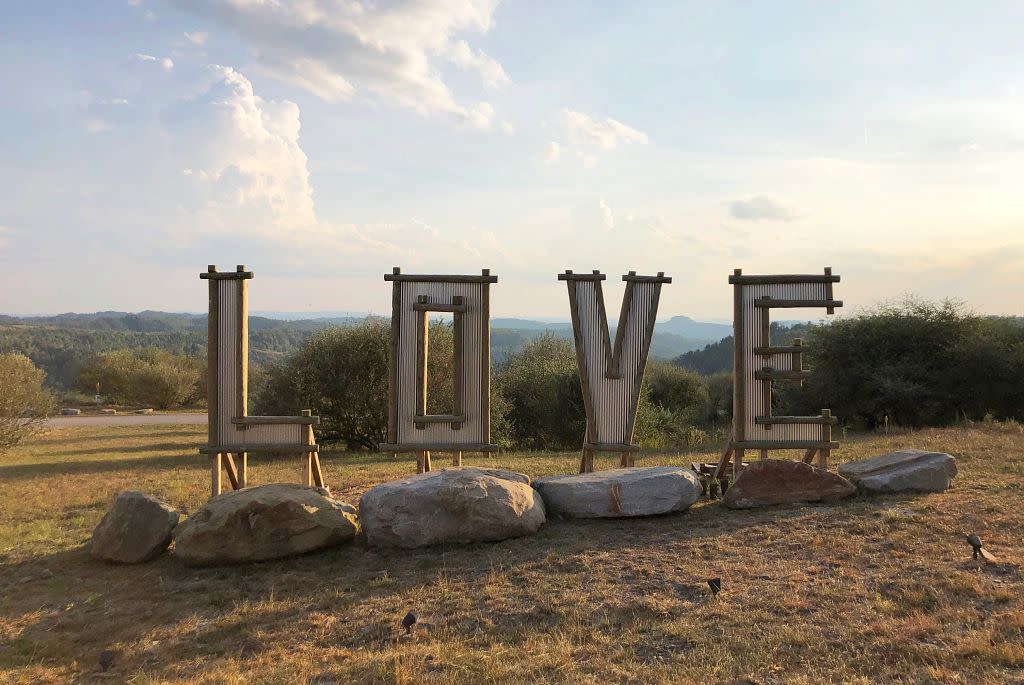 photo credit: Patricia Hays, @ph.in.va
Discover the great outdoors of Southwest Virginia with your four-legged friend, then stay at the heart of the action when you rent a cabin at Southern Gap Outdoor Adventure. The cabins are located at the starting point of Spearhead Trails' Coal Canyon Trail System, a 112-mile route for ATVs and Dirt Bikes that winds through 5,600 acres of pristine mountain landscapes. Additionally, there are miles of pet-friendly trails in nearby Breaks Interstate Park.
Indian Creek Cabins—Willis
There are two pet-friendly rentals available at Indian Creek Cabins, an 80-acre private retreat complete with hiking and horse trails. With expansive covered porches perched 2,700 feet above the surrounding landscape, you'll have spectacular mountain views available throughout your stay. Each cabin can sleep up to four guests, and with outdoor destinations like the Blue Ridge Parkway, the quaint outdoor town of Floyd, and several pet-friendly wineries, there are a myriad of activities to keep you and your pet entertained during your stay.
Cabins at Montfair Resort Farm—Crozet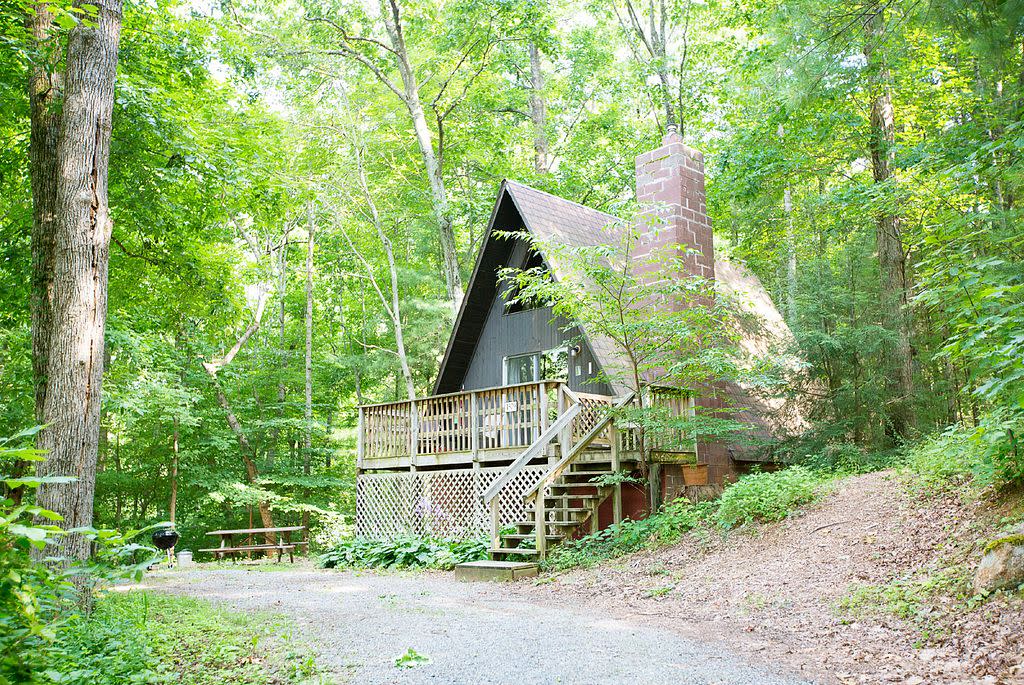 Photo Credit: Leora Vinceti
Montfair Resort Farm has eight pet-friendly (and also eco-friendly!) cabins overlooking a small mountain lake in Albemarle County, only 15 miles away from Charlottesville and less than ten from Shenandoah National Park. Take your dog for a walk on the farm's on-site hiking trails and explore the woodlands and open fields of the property. There are also over a dozen breweries, vineyards, and cideries within a short drive that are pet-friendly, allowing your pup to tag along for the adventures.
A Blue Ridge Cabin—Meadows of Dan
Constructed of hand-hewn local lumber, A Blue Ridge Cabin is only a short distance off the Blue Ridge Parkway near Mabry Mill, Rocky Knob, and the small but charming community of Meadows of Dan. This pet-friendly cabin has a master bedroom with queen bed, a loft with queen and twin beds, and a futon in the living room, allowing for groups of up to seven people. After spending the day exploring the Blue Ridge Mountains, snuggle up with your pup by the gas fireplace, and in the mornings, you can take in the beauty of the sunrise over the mountains from the back deck.
Autumn Ridge Cabin—Stanley
Photo Credit: Juergen Lunkwitz
A remote getaway sitting high atop the Blue Ridge Mountains, Autumn Ridge Cabin is located close to Shenandoah National Park, making it another ideal spot for travelers and their dogs looking for epic outdoor adventure. The cabin can comfortably sleep up to five, with a queen bed, full bed, and sleeper sofa, and the back deck offers unbelievable views of the mountains. Unwind after your adventures in the rental's luxurious hot tub and cook up a hearty meal in the cabin's fully equipped kitchen or on the charcoal grill.
More Pet-Friendly Cabins Around Virginia:
For more pet-friendly travel adventures in Virginia, visit Virginia.org/pets.