When visiting Virginia in February, romance is in the air, with lots of Valentine's Day events at wineries, prix fixe menus at upscale restaurants to commemorate the holiday, and even special packages at luxury resorts that include extras like sparkling wine, chocolate covered treats, and roses waiting in the room. But if you're not looking for a romantic getaway, have no fear; there is plenty more to do in the Commonwealth during the shortest month of the year! Use this guide to plan a getaway.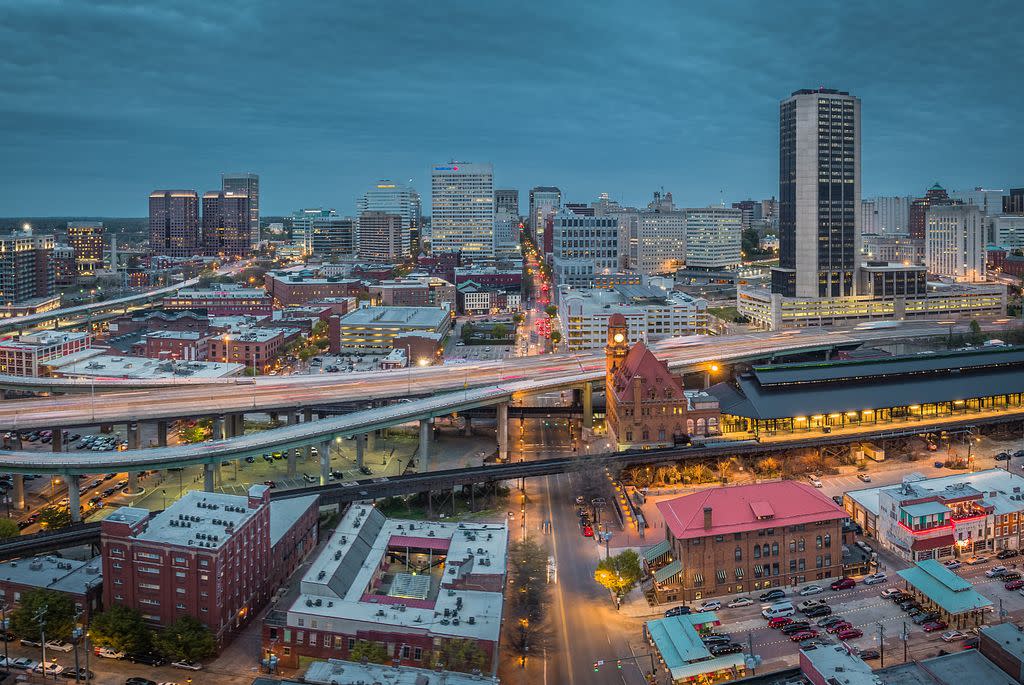 For February, one great location to check out is the capital city of Richmond. While it's still typically a chilly time of year in Richmond, you'll find plenty of indoor activities and short but sweet outdoor activities to enjoy this time of year in the city. 
The Newest Attractions for Richmond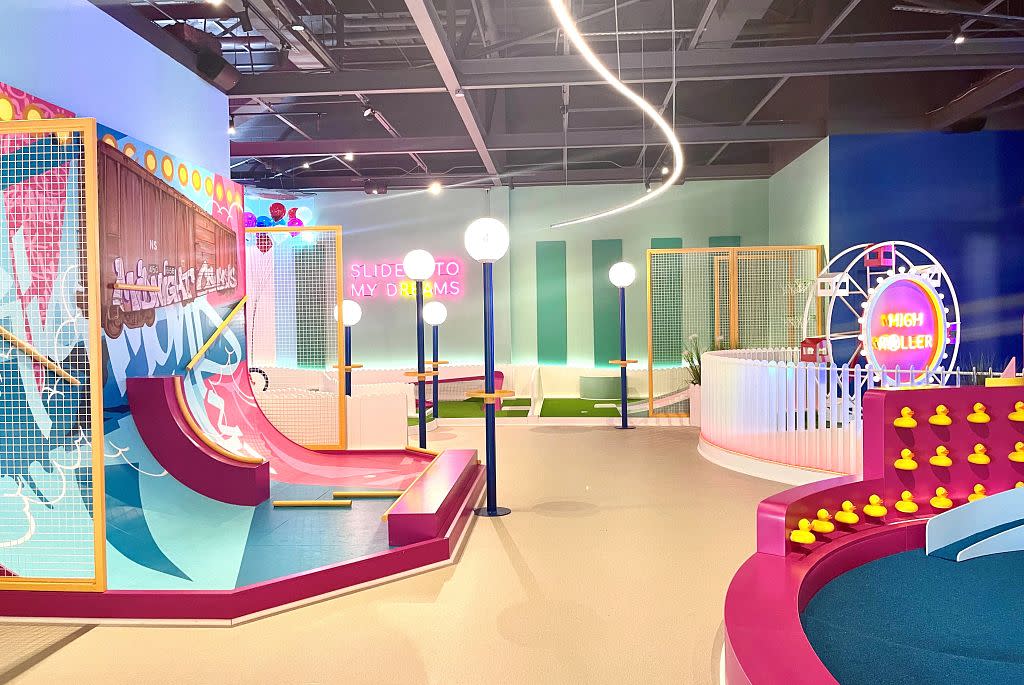 If you're looking for a date night spot that combines food and entertainment in one convenient location, The Park RVA should be at the top of your list. Launched in fall 2022, the 55,000 square-foot space houses a miniature golf course, the largest duckpin bowling alley in the United States, six unique restaurants serving everything from pizzas and smash burgers to ice cream and baked treats. Pair dinner with drinks from one of the three bars and wander around this massive adult playground, enjoying live music performances from bands and DJs while you bowl at the duckpin lanes or putt around the 18-hole IG-worthy mini golf course.
Opened in early 2022 in Richmond's Manchester neighborhood, Hatch Local Food Hall brings together a curated collection of local food vendors and features two bars, a market, private event spaces, and an outdoor patio and courtyard for the warmer months. 
Where to Stay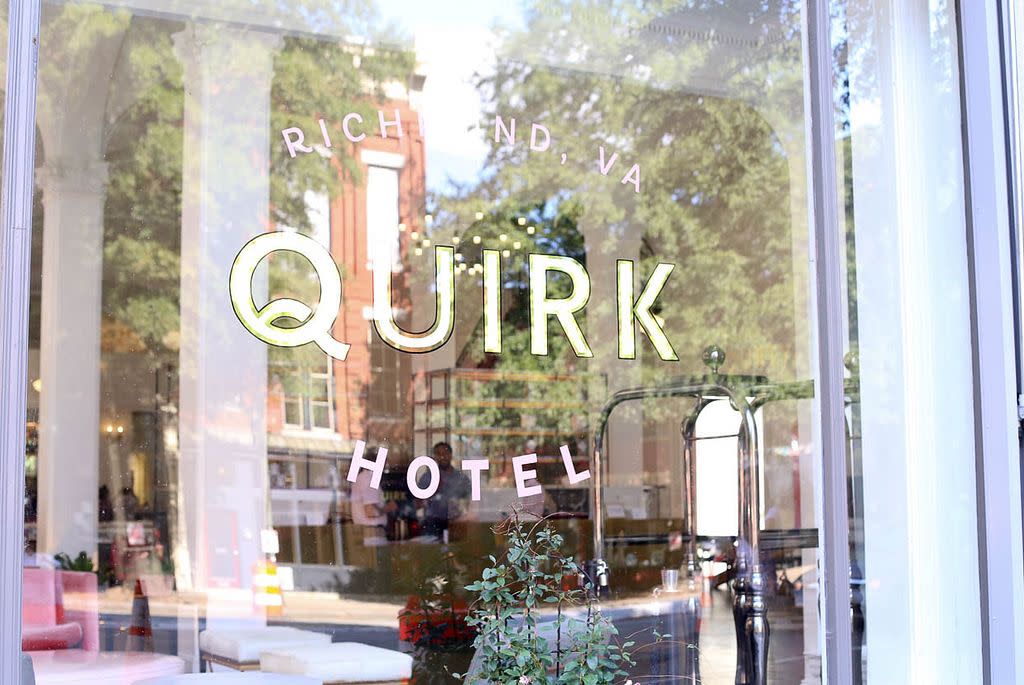 Photo Credit: CathY Anderson
For luxury that is both romantic and affordable, book a stay at the Quirk Hotel, which has rates starting at $198 per night in February. This lavishly modern hotel displays the works of the latest acclaimed artists in their on-site gallery, and for a more edible form of art, make reservations at the hotel's incredible restaurant, Maple & Pine.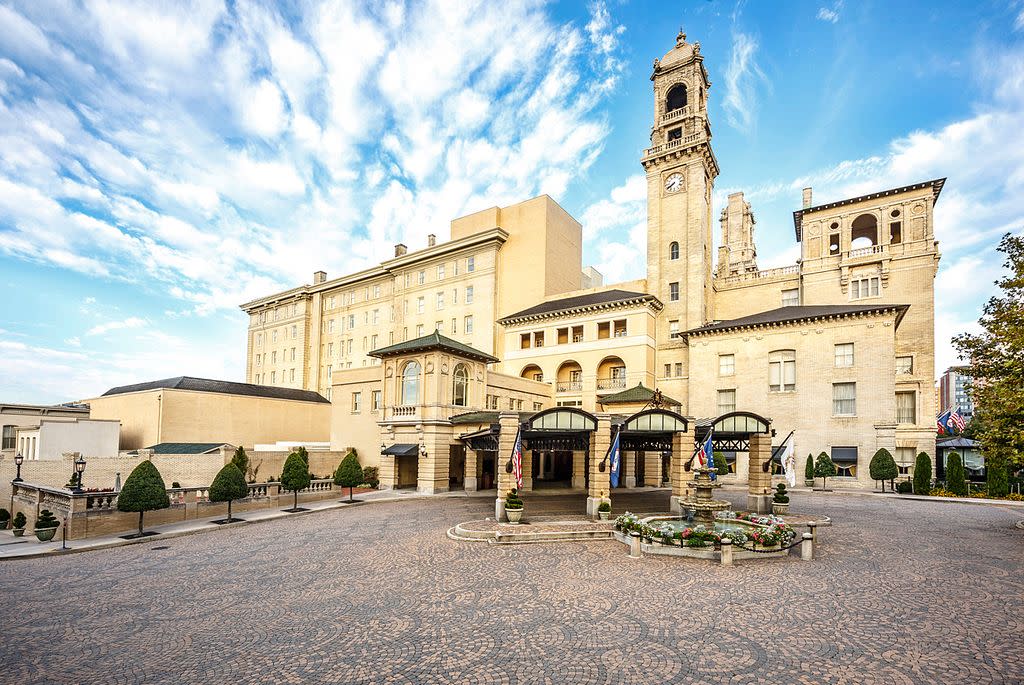 Photo Credit: Jamie Hayes
Another luxury option for your stay in Richmond is the Jefferson Hotel, a grand property just down the street from the Quirk that embraces old world elegance while outfitting accommodations with the latest in luxury, like TVs built into the bathroom mirrors and the highest quality sheets and towels. 
Where to Eat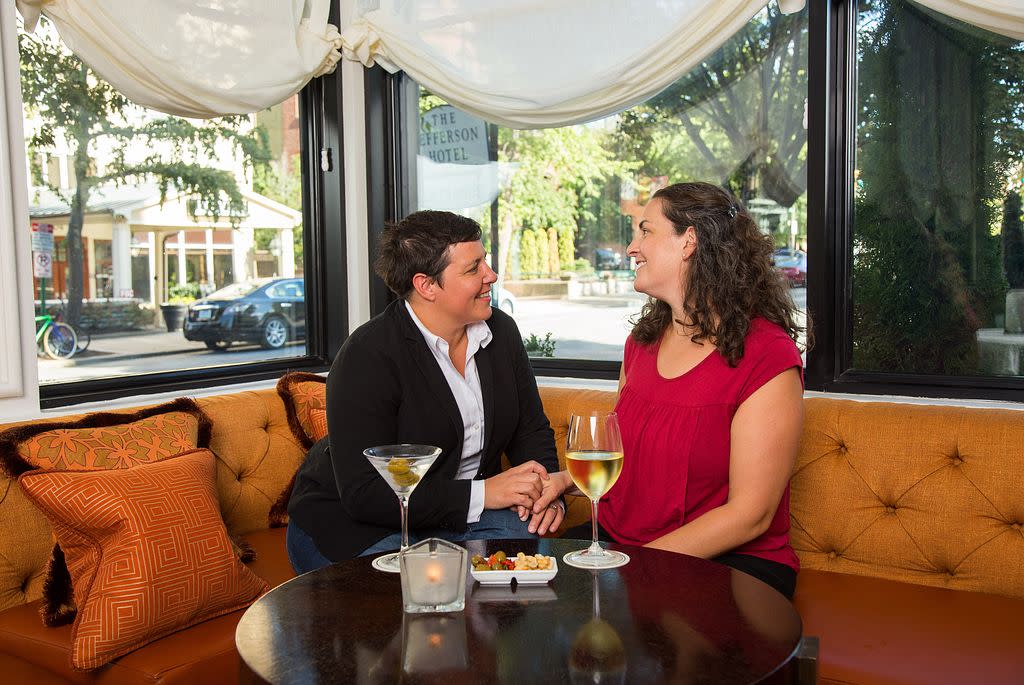 During Valentine's Day weekend, make a reservation at one of Richmond's most beloved restaurants, like The Jefferson Hotel's Lemaire, the quirky yet decadent L'Opossum, or the Alpine-inspired Brenner Pass, helmed by superstar Chef Brittany Anderson, who has appeared on Food Network's "Chopped" and "Iron Chef America", and lately starred in Bravo's season 18 of "Top Chef".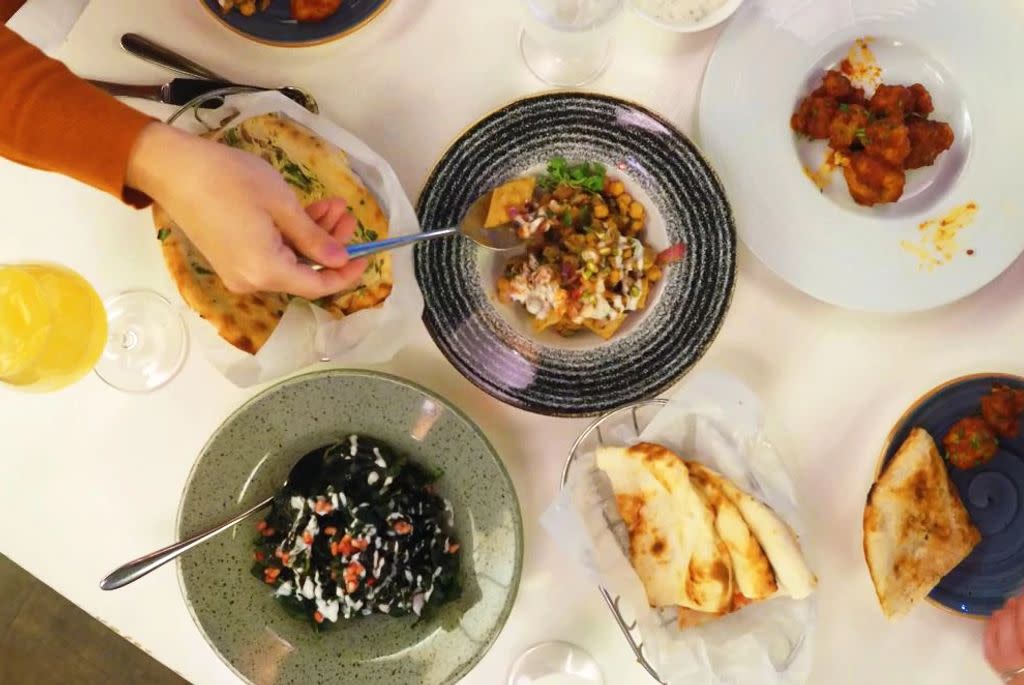 Another favorite eatery for the capital city is Lehja, an Indian restaurant in the Short Pump area serving authentically amazing cuisine under Executive Chef and co-owner Sandjeep "Sunny" Baweja. Lehja was named as one of the "finest Indian restaurants in America" by Forbes Magazine, and Chef Baweja has earned the title of a semi-finalist in the prestigious James Beard contest in the "Best Chef in the Mid-Atlantic region" category not once, but twice. For those travelers visiting Richmond that enjoy sampling international cuisine, Lehja is a can't-miss dining destination. 
What to Do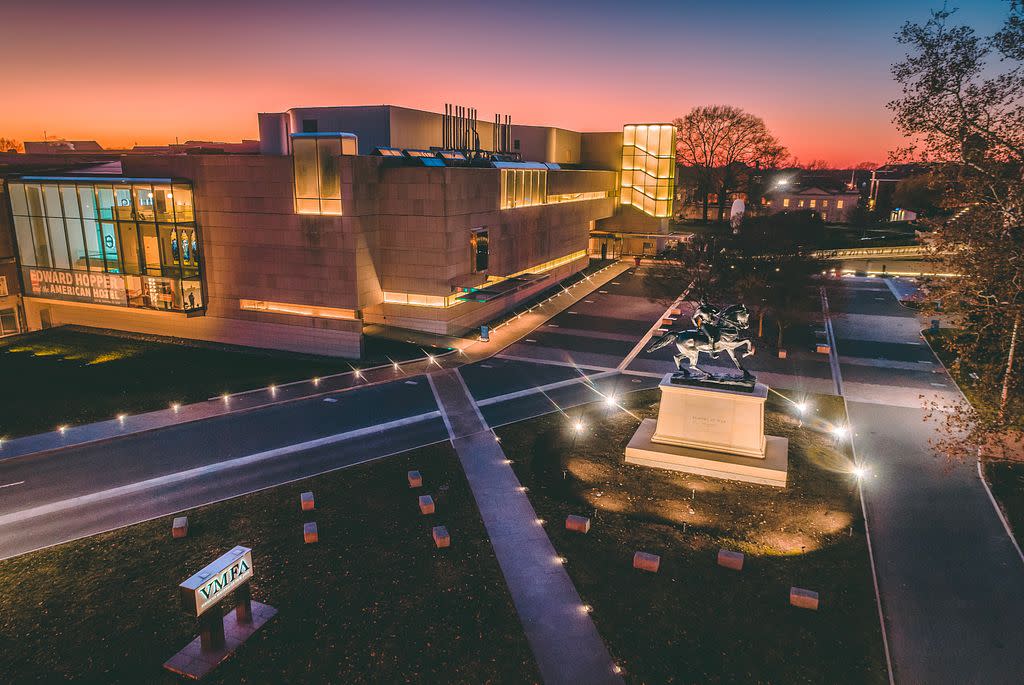 Photo Credit: Chad Williams, @echadwilliams
Stop by the Virginia Museum of Fine Arts on Arthur Ashe Boulevard to add a little culture to your itinerary. You'll find opulent exhibits including the largest collection of Fabergé eggs outside of Russia and stunning works from artists from around the world. On Fridays, the museum's casual eatery hosts Friday Art & Wine, with happy hour from 5:30-7:30pm and free gallery tours at 7:00pm and 7:30pm.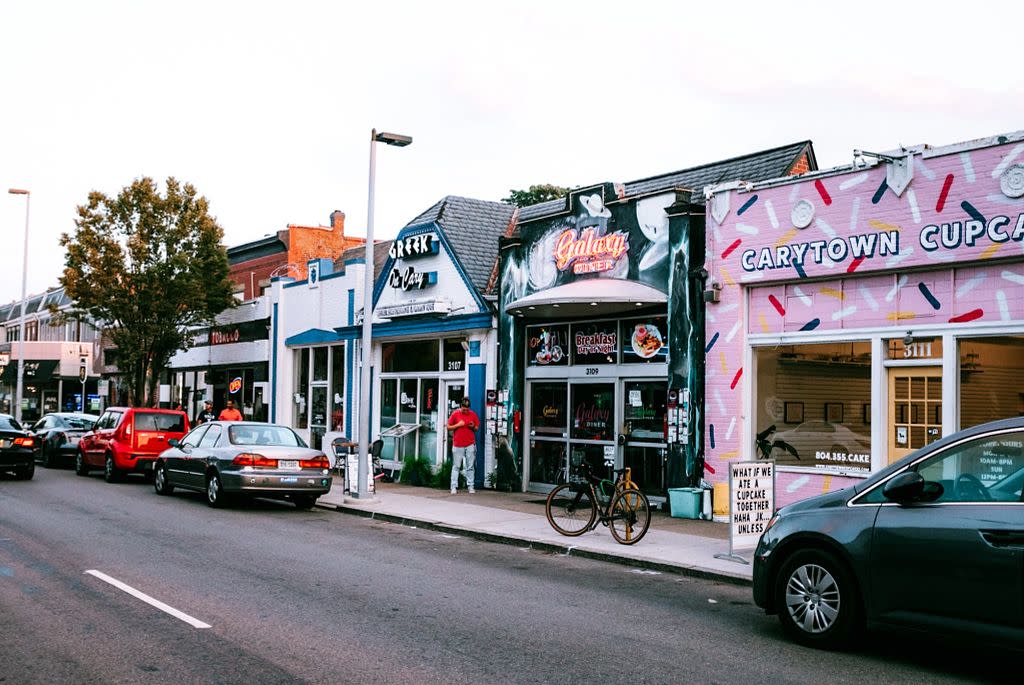 Head over to the walkable Carytown neighborhood for a little retail therapy and grab a cocktail from The Jasper, one of the city's most popular and creative bars.
For a stay in the capital city during the last weekend of February, get a little adventurous with Richmond's annual "Shiver in the River" event, a benefit for Keep Virginia Beautiful that features a 5K walk/run and ends with a thrilling dip in the chilly James River.
Don't miss checking out Belle Isle Historic Park, a 54-acre island in the middle of the James River, easily accessible from downtown Richmond. To get here, walk along the pedestrian suspension footbridge, hanging over the James River and beginning on the north shore at Tredegar Street, or reach the island from the wooden bridge near 22nd Street.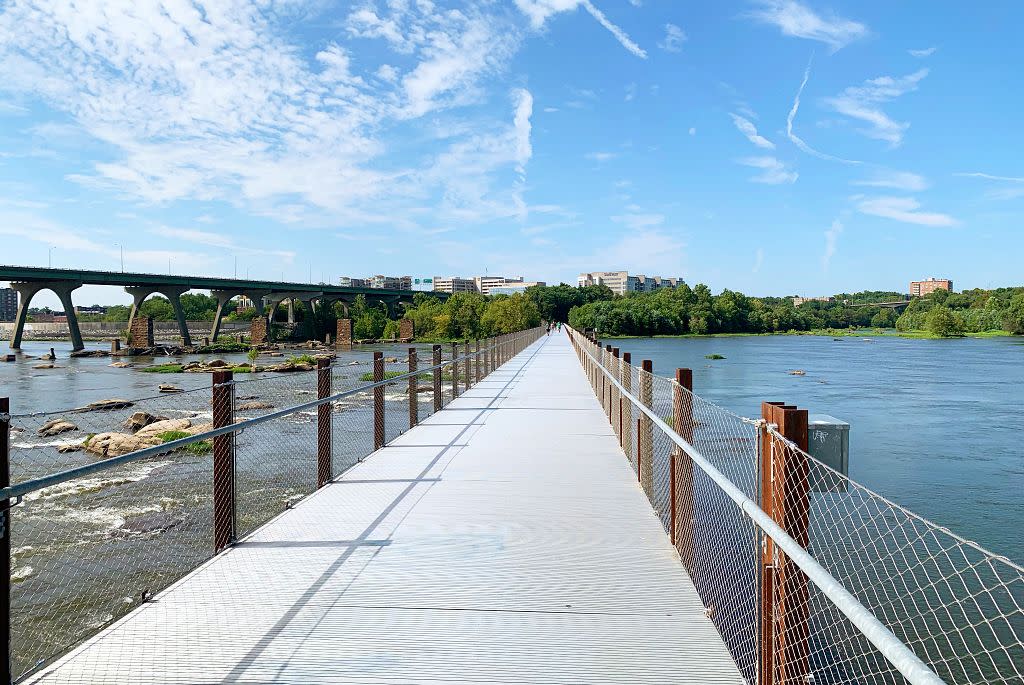 Photo Credit: Matt Long, @landlopers
Another picturesque viewpoint of the city from above the river's rushing waters is the T. Tyler Potterfield Memorial Bridge that runs between Brown's Island and the fast-growing Manchester District in Southside Richmond. Once across, warm up with a brew at Legend Brewing Company or grab lunch at Manchester's Table or Pig & Brew.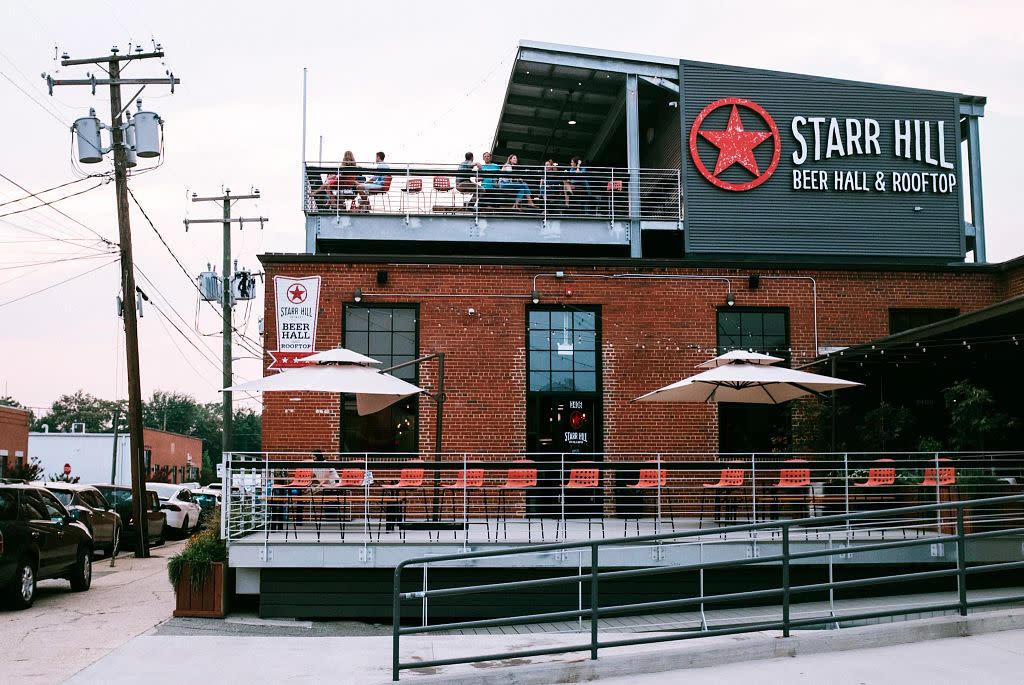 Speaking of brews, if you're a craft beer fan, you shouldn't miss a visit to the Scott's Addition neighborhood of Richmond. With ten breweries, three cideries, four distilleries, one meadery, and a winery, this popular Richmond neighborhood is a must for craft drink enthusiasts. Plus, there is one of Virginia's famous LOVEworks in the heart of Scott's Addition in the form of a large mural painted on the exterior of Reservoir Distillery. Snap a picture at this colorful LOVE sign while you're here!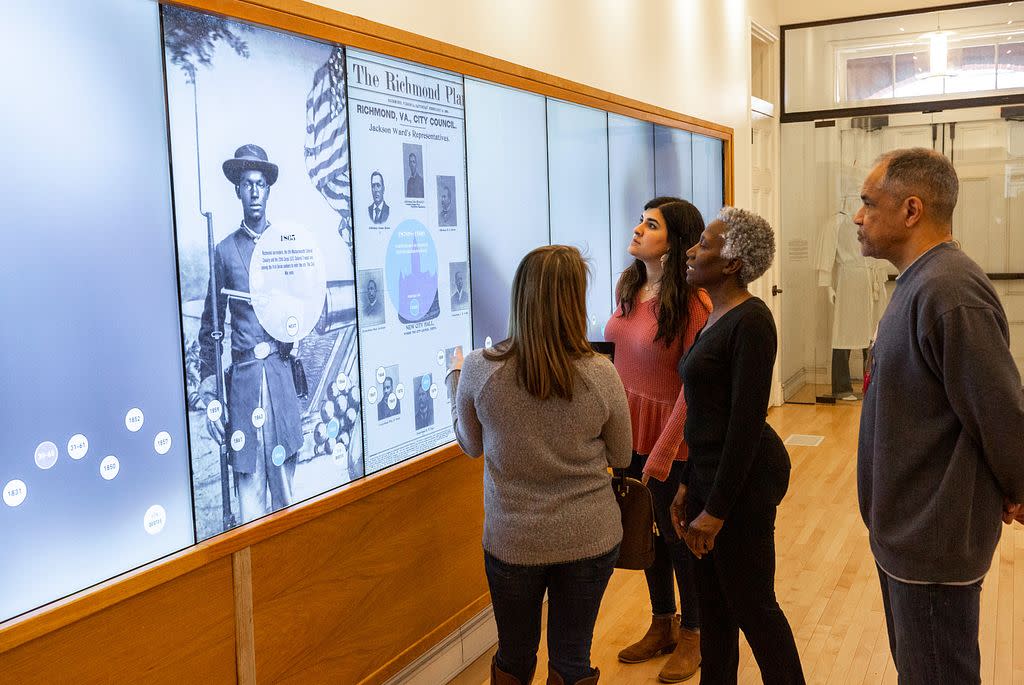 Learn a little about Virginia's notable Black history at the Black History Museum & Cultural Center of Virginia. Spanning from the early days of Colonial settlers to current events, the museum shares the stories of distinctive Black Virginians who left their mark on the Commonwealth, changing the course of history not just for Virginia but often for the entire nation. 
Photo Credit: Bill Crabtree Jr.
Another incredible site for history in Richmond is the Maggie L. Walker National Historic Site, located just a few blocks from the Black History Museum. The home previously belonged to Maggie Walker, a Black female Richmonder who devoted her life to civil rights, educational opportunities, and economic advancement for fellow Black citizens who were seriously limited in these areas during the Jim Crow era. Currently, house tours are offered by reservation only due to COVID-19, so plan ahead if you're interested in seeing this iconic home.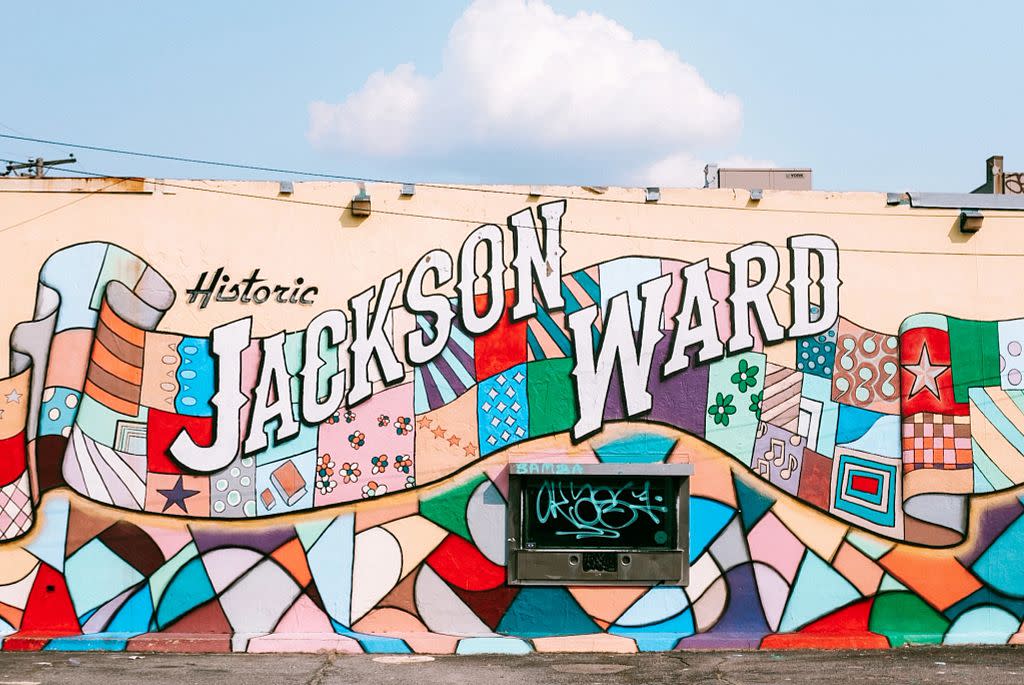 Afterwards, walk around the surrounding Jackson Ward neighborhood to experience Richmond's historic Black community. If you're hungry, we suggest grabbing a bite at Mama J's Kitchen, a soul food spot that perfectly embodies the culinary spirit of the neighborhood. 
Other Notable Things to Do & See in Richmond
More Virginia Vacation Ideas for February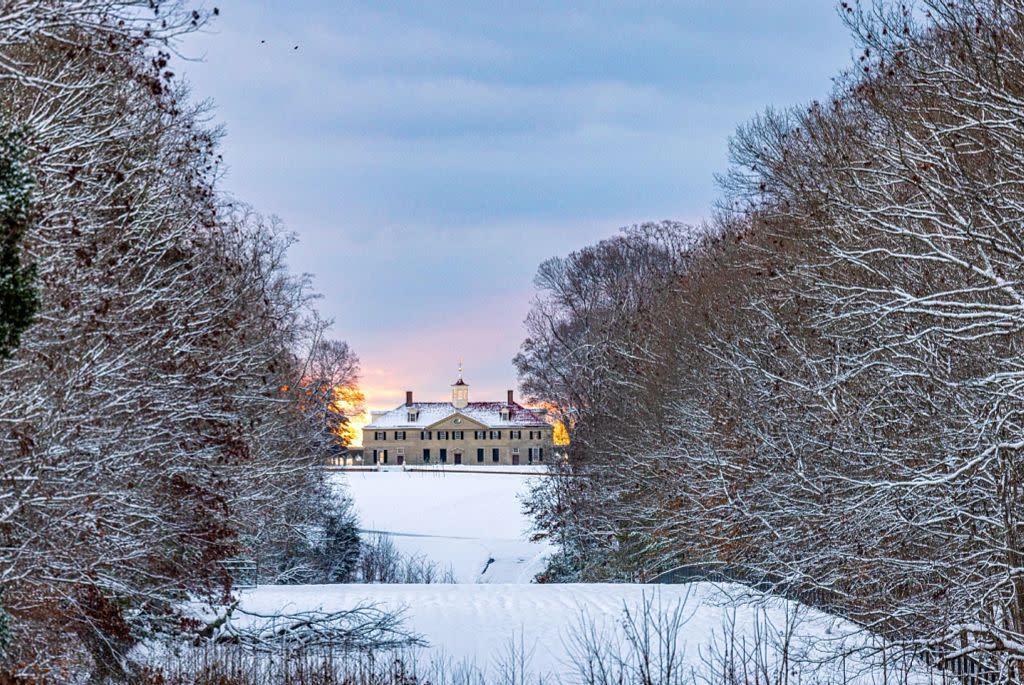 Head up to Northern Virginia and stay in the charming city of Alexandria to celebrate George Washington's birthday with more than a dozen events throughout February. One of the biggest events is the George Washington Birthday parade, happening on February 21st. While you're in the area, stop by Mount Vernon, George Washington's stunning estate perched above the Potomac River.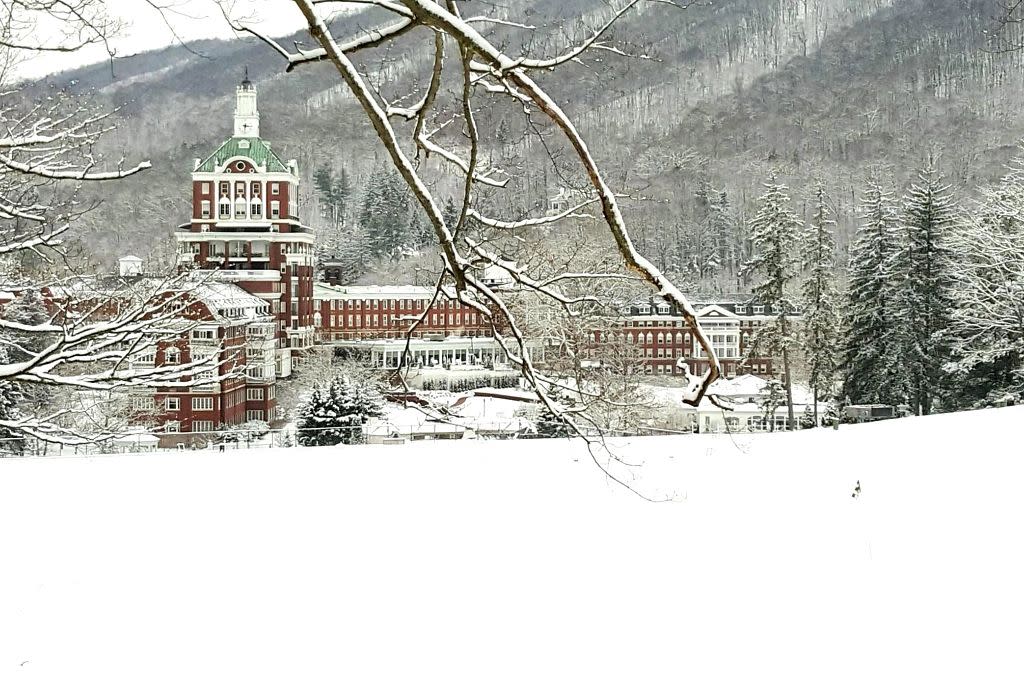 Photo Courtesy of the Omni Homestead Resort
With chilly weather pretty much guaranteed throughout February, a visit to a luxurious spa is a great way to unwind. Make it a luxury weekend getaway and stay at the Omni Homestead Resort in the picturesque mountain town of Hot Springs. This four-star resort features all the luxe amenities you'd want for a sumptuous spa retreat, including an opulent indoor pool with water fed by the surrounding natural springs as well as the Serenity Garden Pool, an outdoor pool kept warm year-round by the spring waters and is 18 and up, allowing adults to enjoy a few minutes of quiet time during their stay. You'll get free access to the Serenity Garden Pool with a spa booking of $200 or more, or you can purchase a day pass for $75. Treat yourself to facial treatments, body wraps, hair and nail salon services, and massages, letting the stress of everyday life melt away as you relax in this world-class spa.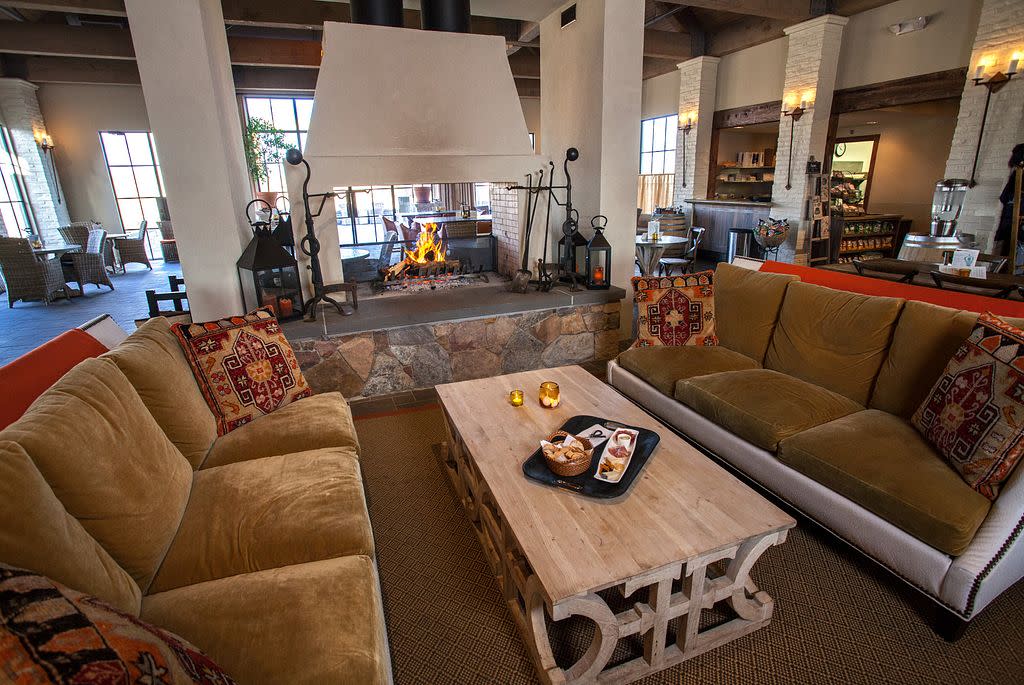 Another option for dealing with low temps? A day at a cozy Virginia winery! Learn about the impressive wine industry in the Commonwealth from tasting room staff as they pour distinctive (and often award-winning!) vintages, then warm up in front of a roaring fireplace with a delicious glass of your favorite Virginia vino in hand. 
Now that you've got a few ideas for a February vacation to Virginia, it's time to make it happen. Get out and enjoy a much-needed getaway to the Commonwealth to experience all there is to LOVE about Virginia!