Wanderlust is defined as a strong desire to travel, but here in Virginia, we call that feeling WanderLove. To help you plan your next vacation out on the open road, we'll be sharing a few of the most scenic and adventure-filled routes through the Commonwealth, including the best outdoor adventures, important sites, restaurants, and lodging options to add to your itinerary.
Winding through 469 miles of the storied Appalachian Mountains, the Blue Ridge Parkway extends from Virginia's Shenandoah National Park to the Great Smoky Mountains National Park in Tennessee. This scenic roadway begins in Afton and continues south, and key communities along this fee-free route include Waynesboro (Milepost 0), Buena Vista (Milepost 46), Buchanan (Milepost 86), Roanoke, and Fancy Gap (Milepost 200).
The speed limit along the Blue Ridge Parkway is 45 miles per hour, so this iconic Virginia road trip adventure is perfect for those that are looking to take their time and enjoy the journey. Follow our guide to the Blue Ridge Parkway to find the best restaurants, hotels, wineries, and can't-miss sites along the way!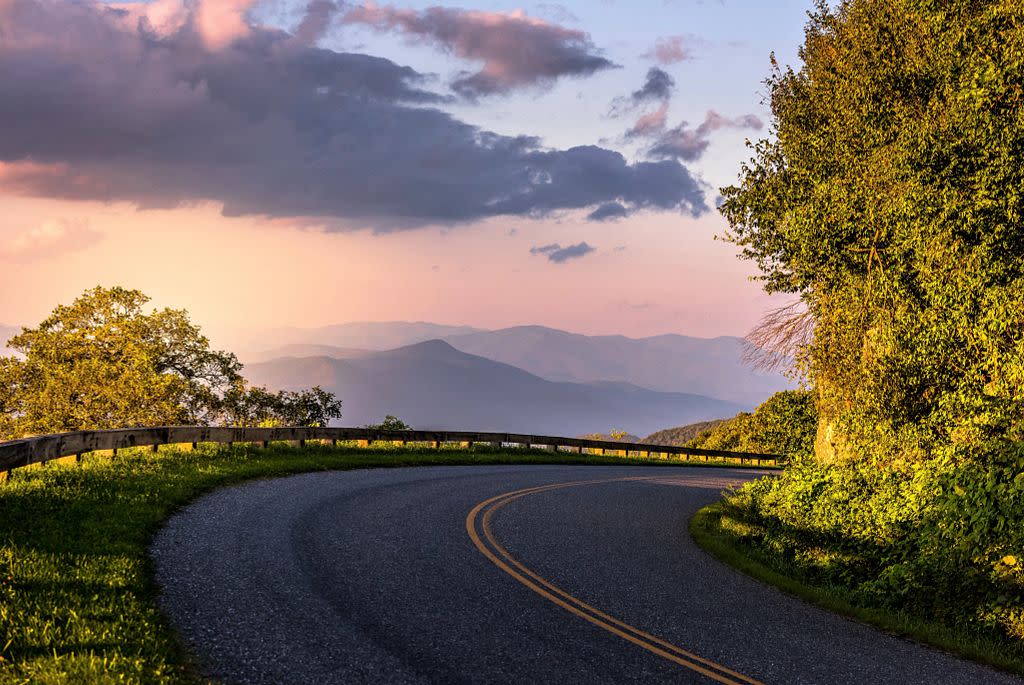 **Inclement weather may close the Parkway. Call 828-298-0398 or check the real-time closure page for status updates.
BLUE RIDGE PARKWAY: FROM AFTON TO ROANOKE
116 miles, approximately 3 hours 5 minutes
As the Blue Ridge Parkway runs entirely through mountain terrain, there are countless outdoor activities located along the route. You'll find hiking opportunities around every bend, from quick jaunts that allow you to stretch your legs to 30-mile sections of the Appalachian Trail that involve overnight backpacking.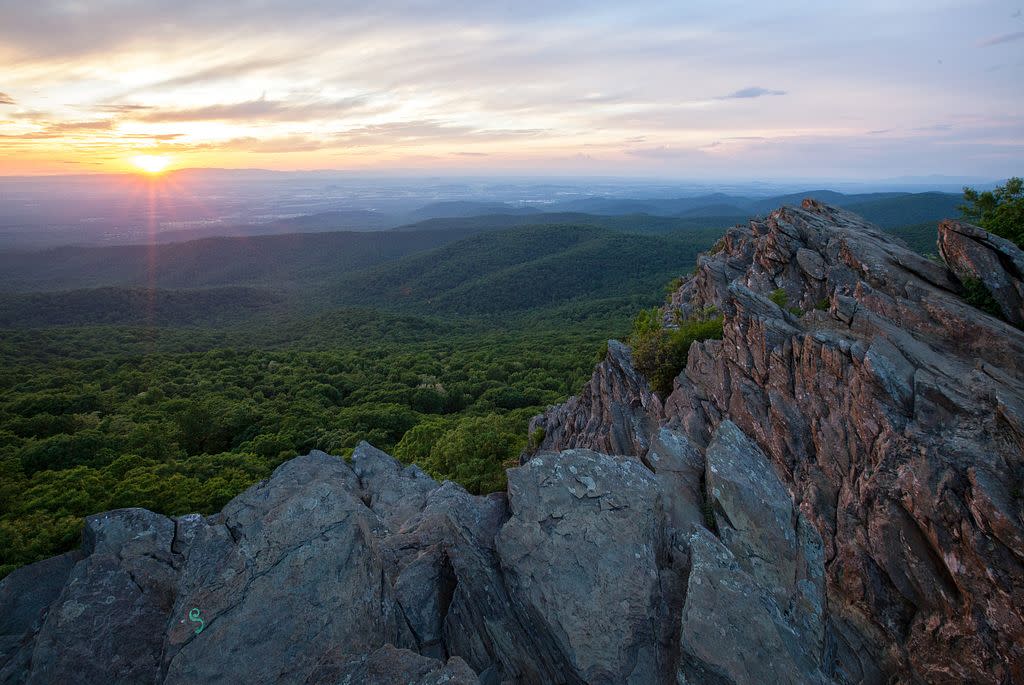 From the North Entrance of the Blue Ridge Parkway near Afton, the Humpback Rocks region has several hiking trails, but the most popular is the Humpback Rocks Trails, a short but strenuous 1-mile climb directly to the rocks. There is also a secondary route to the Humpback Rocks along the Appalachian Trail, giving you the chance to conquer part of this legendary trail during your Blue Ridge Parkway journey.
More hiking trails on this section of the Blue Ridge Parkway include Upper Shamokin Falls & Lower Shamokin Falls (a total of 2.1 miles with scenic waterfall views along the trail), the Three Ridges Hike (14.4 mile backpacking circuit with vista after vista along the Appalachian Trail), the White Rock Falls Loop (a 4.7-mile moderate trail with waterfalls), and Crabtree Falls Trail (located about six miles off the Blue Ridge Parkway, a 2.5-mile loop that features the highest vertical-drop cascading waterfall east of the Mississippi River). The Blue Ridge Parkway crosses the Appalachian Trail in several spots, so if tackling a few section hikes is on your bucket list, this is the trip to do it!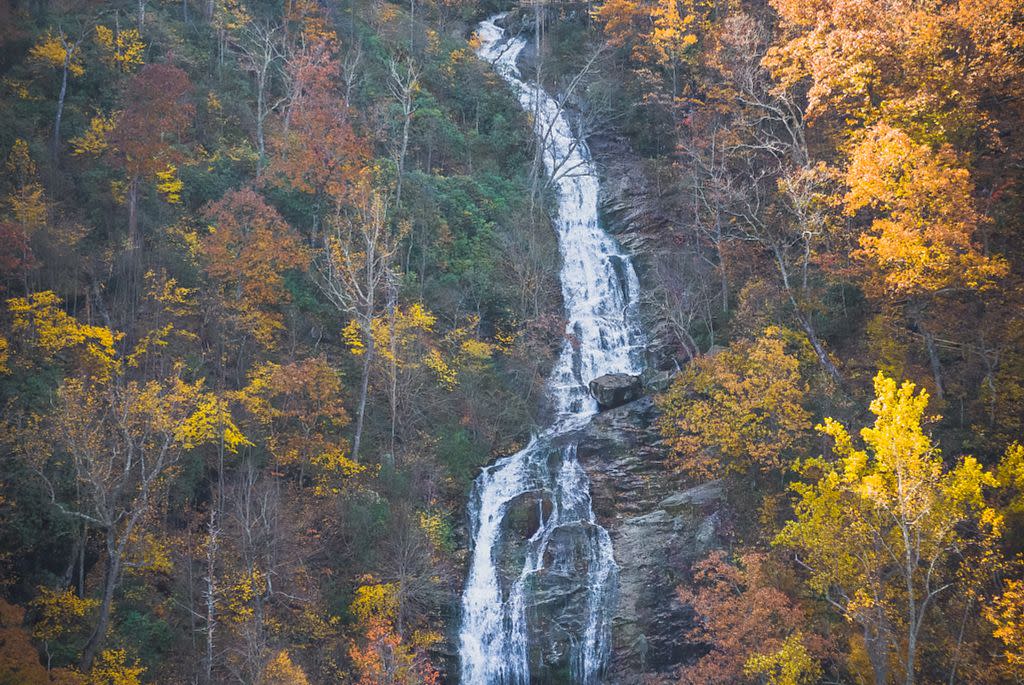 Creative Dog Media, IG account: @creativedogmedia
A short detour off the Parkway, Wintergreen Resort offers four-season fun for visitors driving the Blue Ridge Parkway. The resort contains two 18-hole golf courses that are open spring through fall; swimming, boating, and paddleboarding at Lake Monacan are available during the warmer months; skiing, snowboarding, and tubing slopes are open in the winter.
The 11,000-acre mountain-top resort has miles of hiking trails, tennis courts with lessons available through expert trainers, a full-service spa, several restaurants on-site, and indoor and outdoor pools (outdoor pools only open during the summer months).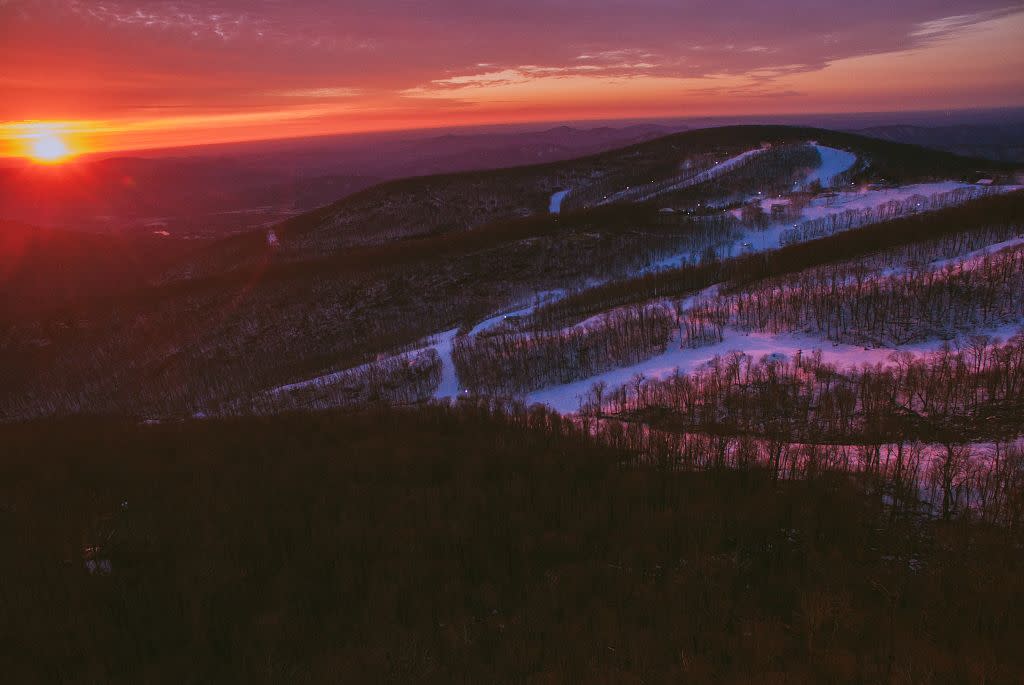 Photo Credit: Sam Dean, @sdeanphotos
Looking for even more ways to enjoy the Great Outdoors along the Blue Ridge Parkway? Plan a picnic along the sandy beach shores of Sherando Lake Recreation Area, mountain bike the Big Levels 4x4 Trail (a 17-mile trail that is also open to off-highway vehicles and off-road driving), or take your ATVs out on the South Pedlar ATV Trail System's network of 19 miles of trails open to riders April-November (permits must be purchased ahead of time).
While driving the Blue Ridge Parkway between Afton and Roanoke, plan a detour to Natural Bridge Historic Landmark. A site on the National Register of Historic Places once owned by Thomas Jefferson, this 215-foot tall limestone bridge was formed over thousands of years as Cedar Creek slowly eroded the land underneath the bridge.
This natural wonder is surrounded by pristine forests, rolling meadows, and impressive vistas that showcase the beauty of the surrounding mountain terrain. Follow the park's six miles of hiking trails to take in the variety of landscapes found within Natural Bridge State Park.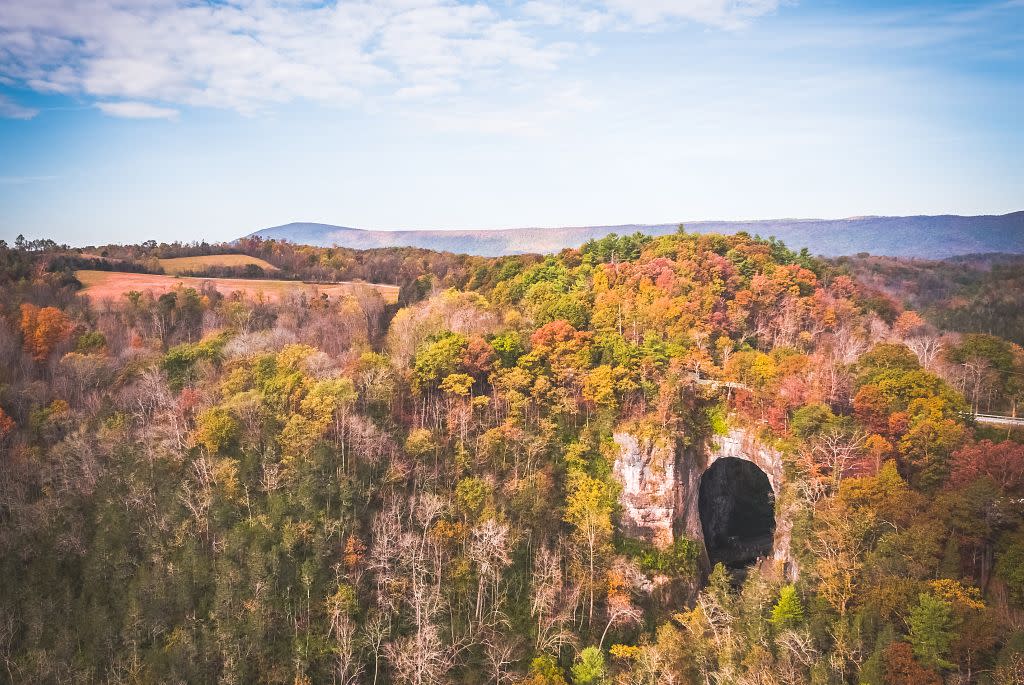 Photo Credit: Creative Dog Media, @creativedogmedia
Head back to the Blue Ridge Parkway, where you'll cross the James River and continue to Milepost 85.6 to the famed Peaks of Otter. Made up of Sharp Top Mountain, Flat Top Mountain, and Harkening Hill, this trio of mountains is a must-see landmark off the Blue Ridge Parkway.
Take some time to hike any or all of the three mountains: Flat Top, a 5.6-mile trail, affords spectacular views at the top, particularly in the fall when the leaves blanket the surrounding region in fiery colors; Sharp Top, a difficult 2.6-mile trail with 360-degree views at the top; and Harkening Hill, a 3.5-mile loop and the easiest of the three trails. In addition to hiking, there are picnic areas, campgrounds, wildlife exhibits, and interpretive programs that you can learn about at the Visitor's Center.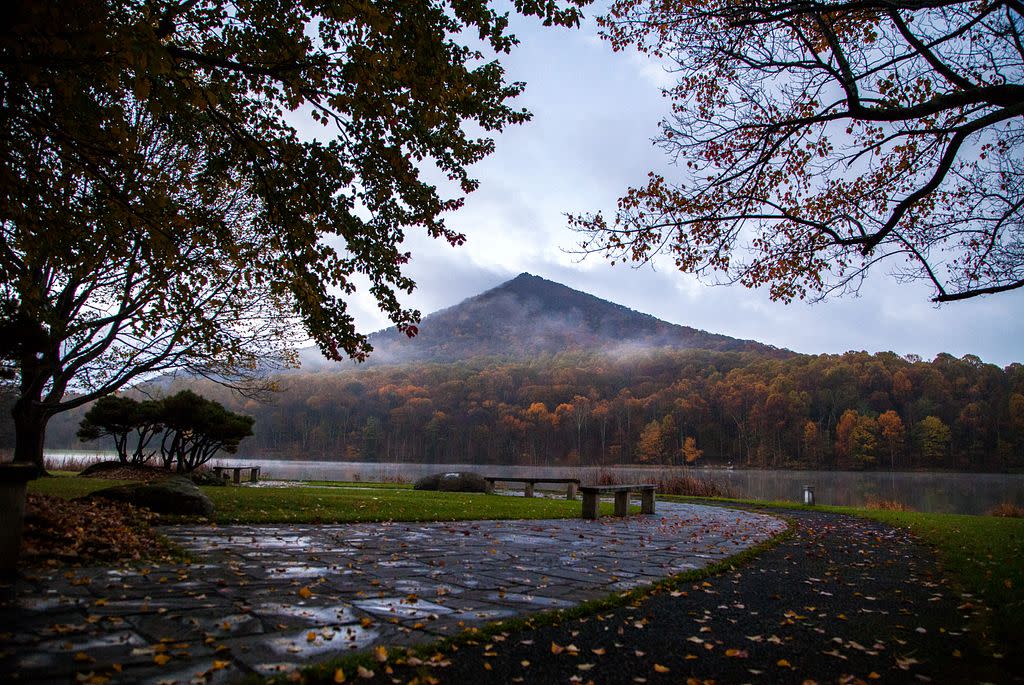 Your final optional detour before reaching the outskirts of Roanoke is the unique Buchanan Swinging Bridge. A 366-foot long and 57.5-foot tall pedestrian bridge swinging above the James River, parts of this historic bridge date to 1851 and have survived countless natural disasters such as floods, as well as the destructive Civil War battles that were fought throughout Virginia. If you're looking to spend more time out in nature before continuing towards Roanoke on the Blue Ridge Parkway, rent kayaks, canoes, or tubes through Twin River Outfitters and set out on the James River from downtown Buchanan. 
SCENIC OVERLOOKS & VIEWPOINTS—SEE ALL

Afton Overlook—Milepost .2

Rockfish Valley Parking Overlook—Milepost 1.5

View Shenandoah Valley—Milepost 2.9

Greenstone Overlook—Milepost 8.8

Rock Point Overlook—Milepost 10.4

Ravens Roost Overlook—Milepost 10.7

Three Ridges Overlook—Milepost 13.1

The Priest—Milepost 17.6

20-minute cliff overlook—Milepost 19

The Slacks Overlook—Milepost 19.9

Bald Mountain Overlook—Milepost 22.1

Fork Mountain Overlook—Milepost 23

Big Spy Mountain Overlook—Milepost 26.4

Boston Knob Overlook—Milepost 38.8

Irish Creek Valley Overlook—Milepost 42.2

White's Gap Overlook—Milepost 44.4

Chimney Rock Overlook—Milepost 44.9

View Buena Vista—Milepost 45.7

House Mountain View—Milepost 49.3

Punchbowl Mountain Overlook—Milepost 51.7

Bluff Mountain Overlook—Milepost 52.8
White Oak Flats Overlook—Milepost 55.1

Dancing Creek Overlook—Milepost 55.9

Upper Otter Creek Overlook—Milepost 57.6

Otter Creek Flats Overlook—Milepost 58.2

Otter Creek Overlook—Milepost 59.7

The Riffles Overlook—Milepost 60.4

View Terrapin Hill—Milepost 61.4

Lower Otter Creek Overlook—Milepost 62.5

Otter Lake Overlook—Milepost 63.1

View Terrapin Mountain—Milepost 72.6

Arnold Valley Overlook—Milepost 75.3

Apple Orchard Mountain Overlook—Milepost 76.5

Sunset Field Overlook—Milepost 78.4

Onion Mountain Overlook—Milepost 79.7

View Black Rock Hill—Milepost 79.9

View Headforemost Mountain—Milepost 81.9

Upper Goose Creek Valley Overlook—Milepost 89.4

Porter Mountain Overlook—Milepost 90

Mills Gap Overlook—Milepost 91.8

Purgatory Mountain Overlook—Milepost 92.1

Boblett's Gap Overlook—Milepost 93.1

Pine Tree Overlook—Milepost 95.2

Harvey's Knob Overlook—Milepost 95.3

Montvale Overlook—Milepost 95.9

Iron Mine Hollow Overlook—Milepost 96.2

Taylor Mountain Overlook—Milepost 97

The Great Valley Overlook—Milepost 99.6

The Quarry Overlook—Milepost 100.9

N & W Railroad Overlook—Milepost 106.9

View Coyner Mountain—Milepost 107

Read Mountain Overlook—Milepost 109

Stewart Knob Overlook—Milepost 110.6

View Roanoke Basin—Milepost 112.9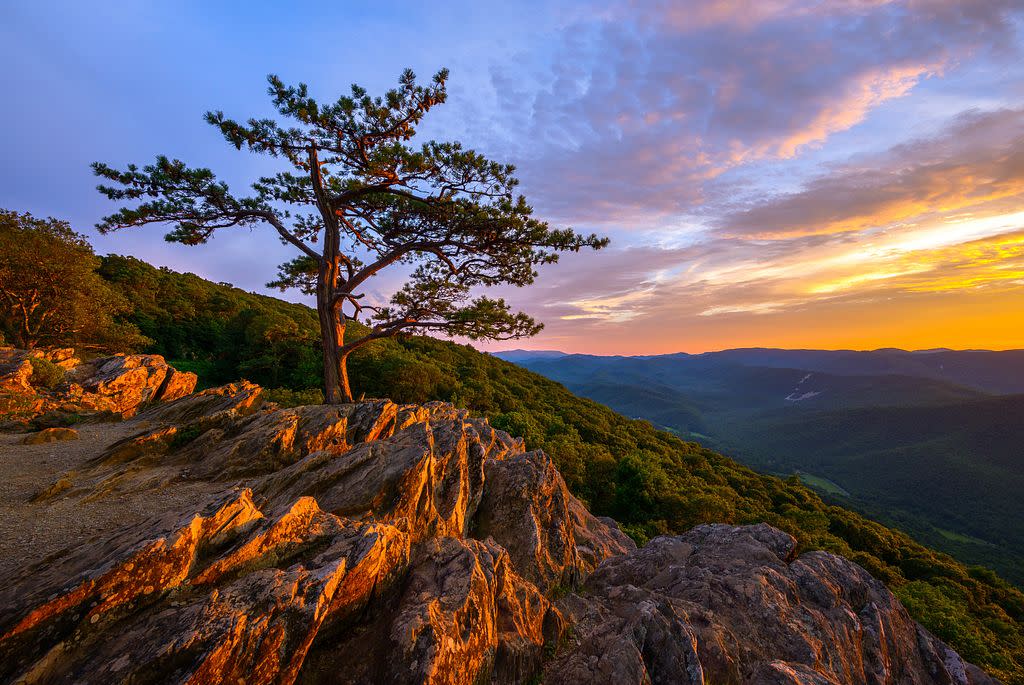 Photo Credit: Mike Herrick, @wahoophoto
Restaurants, Breweries, Wineries, & More
12 Ridges Vineyard—Vineyard that currently provides tastings of wines from around the world, specifically focusing on cool climate and sparkling wines. Located on milepost 25 of the Blue Ridge Parkway, the winery offers stunning mountain views. 
Nelson 151 Trail—Beverage trail that follows Route 151 through Nelson County; includes six wineries, four breweries, three cideries, and a distillery.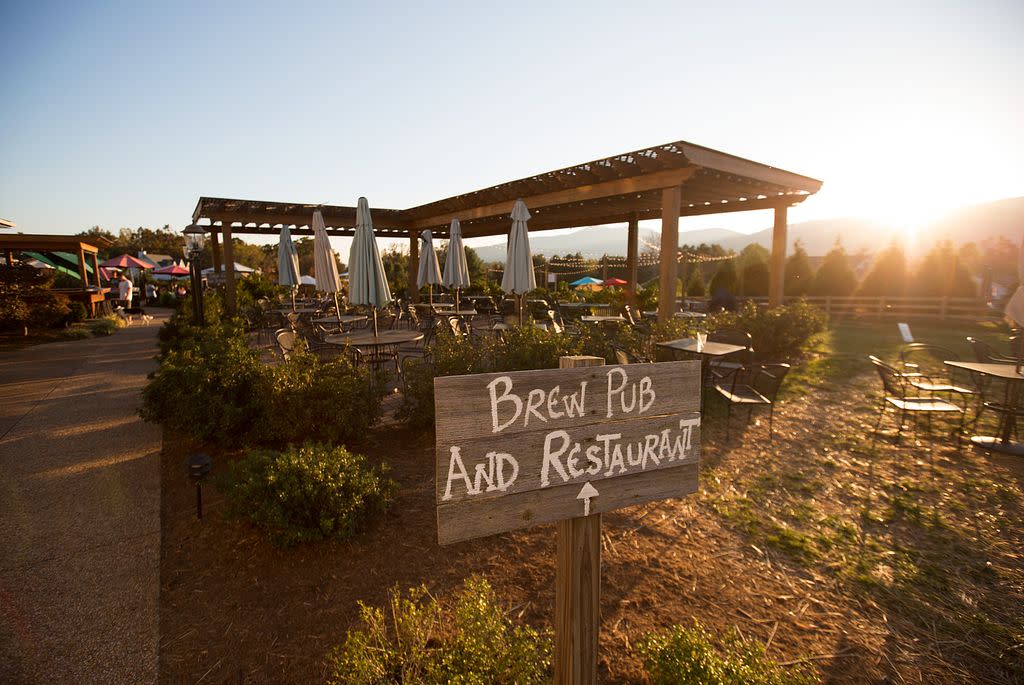 Peaks of Otter Winery—Winery and vineyard that also grows apples, peaches, nectarines, plums, and pears. Open for pick-your-own seasonally. Currently open for outside service only due to COVID-19. 
Hotels, Resorts, & Other Lodging
The Iris Inn—19-acre luxury inn, cottages, and cabins in the Blue Ridge Mountains overlooking Shenandoah Valley.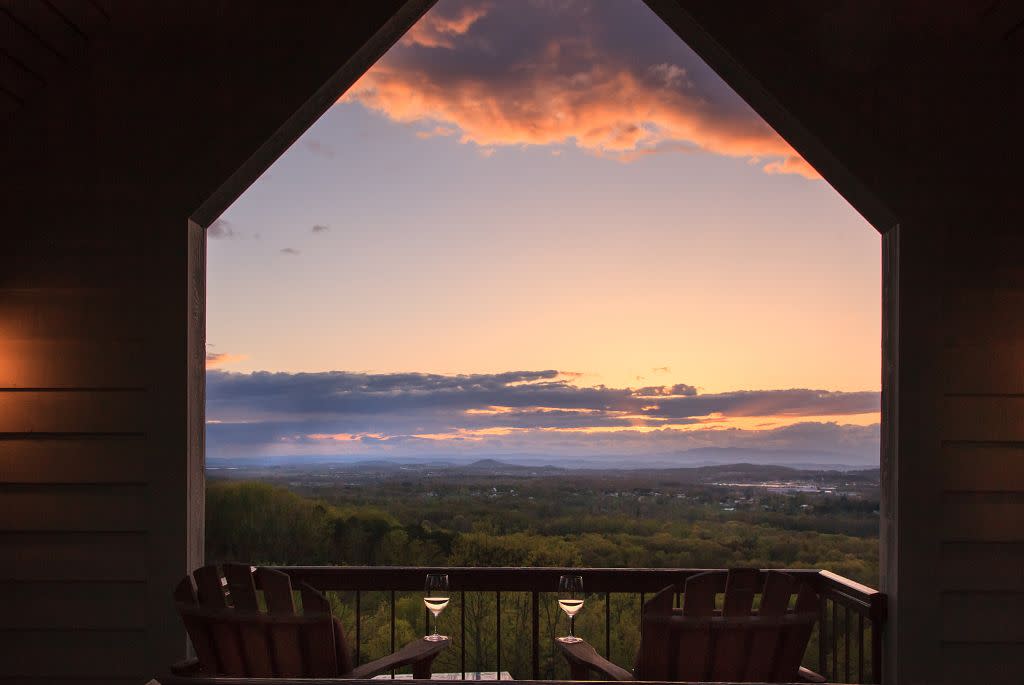 Photo Credit: Jumping Rocks Photography, @jumpingrocksphoto
Wintergreen Resort—11,000 acre resort in the Blue Ridge Mountains that offers four-season activities, including skiing and tubing in the winter and hiking and golf during the spring, summer, and fall. Several restaurants on the grounds and an on-site spa with indoor and outdoor pools. 
Fenton Inn—Inn off the Blue Ridge Parkway renovated to look like a Bavarian village, combining Old World craftsmanship and charm with modern luxuries. 
Royal Oaks Cabins—Cabin and chalet rentals, country store, deli, and gift shop off the Blue Ridge Parkway; exit at Milepost 16 onto Route 814. Cabins and chalets have fireplaces, hot tubs, and gorgeous mountain views.
Sugar Tree Inn—Rustic pet-friendly inn nestled above the Shenandoah Valley in the Blue Ridge Mountains. Located about a mile off the Blue Ridge Parkway from Milepost 27. 
Peaks of Otter Lodge—On the Blue Ridge Parkway at Milepost 86 and nestled between the Peaks of Otter mountains, this pet-friendly lodge is open May-November and has 63 guest rooms, an on-site restaurant serving breakfast, lunch, and dinner daily, and a gift shop.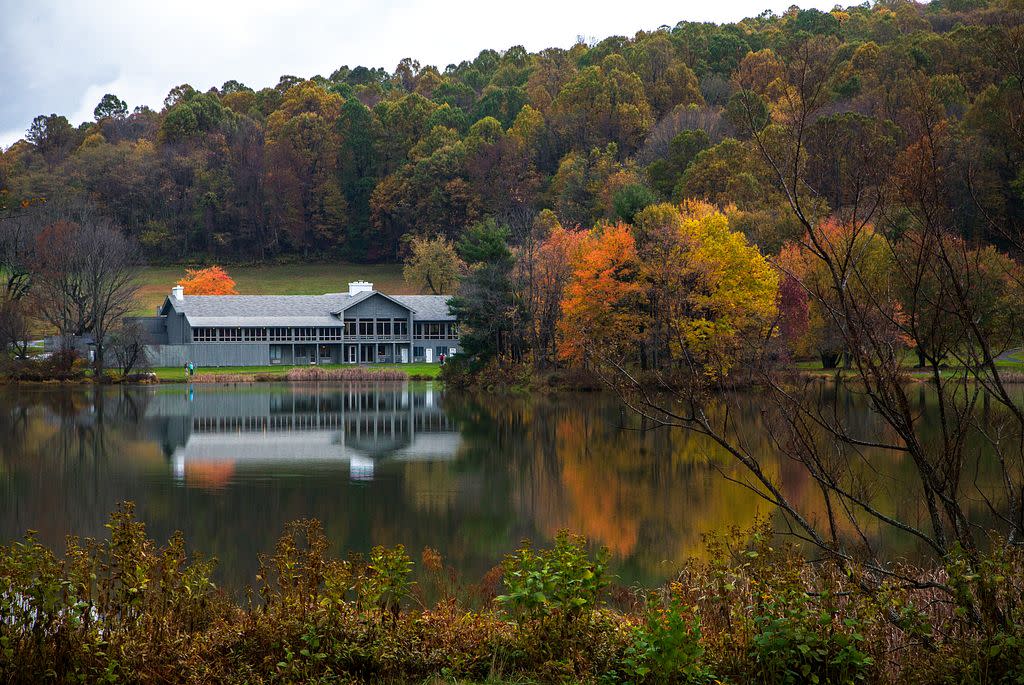 Montebello Camping & Fishing Resort—Mountain campgrounds and cabins in Nelson County that is open April-October; guests are invited to fish in resort's the four-acre pond. 
Peaks of Otter Campground—Campground right off the Blue Ridge Parkway and near the Peaks of Otter Lodge with 132 camp and RV sites; no electric, water, or sewer hookups at individual sites. A 24-acre lake beside the campground is stocked with small mouth bass and bluegill.
BLUE RIDGE PARKWAY: FROM ROANOKE TO VIRGINIA/NORTH CAROLINA BORDER
103 miles, approximately 2 hours 27 minutes
Note: A section of the Blue Ridge Parkway spanning from Milepost 121.2 to 135.9 (from south of Roanoke to Adney Gap) is currently closed due to damage caused by heavy flooding. Check the website for updates and take the detour provided in our map. 
While a section of the Blue Ridge Parkway after you leave Downtown Roanoke is currently closed, Visit Virginia's Blue Ridge has put together a 26-mile detour that still offers scenic views and several pit stops along the way.
While in the Downtown Roanoke area, walk or bike the Roanoke River Greenway, a system of trails in and around the area that highlights the best the region has to offer, including riverfront views, craft breweries, and some of the most beloved local restaurants.
A must-see attraction in Roanoke is Mill Mountain Park, a 568-acre park that contains miles of multi-use trails open for mountain biking, hiking, and even horseback riding, as well as the iconic Roanoke Star (where you'll get an incredible view of downtown Roanoke), the Mill Mountain Wildflower Garden, and the Mill Mountain Zoo.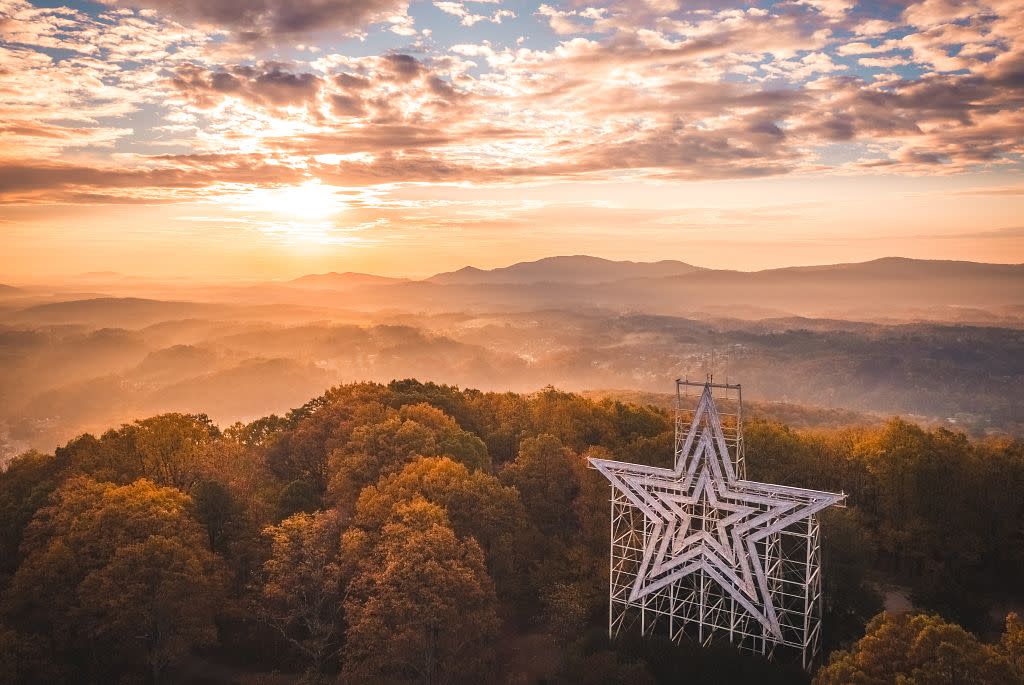 Photo Credit: Creative Dog Media, @creativedogmedia
Fill this section of your road trip with even more outdoor fun at Explore Park. Bordering the Roanoke River, the park is a blend of mountain terrain, pristine forests, and waterfront landscapes and contains an aerial adventure course with challenging obstacles and ziplines, a campground area with campsites, cabins, and yurt rentals, and multiple hiking trails.
Relax after your outdoor excursions with a craft beer, cider, or glass of wine at Twin Creeks Brewpub, conveniently located inside the park.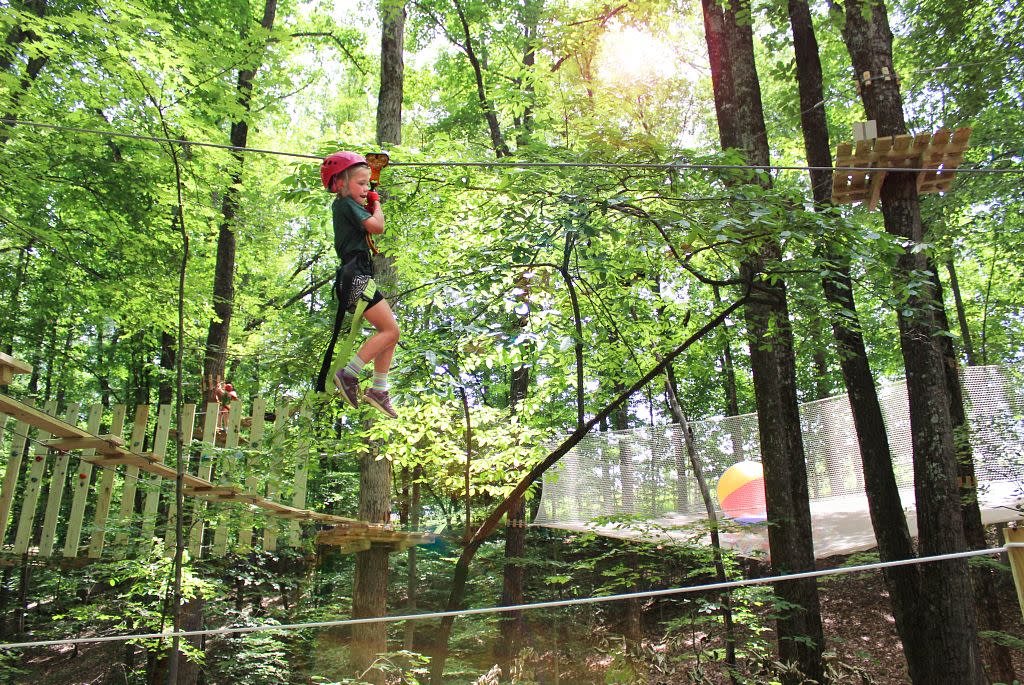 Photo credit: shannon terry
Get a taste of Appalachian music, food, and culture at the Floyd Country Store. This authentic general store is a true hidden gem of Southwest Virginia, where you can pore through an extensive collection of bluegrass and old-time music, pick out a selection of sweets housed in old wooden barrels, and savor some seriously delicious home-cooked meals.
While the country store's regularly-scheduled Friday Night Jamborees are not currently held inside the store due to COVID-19, you can catch a performance outdoors behind the store during the summer and fall months, as well as live streaming these performances on their Facebook page every week to experience the musical heritage of the Virginia mountains.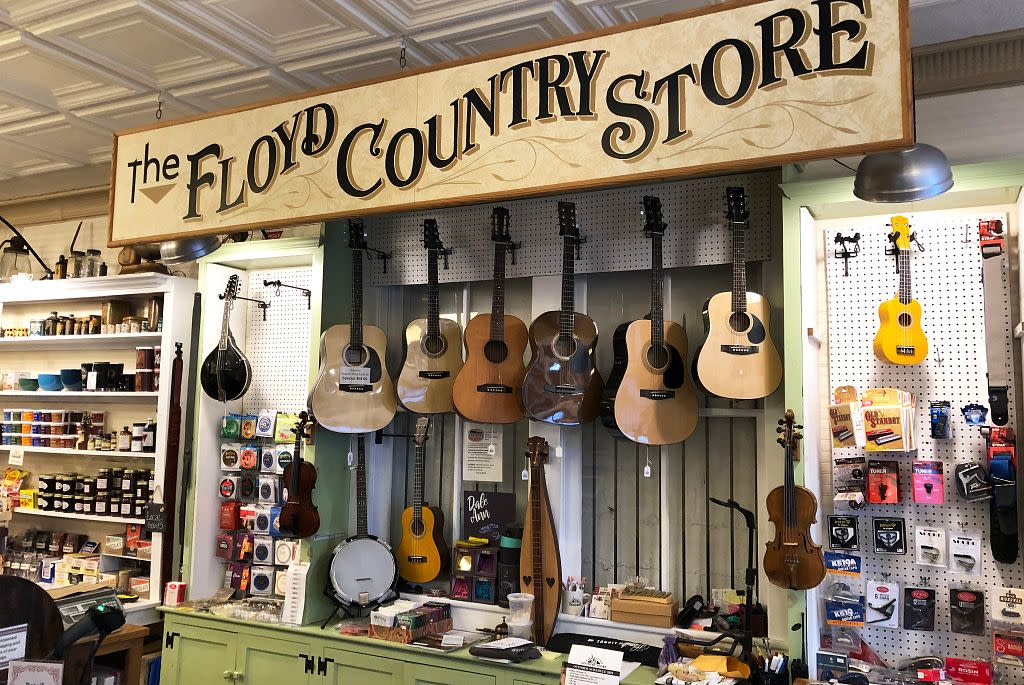 Resume your journey south on the Blue Ridge Parkway and head to Rocky Knob Recreation Area, which is near the intersection of the parkway Milepost 169 and Route 8. Covering over 4,000 acres, Rocky Knob has numerous trails open for hiking and horseback riding, such as Rock Castle Gorge Trail, a moderate 10.8-mile trail known for its beautiful rock crystalline quartz formations that includes a fun rock scramble and outstanding views of the surrounding mountains at the top.
There are also campgrounds in the recreation area open seasonally, allowing you to spend the night under the clear starry skies and enjoy both a stunning sunset and sunrise in the heart of the Blue Ridge Mountains. Two spots to take in these views are Grassy Knoll and Saddle Overlook, which provide uninterrupted views of the mountains for miles around.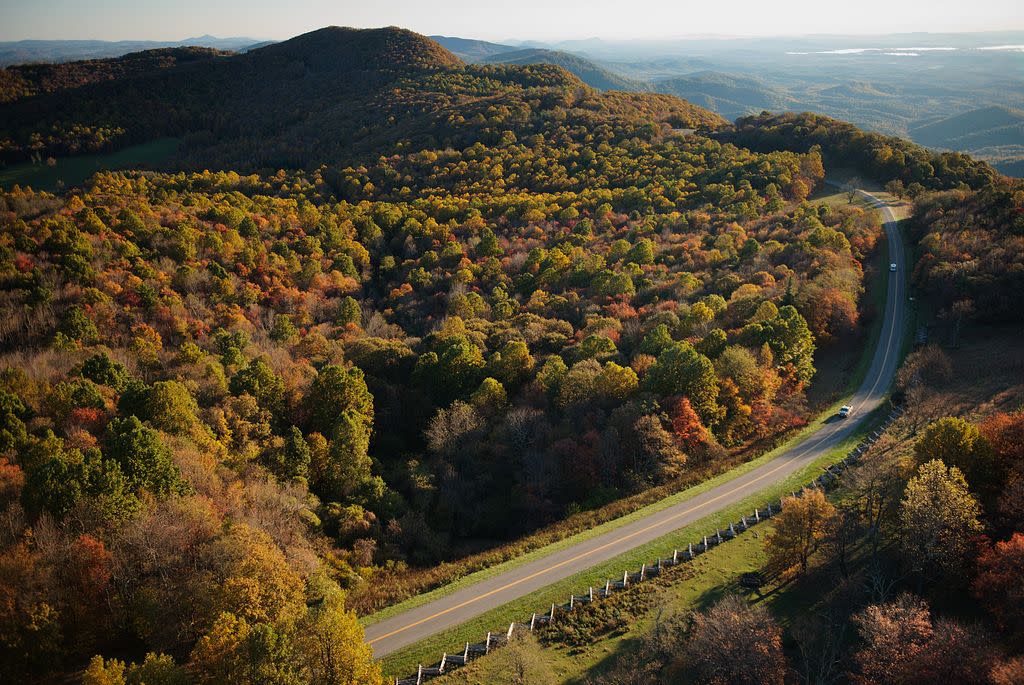 photo credit: cameron davidson
About 30 miles further south on the Blue Ridge Parkway, Mabry Mill is another can't-miss site along your road trip route. Known as one of the most iconic structures on the Parkway, this historic mill also has a restaurant and gift shop on the grounds, where you can dine on country-style fare before perusing the gift shop for handmade crafts from local artisans and old-fashioned Virginia foods such as stone-ground grits, cornmeal, and buckwheat flour made at the mill.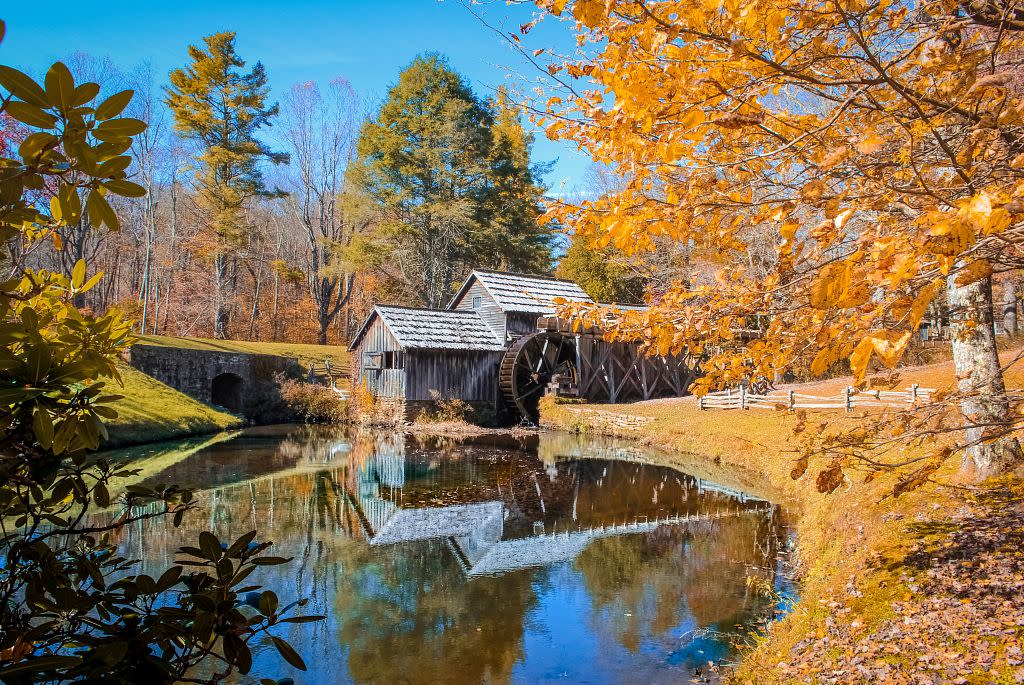 photo credit: shannon terry
If you're looking for a sugary stop along the way, head to Nancy's Candy Company in Meadows of Dan, right off the Blue Ridge Parkway. This candy factory makes over 45 flavors of fudge, 49 unique truffles, 85 different chocolates, and many other varieties of sweets. The retail shop is currently closed due to COVID-19, but you can still place an order online or over the phone and pick up at this delectable candy store.
Your final pit stop along the Blue Ridge Parkway in Virginia should be The Blue Ridge Music Center, which is hosting a socially-distanced concert series at their state-of-the-art amphitheater on select dates through the fall. If you're not lucky enough to be passing through during one of these shows, the music center is still worth a visit due to their on-site hiking trails.
SCENIC OVERLOOKS & VIEWPOINTS—SEE ALL

TEMPORARY CLOSURE STARTS HERE—PLAN YOUR DETOUR

Buck Mountain Overlook—Milepost 123.2

Masons Knob Overlook—Milepost 126.2

Metz Run Overlook—Milepost 128.7

Poages Mill Overlook—Milepost 129.3

Roanoke Valley Overlook—Milepost 129.6

Lost Mountain Overlook—Milepost 129.9

Slings Gap Overlook—Milepost 132.9

Bull Run Knob Overlook—Milepost 133.6

Poor Mountain Overlook—Milepost 134.9

BLUE RIDGE PARKWAY REOPENS HERE

Cahas Mountain Overlook—Milepost 139

Devil's Backbone Overlook—Milepost 143.9

Pine Spur Overlook—Milepost 144.8

Smart View Overlook—Milepost 154.1

Shortts Knob Overlook—Milepost 157.6

The Saddle Overlook—Milepost 168

Rock Castle Gorge Overlook—Milepost 168.8

Round Meadow Overlook—Milepost 179.3

Groundhog Meadow Overlook—Milepost 189

View Pilot Mountain—Milepost 189.1

Puckett Cabin—Milepost 190

Mount Airy Overlook—Milepost 202.8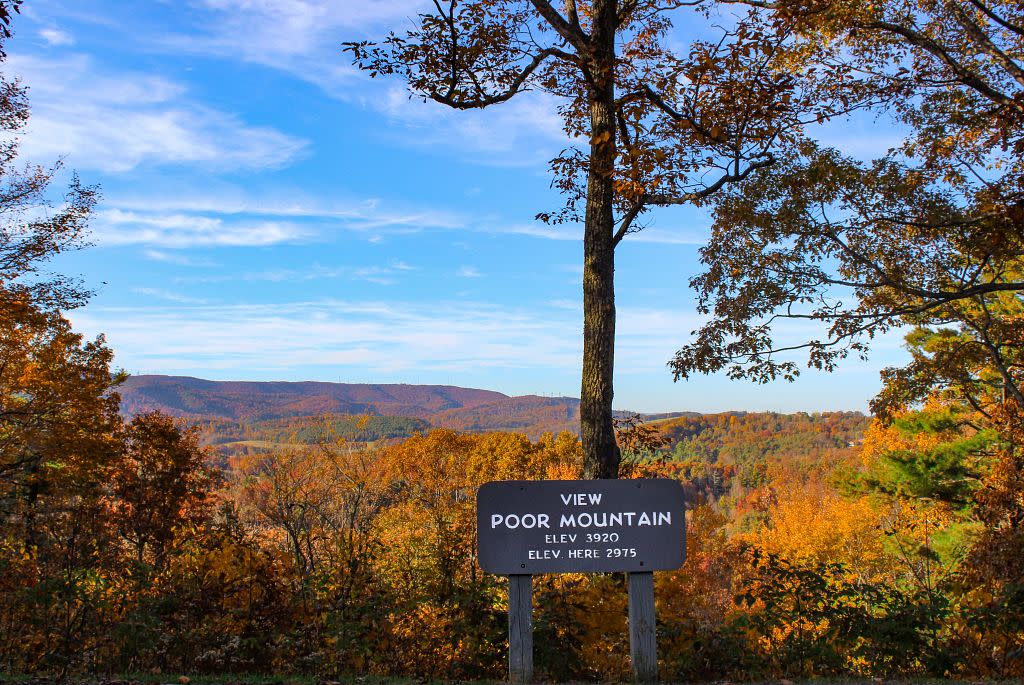 photo credit: shannon Terry
Restaurants, Breweries, Wineries, & More
FarmBurguesa—Farm-to-table burger restaurant in Vinton. 
Blue Cow Ice Cream Co.—Artisan ice cream shop in Roanoke. Currently open for carryout, curbside pickup, and delivery. 
AmRhein's Wine Cellars—Family-owned winery just off the Blue Ridge Parkway at Milepost 136. More than a dozen Virginia-style wines available to sample during a tasting.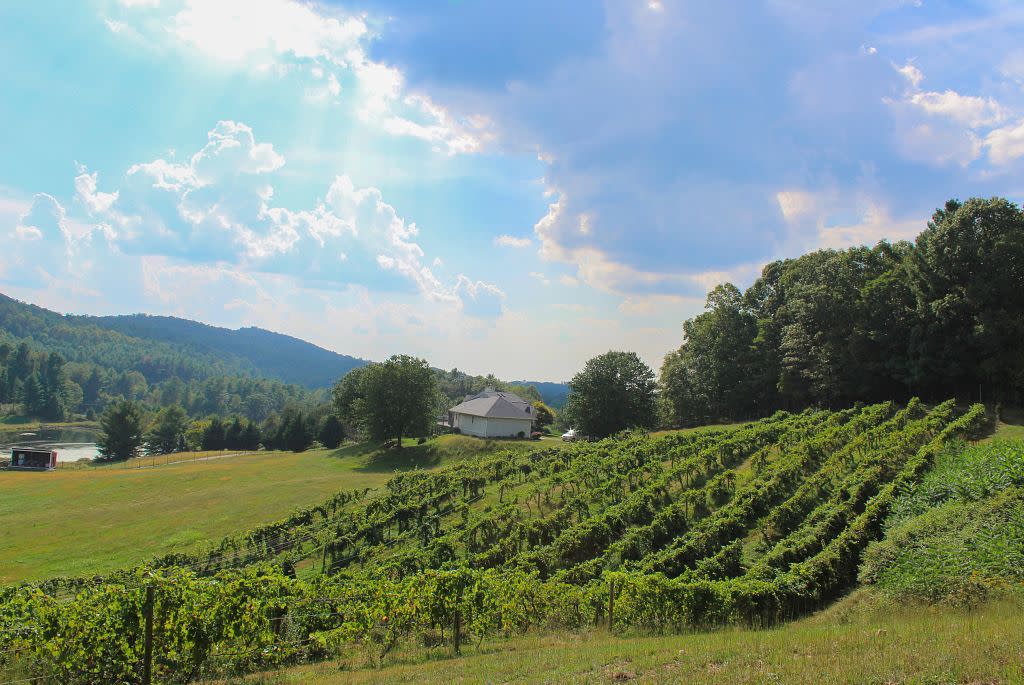 photo credit: shannon terry
Villa Appalaccia Winery—Tuscan-style pet-friendly winery on the Blue Ridge Parkway between Mileposts 170 and 171. 
Chateau Morrisette Winery and Restaurant—Winery and restaurant with incredible views off the Blue Ridge Parkway at Milepost 171.5. Currently closed due to COVID-19; check website for updates.
Mabry Mill Restaurant & Gift Shop—Historic mill, restaurant, and gift shop on the Blue Ridge Parkway at Milepost 176; open Wednesday-Sunday during COVID-19. The circa-1910 mill is known as one of the most photographed spots on the Blue Ridge Parkway.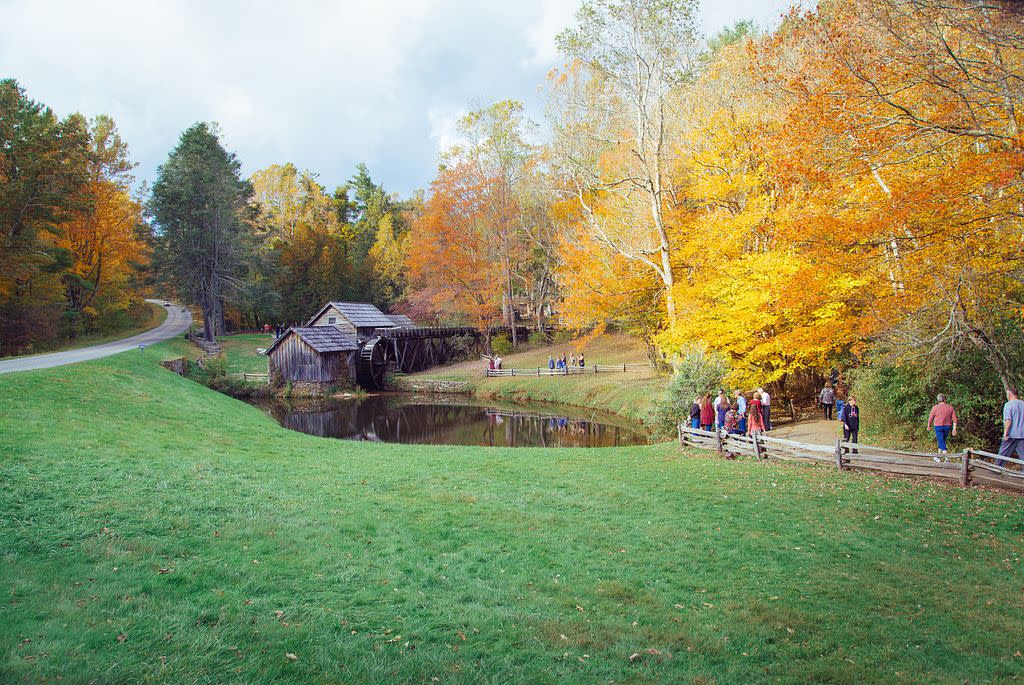 photo credit: beverly smith
The Gap Deli at the Parkway—Deli in Fancy Gap near the Virginia/North Carolina border off the Blue Ridge Parkway serving signature salads, sandwiches, desserts, coffee, and daily specials. Currently only offering curbside pickup due to COVID-19. 
Hotels, Resorts, & Other Lodging
The Overlook Cabins—Fully-furnished rustic pet-friendly cabin rentals on a 63-acre horse farm in the mountains. Only three miles from Grayson Highlands State Park. 
Bent Mountain Lodge Bed & Breakfast—15,000 square foot bed & breakfast with ten pet-friendly suites that offer beautiful views of the Blue Ridge Mountains and have Jacuzzi tubs. 
Stonewall Bed & Breakfast—Floyd log cabin bed & breakfast in the mountains with five rooms, a suite, and two cabins. 
Hotel Floyd—Eco-friendly and pet-friendly hotel in Downtown Floyd that utilizes Green technology in their sustainable practices. 
Tuggles Gap Restaurant & Motel—Historic restaurant and motel off the Blue Ridge Parkway on Route 8, just six miles south of Floyd.
Woodberry Inn—Peaceful mountain inn off the Blue Ridge Parkway at Milepost 174.1. 
Primland Resort, Auberge Resorts Collection—Luxury pet-friendly resort with spectacular mountain views about 12.5 miles off the Blue Ridge Parkway in Meadows of Dan. On-site fine dining restaurant, spa, and indoor pool; grounds offer an 18-hole golf course and a disc golf course, flyfishing, sport shooting, archery, biking, horseback riding, RTV trail riding, and stargazing at the resort's observatory.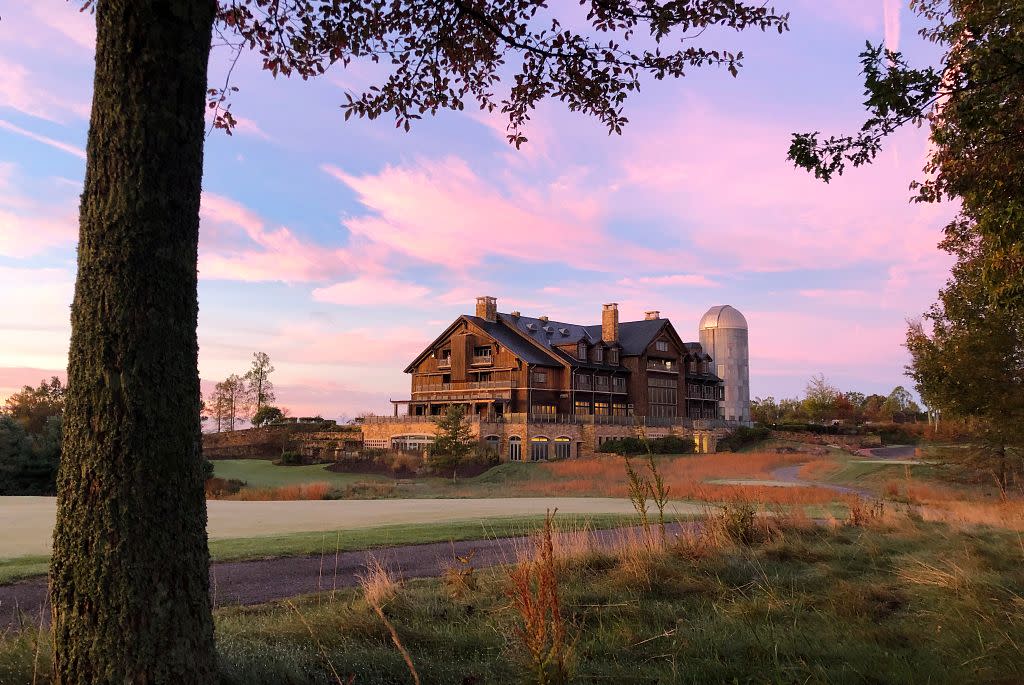 A Blue Ridge Haven Cabin Rentals—Appalachian-style pet-friendly log cabins along the Blue Ridge Parkway; sleep up to six people. 
Meadows of Dan Campground—Campground in the heart of the Blue Ridge Mountains with camping and RV sites and log cabin rentals that feature Whirlpools and gas-log fireplaces. 
Lonesome Pine Cabins—12 rustic mountain cabins with modern conveniences outside of Fancy Gap that sleep 2-4 people. 
Fancy Gap Cabins and Campground—Pet-friendly campground, cabin rentals, and a quaint motel with mountain views. The grounds include 22 acres of hiking trails as well as peach and apple orchards.