Taking a walk can be an instant pick-me-up, but encountering wildflowers along the way? That's quite possibly some folks' idea of heaven on earth. Refer to this list as you plan your walks and hikes, as each of these is fit for varying abilities and desires.
Reminder: When visiting Virginia's natural areas, please don't pick the wildflowers.
WILDFLOWERS OF VIRGINIA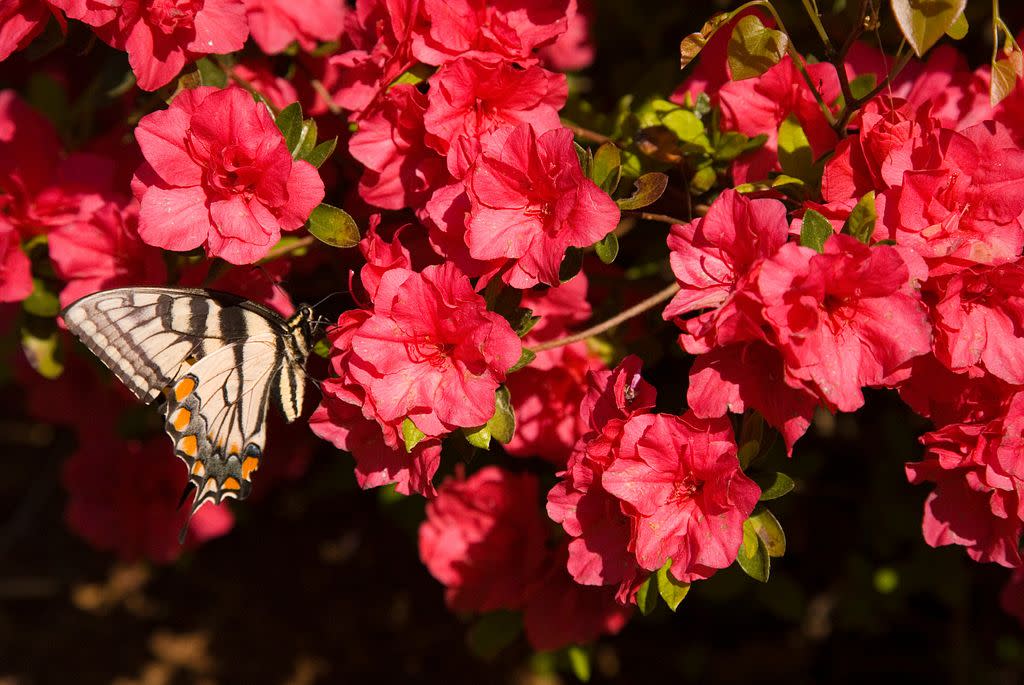 Photo Credit: Bill Crabtree Jr.
While the list is long, these are some of the more easily found wildflowers that you might come across on your hike.
Common Wildflowers:
Virginia Bluebell
Bloodroot
Honeysuckle
Eastern Red Columbine
Trillium
Snowdrop
Rhododendron
Pink Lady's Slipper
GREAT TRAILS FOR WILDFLOWER HIKES
Now that you know what types of flowers to look for, here are a few hikes to enjoy the beautiful blooms! 
CCC Trail in Hungry Mother State Park | Marion
Photo Credit: Chad Williams, IG account: @echadwilliams
Thick Rhododendron line the Civilian Conservation Corps Trail at Hungry Mother. The trail meanders along and repeatedly crosses over a creek at its lower levels and becomes increasingly difficult as it approaches Molly's Knob Trail.
Difficulty: Moderate to Difficult; 1.9 miles
Considerations: Creek crossing
Trail Map
Back Creek Gorge Wildflower Trail |  Bath County
From Blowing Springs Recreation Area, the Back Creek Gorge Wildflower Trail leads to low falls, a deep swimming hole, and beautiful wild geranium, Solomon's seal, creeping phlox, and quite a few other species of native flowering plants. This area is known for its year 'round 58-degree natural limestone spring.
Difficulty: Easy, follows an old railroad bed; 1.31 miles
More on the Wildflowers
Photo Credit: Trevor Frost, IG account: @tbfrost
A 25' Whitetop Mountain waterfall is the highlight of the Cabin Creek Trail, a 1.8-mile loop dotted with vibrant Rhododendron.
Difficulty: Difficult; 1.8 miles
Considerations: Steep climbs; slippery rocks
Trail Map
DeHart Botanical Gardens | Meadows of Dan
First and foremost, this area is managed by Ferrum College, a gift from Allen DeHart in 2012. DeHart Botanical Gardens is 172 acres of amazing overlooks, small waterfalls, a cave, and roughly 400 cataloged species of flora and fauna. It is an educational area for the college and for responsible day-use hikers.
Difficulty: Difficult
Considerations: Steep climbs
More Information & Map
Apple Orchard Falls | Botetourt County
Photo Credit: Kristina Love IG account: @kristinalovephotography
Off the Blue Ridge Parkway at Sunset Fields (MP 78.4), the headwaters of North Creek lead hikers down a trail to an awaiting waterfall and overlook. It's fantastic for photography and definitely a memorable experience. Known wildflowers for this area are trillium and mountain fetterbush.
Difficulty: Moderate to Difficult; 3.2 miles
Considerations: Steep descents and footbridges
More on the Wilflowers
Dense Blazing Star Field | Montgomery County
In mid- to late-July, vibrant purple dense blazing star changes the appearance of an otherwise lovely prairiesque field in the George Washington and Jefferson National Forests. These lovelies attracts at least 15 species of butterflies, making the visit even more breathtaking.
Difficulty: Easy; park along the road and enter the field
Considerations: Copperhead snakes are native to the area; watch your step and you'll be fine.
More on the Wildflowers
Bluebell Island Trail on the Clinch River | St. Paul
Recently reopened after flooding, the Bluebell Island Trail is blooming and ready for visitors to meander along the scenic Clinch River. This trail connects Bluebell Island Preserve to the Sugar Hill Trail System through St. Paul.
Difficulty: Easy; 1.9 miles
Considerations: Natural river cycle may cause flooding; a higher trail can be used instead
More Information
Photo Credit: Mike Zorger
This specific segment of trail runs along the Shenandoah River and is accessed by the canoe launch parking area, or by The River Trail. Should you choose to make this a longer hike, connecting trails can easily extend it.
Difficulty: Easy; 1 mile
Considerations: Connecting trails include descents and bridges.
Trail Map
Photo Credit: Mike Zorger
This trail is the best of both worlds, wandering along Belmont Bay's marshes and up into the hardwood forest. Mountain Laurel is plentiful here!
Difficulty: Moderate; 1.2 miles
Considerations: Boardwalk and stairs
Trail Map
Accotink Creek Trail in Lake Accotink Park | Springfield
Lake Accotink Park is 493 acres in Northern Virginia that includes a 55-acre lake. Take a walk along Accotink Creek, which feeds the lake. Here, with a keen eye, you can spot showy orchis, bluebells, and dwarf ginseng, among other native plants and flowers.
Difficulty: Easy
Trail Map
Roaring Run | Botetourt County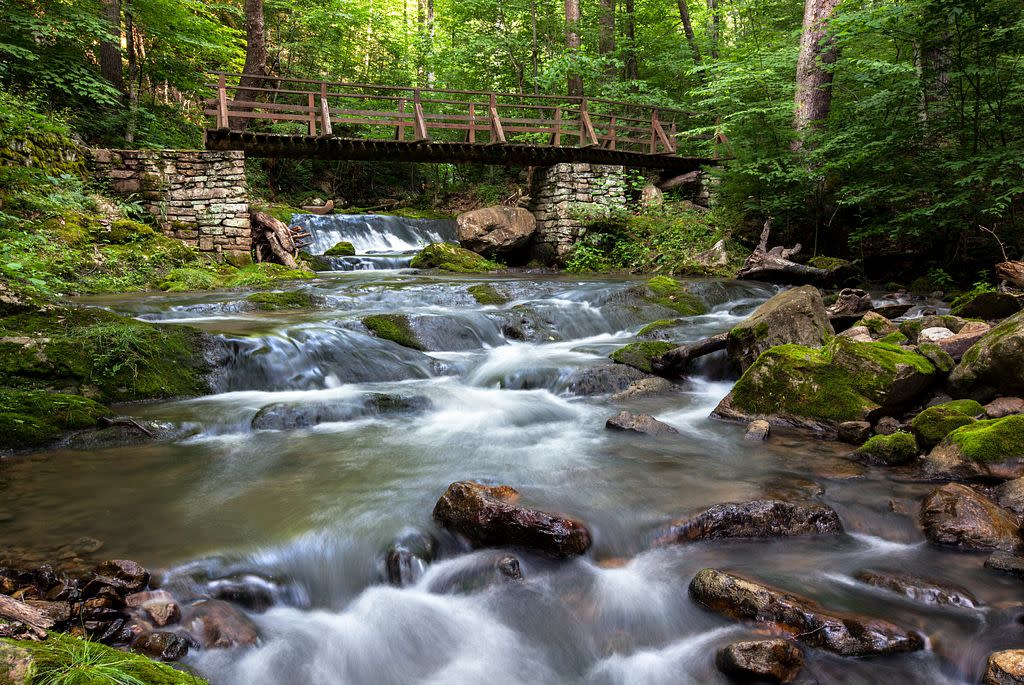 Located in the George Washington & Jefferson National Forests, Roaring Run Recreational Area is a place that delivers one site after another, not to mention beautiful pink lady's slippers, a variety of violets, and other wildflowers. Walk the trails here and you'll encounter the 19th century iron furnace (interpretive signs explain the history of this National Historic Place), cross Roaring Run Creek (known for its trout population), and of course, see Roaring Run Falls!
Difficulty: Easy; 1.4 miles out-and-back
Considerations: Footbridges and steps
More on the Wildflowers
GUIDED WILDFLOWER WALKS & HIKES
Shenandoah National Park, Photo Credit: Kelly J. Mihalcoe LLC
If you'd like narrative about the terrain and types of flowers you'll be seeing along the path, perhaps a guided walk or hike would be a good fit for you. These sites have been known to offer guided opportunities; contact the locations for more information.
WILDFLOWER GARDENS
Sometimes you don't have to put forth much effort at all to encounter stunning wildflowers. These parks and gardens offer a wide variety of gorgeous blooms during the spring and summer months.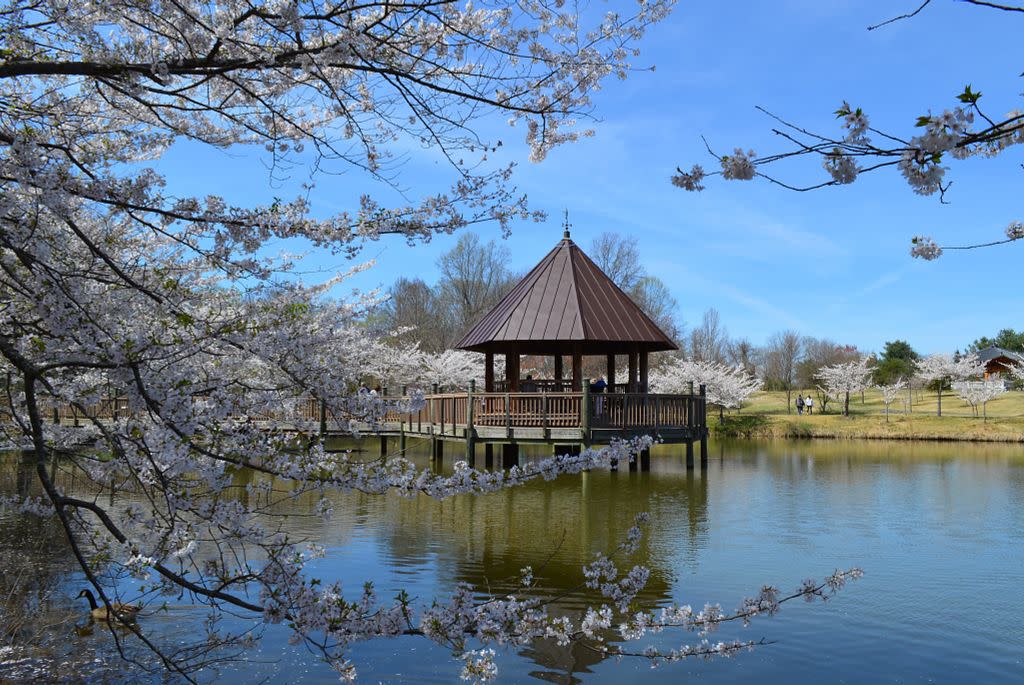 Photo Credit: Patrick Lennon
Meadowlark Botanical Gardens is 98 acres of serenity in Vienna. Stroll the trails and encounter Azalea Woods and Wild Meadow, among other special places boasting native plants. Map
The Herb & Wildflower Garden is but one of the themed gardens at MacCallum More Museum and Gardens in Chase City. Map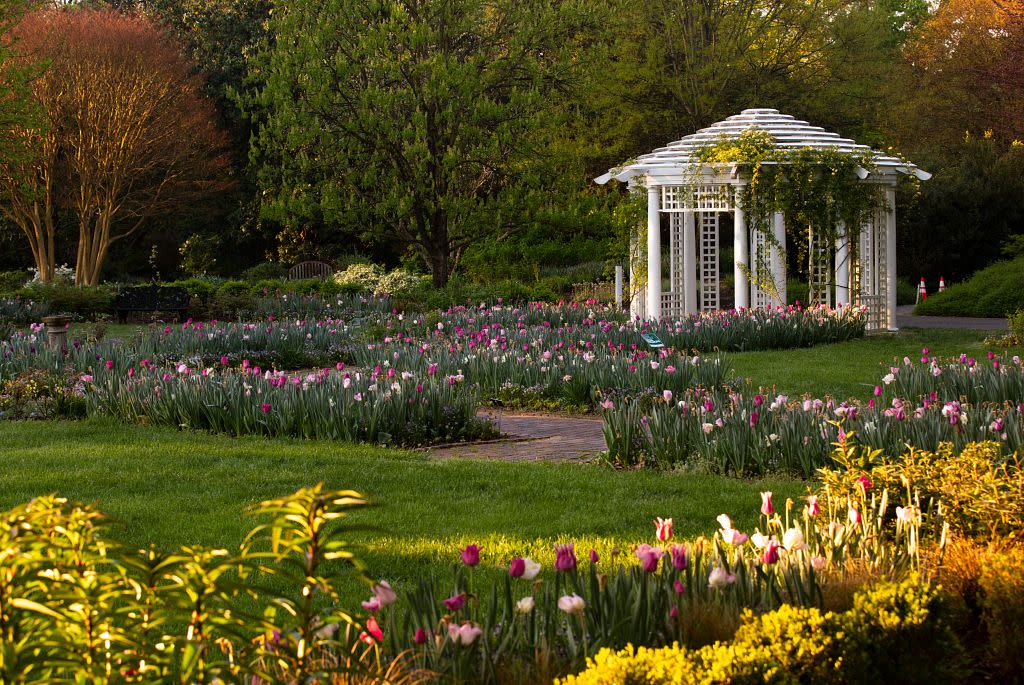 Richmond's Lewis Ginter Botanical Garden boasts more than 50 acres of garden space, as well as a classic domed conservatory where you'll find all sorts of tropical blooms.
Lotus Garden Park in Virginia Beach is the home of the city's official flower, American lotus (Nelumbo lutea). The beautiful yellow flower is protected, so picking is definitely not allowed. If you're interested in picking wildflowers, there are two places nearby: Cromwell Produce and Cullipher Farm Market.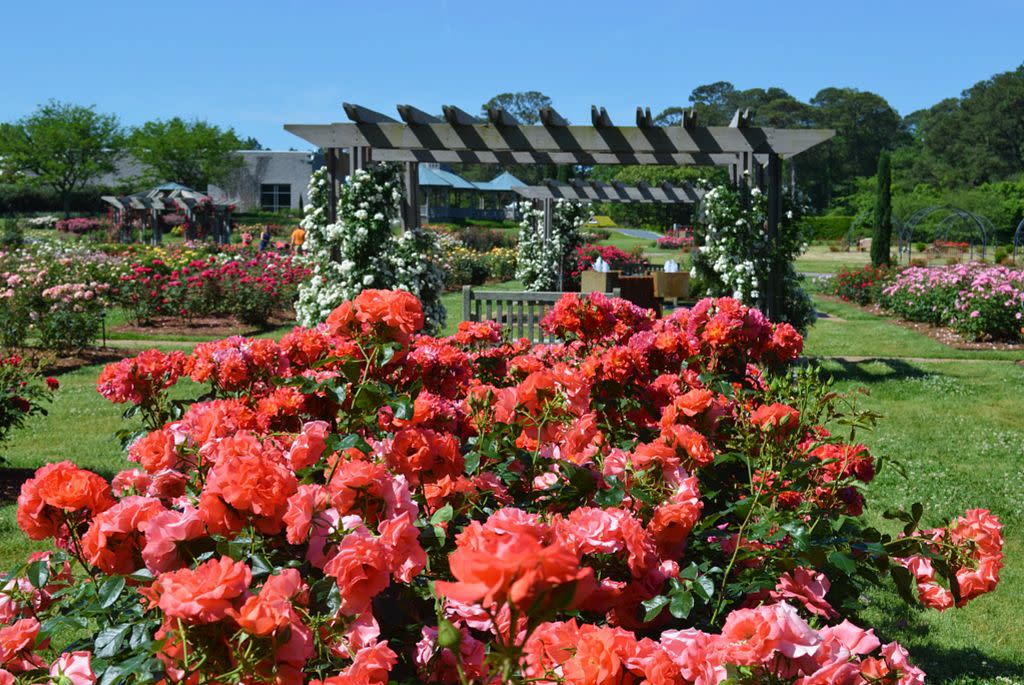 Photo Courtesy of Norfolk Botanical Gardens
Find one of the East Coast's largest collections of Rhododendron, Azalea and more at Norfolk Botanical Garden in Norfolk. An additional perk? An entire wildflower meadow and butterfly garden! Fifty species of wildflowers can be found, ranging from spring Poppies to summer Sunflowers. Take a Virtual Tour