The Appalachian Mountains stretch for hundreds of miles through Virginia, from the highlands near Cumberland Gap in the southwest up the Blue Ridge all the way to Maryland.
Tucked away among these regal ridges and deep valleys lie Virginia's mountain towns. The citizens of these settlements are lucky enough to dwell amidst scenery where peaks cloaked in green forests rise to frame the place they call home, places where clear rivers and streams run free and hiking trails explore the back of beyond. While we all can't live in a Virginia mountain town, we can always visit them, and enjoy some of the perks that go with living in such beautiful places.
In Virginia's mountain towns, you can find places to eat, places to lodge, places to resupply and of course, a multitude of outdoor activities. Read on and discover your Virginia mountain town, where you can relax, unwind and create outdoor adventures.
BIG STONE GAP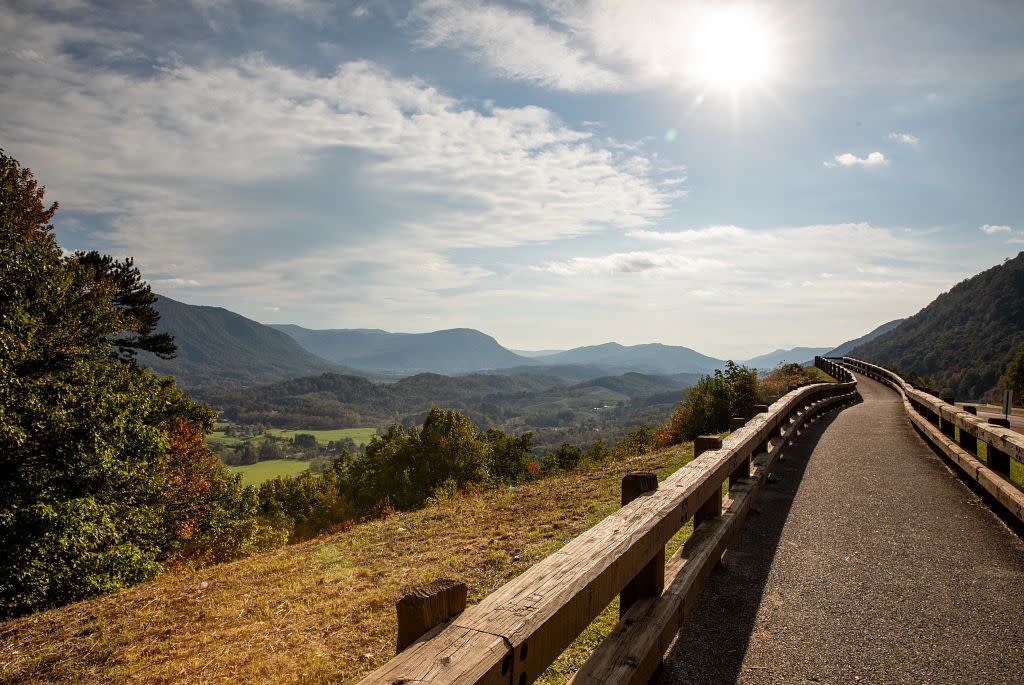 GPS Coordinates: 36.85864, -82.78324
Made famous by the movie and novel series Big Stone Gap, the real life town of Big Stone Gap sits in splendor by the Powell River encircled by mountains of far Southwest Virginia. The downtown has attractions within walking distance to one another, from the Southwest Virginia Museum to The Meador Coal Museum, detailing the intertwined nature of coal and the people who call Big Stone Gap home.
What You Can Do There
Outdoor pursuits complement the in town offerings. Stone Mountain rises above Big Stone Gap. Powell Valley Overlook offers a scenic panorama of the Heart of Appalachia's mountain splendor, and is quite possibly the most photographed vista in the region, making the overlook an absolute stop for every visitor. Drive up to restored High Knob observation tower where you can see 5 states. Hike the Chief Benge Scout Trail, a 20-mile track. Sections of the path conveniently start at the highland impoundments of High Knob Lake and Bark Camp Lake. See the waterfalls and chilly swimming holes of the Devils Bathtub.
View another geological wonder at Natural Tunnel State Park. Bicyclists can pedal the 5-mile one way Guest River Trail, a rail trail with "gorge-ous" scenery. Anglers like to float and fish the Powell River, a day long float starts in downtown Big Stone Gap at Bullitt Park and meanders 12 miles to a takeout at Dryden off US 58.
Food/Shopping/Entertainment
Big Stone Gap has over 30 restaurants to choose from, including Big Cherry Brewing Company, Good Times at the Gap Pizza & Pub, Moon Dog Brick Oven Pizza, and Curklin's.
Play a round of disc golf at the town's two courses, the 9-hole Duck Park Disc Golf course and the newest course, The Ridge, an 18-hole course. Big Cherry Lake is a magnificent mountain basin, where visitors can fish, kayak, and hike.
A National Historic Landmark, Southwest Virginia Museum State Park features an 1890s Victorian stone mansion and a collection of historic artifacts that includes more than 60,000 pieces. The museum's exhibits tell the story of the exploration and development of Southwest Virginia, from the pioneer era of the 1700s to the mining "boom and bust" era of the late 1800s. 
The Trail of the Lonesome Pine -- Virginia's Official Outdoor Drama -- is a summertime event not worth missing. The production is the longest running outdoor drama in the commonwealth of Virginia. Based on the novel by John G. Fox, it tells a story of the days when the coal boom was heaped upon the people of Southwest Virginia … and the lives that changed therein. Additionally, live music performances are held downtown five nights a week.
DAMASCUS

Sundog Outfitter, Damascus

GPS Coordinates: 36.63372, -81.78373
Literally enveloped in mountain fastness, Damascus is the crossroad of trails, where the acclaimed Appalachian Trail runs through the center of town, where the esteemed Virginia Creeper Rail Trail bisects the city as well. You can kayak and fish for trout in the streams flowing amidst the berg.
What You Can Do There
The Virginia Creeper Trail is the biggest draw. Here, outfitters will rent you a bicycle, drive you to Whitetop Station, then you can coast/pedal your way down 17 miles through a mix of forests and small communities, with plenty of views and streams along the former railroad bed. Alternatively, you can pedal the Virginia Creeper Trail west toward Abingdon and back without a shuttle. Hiking is a huge draw here, too. Head to the Mount Rogers High Country for a taste of mile high mountains, wild ponies and Virginia's highest point. Fish Whitetop Laurel or Beaverdam Creeks, then walk back to your place of lodging.
Food/Shopping/Entertainment
Damascus is home to iconic Mount Rogers Outfitters, the trail store located in the heart of Damascus. The AT leads directly past the store. It's a rite of passage for thru hikers to stop in and say hi to owner and Damascus native Jeff Patrick.
GALAX

Rex Theater, Galax
GPS Coordinates: 36.66123, -80.92396
If you like mountain music and mountain recreation, the mountain town of Galax is for you. Located at the nexus of water trails, rail trails and hiking trails, Galax presents an array of Virginia outdoor recreation at its finest, with some old time fiddle and bluegrass as background music.
What You Can Do There
Galax is one terminus of the 50 mile+ New River Trail, a rail trail that follows Virginia's fabled New River. The New River Trail – a boon for bicyclists – follows a rural setting from Galax, first along Chestnut Creek, where you can find Chestnut Creek Falls, then along the New River. Visit the Shot Tower and the preserved buildings of nearby Foster Falls, where Virginia's history comes alive on the New River Trail. Float the New from Austinville to Foster Falls. Gentle rapids and bucolic scenery make it a hit with everybody. Outfitters are available. Take a scenic drive on US 58 to Grayson Highlands State Park. Here, see the wild ponies on the meadows and mountains of this nearly mile-high park. Trails, picnicking and camping are also found here. Take a drive on the Blue Ridge Parkway to visit the most photographed spot on the parkway at Mabry Mill.
Food/Shopping/Entertainment
You have to come for the mountain music, too. The town has been holding the Galax Old Fiddler's Convention since 1935! It is on this foundation that music here has thrived. The historic Rex Theater in town is host to music events. The Blue Ridge Music Center, located on the Blue Ridge Parkway just 12 miles distant, has shows throughout the warm season.
PEARISBURG
Photo Credit: Divergent Travelers
GPS Coordinates: 37.32651, -80.73507
Come see the town where the lower New River and the Appalachian Trail cross paths under the mantle of Peters Mountain. Blessed with both river and mountain recreation held fast against the West Virginia border, Pearisburg makes for a great mountain getaway. Walk the historic streets where brick buildings take you to another time. Visit the Andrew Johnston House, an antebellum home on which grounds the Giles County Historical Society can also be found. Giles County is home to 37 miles of the New River and 50 miles of the Appalachian Trail, delivering expected high level Virginia mountain scenery.
What You Can Do There
An official Appalachian Trail community, from Pearisburg you can walk the world's most famous footpath from town up to Angels Rest, revealing a worthy panorama of the enveloping New River Valley. While up on Pearis Mountain, walk a bit further to Wilburn Valley Overlook, lording over rural Virginia hinterlands. Hike to incredible and large Cascade Waterfall in nearby Pembroke. The New River beckons, too. Canoe, kayak or raft a section of the sometimes brawling, always beautiful waterway, featuring calm stretches mixed with mostly Class II rapids. Outfitters are nearby and there to serve you with boat rental and shuttle service. The New is also a nationally recognized smallmouth bass fishery. The biggest smallie I've ever caught anywhere was on this stretch of the New.
Food/Shopping/Entertainment
Stay at The Lilly Valley Inn, where your room overlooks the New River. The owners take pride in their facility and your panoramas from the facility extend to a deck where the serenity of the surroundings works magic.
ROANOK

E

Photo Credit: Sam Dean, @sdeanphotos
GPS Coordinates: 37.27097, -79.94142
You might call this a mountain city rather than town, but regardless of size, Roanoke is deep in the Appalachians with a host of cultural and outdoor activities within easy access. Mill Mountain, where the iconic Roanoke Star stands, is the symbol of this city on the banks of the Roanoke River and flanked by the Blue Ridge to the east and a mass of mountains to the west.
What You Can Do There
Outdoor activities run the gamut. You can drive the Blue Ridge Parkway, picnicking, walking and photographing Virginia's montane terrain. Mountain bikers have a wealth of trails in the wooded valley of Carvins Cove, where a reservoir also opens up paddling opportunities on a mountain-rimmed lake. Canoes and kayaks can be rented on site. Paddlers can also ply the Roanoke River through nearby Salem, site of not only fun river floating but also a greenway for casual bicyclers and walkers. Area hiking is superlative. Some of the most notable sights on the entire 2,200-mile Appalachian Trail are nearby – the climb to the Dragons Tooth, the panoramas of McAfee Knob and distant vistas at Tinker Cliffs. Other hiking destination avail solitude, waterfalls, and historic sights, namely Roaring Run Falls & Furnace, Audie Murphy Monument and Fenwick Mines Walk.
Food/Shopping/Entertainment
It is almost mandatory for visitors to drive up to Mill Mountain, see the Roanoke Star, then take in the view of downtown Roanoke and the mountains beyond. Furthermore, a trail system here at Mill Mountain avails walking. While there check out the Discovery Center, wildflower garden and zoo.
WARM SPRINGS/HOT SPRINGS

Photo Credit: Creative Dog Media, @creativedogmedia
GPS Coordinates: 38.04609, -79.7F9058
Their names give away the most notable features of these mountain towns tucked away in Bath County, less than five miles distant from one another. At Warm Springs, you can still come to immerse in the mineral-rich 98-degree water where Thomas Jefferson himself soaked (The Jefferson Pools in Warm Springs are currently closed for renovations). Hot Springs, just a few miles away, adds to the possibilities. Cultural and outdoor pursuits enhance the allure of the warm waters.
What You Can Do There
Both towns have historic resorts centered on the heated waters that bubble up from the ground. The first resort was established in 1766 and to this day, the two towns continue the resort and spa tradition, where you can soak your cares away.
Outdoor pursuits certainly include visiting mountain-rimmed Lake Moomaw. Located in the nearby Washington National Forest, the impoundment offers seasonal beauty where you can hike and camp along its shores, or perhaps paddle a kayak amid the montane splendor. Go trout fishing up Back Creek near Blowing Springs Recreation Area. Float the Jackson River for some moving water action. Admire waterfalls and commanding views at Douthat State Park. Golfers will enjoy the scenic Cascades golf course. Don't forget to enjoy the roadside view of Falling Spring Falls.
Food/Shopping/Entertainment
Warm Springs and Hot Springs are smallish, but cater to visitors. The Omni Homestead Resort delivers a classic formal air for dining, as well as more casual options, and first class overnighting. Dine at the Waterwheel Restaurant for a historic flair, where you eat inside an old mill, a Virginia Historic Landmark. Shoppers will be excited to see the wealth of opportunities to hunt for antiques in such a historic place as Bath County.
LEXINGTON/BUENA VISTA
Photo Credit: Preethi B. Harbuck
GPS Coordinates: 37.7343, -79.35392
Known for its historic character, visitors come to Lexington to tour the town of Stonewall Jackson's home, as well as the Robert E. Lee Chapel and Museum, but Lexington also has an outdoorsy side, which is only natural since it is close to Virginia's famed Natural Bridge.
Situated on the banks of the Maury River, Buena Vista is excellent for aquatic and land recreation, all in one package. Waterfall enthusiasts will find Buena Vista an ideal base camp. It is also a good place for those looking for an understated, down-home, rural Virginia atmosphere.
What You Can Do There
The Chessie Trail is a rail trail (and also old towpath) popular with bicyclers and hikers. Conveniently, the Chessie Trail links Lexington and Buena Vista along the banks of the Maury River.
The Blue Ridge Parkway is a logical option, especially since it runs the mountains just above Buena Vista. Jump on the Parkway southbound for a scenic ride to the visitor center on the James River. Northbound windshield visitors will enjoy views aplenty and hiking opportunities.
Speaking of hiking, the nearby Appalachian Trail presents excellent walks. Head south into Brown Mountain Creek to find historic homesteads. To the north stands Mount Pleasant Scenic Area with meadows and eye-popping vistas. Waterfall lovers can drive to Statons Creek Falls or make a short walk to Panther Falls. Enjoy Saint Marys Falls, rambling through wilderness on the way. Nearby Crabtree Falls lays claims to being Virginia's highest cataract.
Whitewater enthusiasts can ply the Maury River, which flows through both Lexington and Buena Vista. The Maury presents paddles of varied difficulties, as well as smallmouth bass and trout fishing. Numerous access points make this river more viable. The nearby James River avails additional paddling opportunities with a year-round paddling season. Outfitters are situated on the James.
Food/Shopping/Entertainment
Check out Buena Vista's Amish Cupboard for a healthy option. They sell organic produce, meats and cheeses. For a casual dining experience check out the aptly named Foot of the Mountain Café for sandwiches and salads to dine in or take with you for a picnic on the Blue Ridge Parkway.
WAYNESBORO
Photo Credit: Jumping Rocks Photography, @jumpingrocksphoto
GPS Coordinates: 38.06846, -78.88946
Well located where the south end of Shenandoah National Park meets the Blue Ridge Parkway, Waynesboro is a prime mountain road trip destination. Visitors driving can easily access 105 miles of Shenandoah's Skyline Drive scenic motorway, or head south and tool along 216 miles of Virginia Blue Ridge Parkway.
What You Can Do There
Stops, overlooks and activities along Skyline Drive and the Blue Ridge Parkway will keep a nature lover busy. Specifically speaking, in Shenandoah National Park you can stop for a short walk to the overlook atop Turk Mountain. See the huge rock scree slopes on a simple trek to Blackrock Mountain. Bag multiple waterfalls on Doyles River and Jones Run from Browns Gap. Have a meal at Dundo picnic area. Pitch your tent at Loft Mountain Campground.
Heading south from Waynesboro for 5 miles on the Blue Ridge Parkway you can stop at Humpback Rocks visitor center and get oriented. While there, visit the collection of historic buildings and the William J. Carter Farm. Hike up to Humpback Rocks for a well-earned view. Enjoy a picnic, too. Continuing south, you can stop by Sherando Lake, with its campground, fishing and extensive trail network. Hike the Appalachian Trail through the Three Ridges Wilderness or The Priest Wilderness.
The South River Runs through Waynesboro and is a true urban fishery. Float a kayak or canoe for 4 miles through town on the Waynesboro Water Trail. More river floating lies beyond.
Food/Shopping/Entertainment
Interested in local craft beer and locally produced wine? Waynesboro is good for that. Several wineries are located with a dozen miles of Waynesboro, among them Veritas Vineyard and Winery, Afton Mountain Vineyards and Cardinal Point Winery. Breweries are located in Waynesboro as well as nearby Afton and Staunton.
LURAY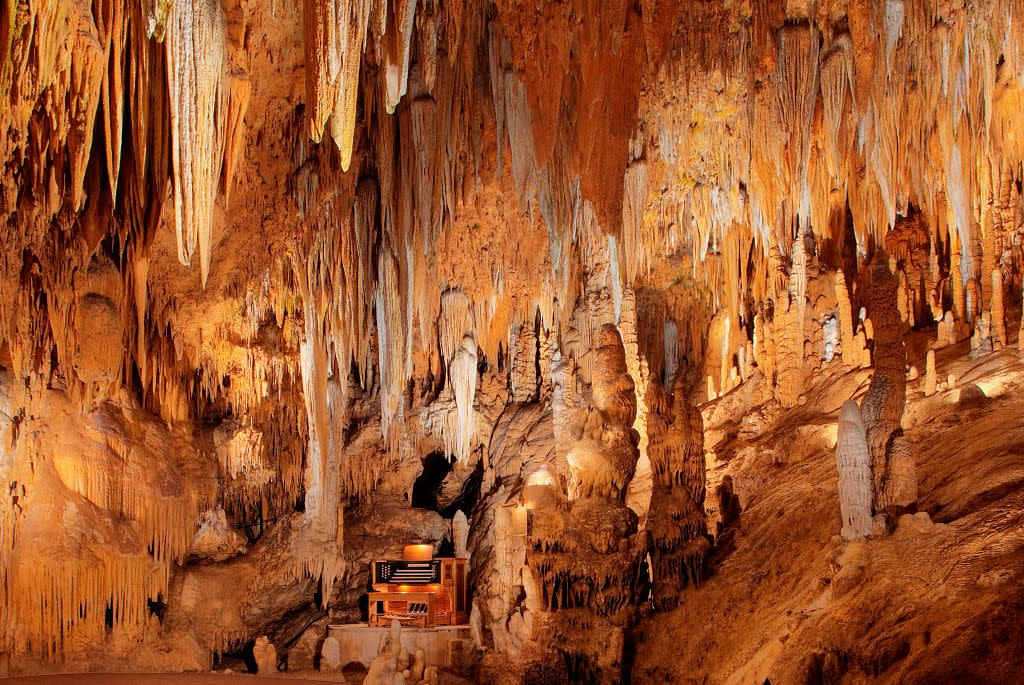 GPS Coordinates: 38.66539, -78.45945
Synonymous with Shenandoah National Park, Luray is not only great for exploring the national park but also for outdoor recreation opportunities on nearby Massanutten Mountain and the storied South Fork Shenandoah River. An underground adventure at Luray Caverns caps off a visit to this mountain town.
What You Can Do There
Tour Shenandoah National Park, a Virginia treasure. Tool along Skyline Drive, stopping at viewpoints and hiking to others, such as Hawksbill, the highest point in Shenandoah with 360-degree panoramas. My favorite vista in the entire park – Marys Rock, presents a stellar view overlooking Luray and the Shenandoah Valley as well as Massanutten Mountain. Stop at Big Meadows and enjoy the informative visitor center. Two lodges within the national park make convenient overnighting for the Shenandoah National Park enthusiast.
Paddle and fish the South Fork Shenandoah River. The river is doable by novice paddlers in kayaks or canoes, even tubers. Massanutten Mountain flanks the west side of Luray and avails additional remote hiking and mountain biking trails. Check out historic Camp Roosevelt, the very first Civilian Conservation Corps Camp in the nation.
Food/Shopping/Entertainment
Luray Caverns is a must visit. The attraction has expanded beyond the fascinating underground cave stalactites and stalagmites to aboveground garden maze, ropes adventure park, car museum and more. Learn about the past at the Luray Valley Museum. The toy museum will captivate adults and kids alike. Plan to spend a full day at Luray Caverns.
HARRISONBURG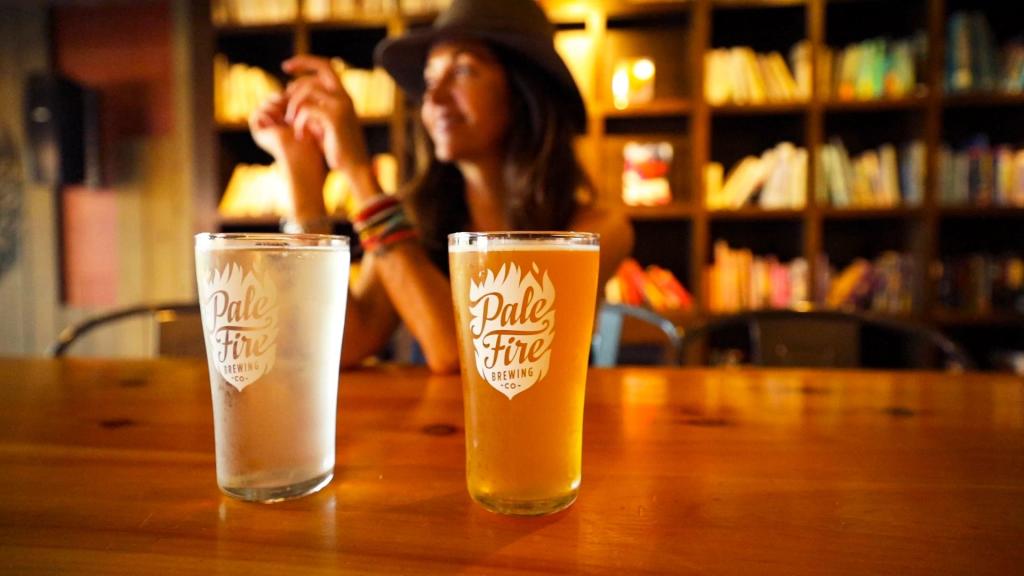 GPS Coordinates: 38.44956, -78.86891
Harrisonburg lies within easy striking distance of three major ranges, the Blue Ridge and Shenandoah National park to the east, Massanutten Mountain to the north, and Alleghenies of the Washington National Forest to the west. Those three destinations add up to a plethora of outdoor possibilities.
What You Can Do There
Shenandoah National Park is 20 miles to the east. Explore the South District and Central District of the preserve with ease. Head north from Swift Run Gap on Skyline Drive in the park, stopping to view South River Falls and enjoy its fine picnic area. Have a ball taking on the Bearfence Mountain Rock Scramble, which sounds tougher than it is, though you do use all fours. Heading south from Swift Run Gap, hike to Hightop and grab more views. Take the Rocky Mount Trail for panoramas from geological rock upthrusts. And there's much more at Virginia's special national park.
Harrisonburg calls itself the cycling capital of the Shenandoah Valley, and they mean it. This includes road cycling, mountain biking and casual bicycling. Casual bicyclers have a host of paved trails in town, especially in the James Madison University campus area, Carrier Arboretum and Purcell Park. In town, mountain bikers have the Rocktown Trails at Hillandale Park.  Massanutten Bike Park has mountain biking trails for all abilities. A lift makes downhill bicycling a blast.
West of town, George Washington National Forest presents plenty of mountain recreation, Fish, camp, and hike at Todd Lake, North River or Hone Quarry campgrounds. Todd Lake and Elkhorn Lake also offer scenic stillwater paddling, with mountains rising in the background. Both short nature trails and longer paths wander through these highlands perched against the West Virginia border.
Food/Shopping/Entertainment
Harrisonburg has an interesting mix of forces shaping it –hundreds of years of agriculture in the Shenandoah Valley, college influence from James Madison University and Eastern Mennonite University, Civil War history and mountain lifeways. A reflection of this influence is the abundance of breweries, cideries and vineyards in the area as well as delicious eateries. Harrisonburg is an important stop on the Shenandoah Beerworks Trail, a collection of breweries in the Shenandoah Valley.
STRASBURG

Photo Credit: Keith Lanpher
GPS Coordinates: 38.98871, -78.35861
Strasburg's history dates back to the Revolutionary War, perhaps that is part of it being the antique capital of Virginia. The town is a quick jumping off point for outdoor recreation in the adjacent Washington National Forest as well as the north end of Shenandoah National Park. The North Fork Shenandoah River flows through Strasburg and adds more outdoor opportunities.
What You Can Do There
Elizabeth Furnace is just a few miles distant. Visit the recreation area centered with a former iron furnace located on Passage Creek, a fine trout stream that also happens to have a highly recommended campground along it. Hikers, equestrians and mountain bikers can explore the trail network at Elizabeth Furnace. The paths range high and low along the slopes above passage Creek.
Visit Shenandoah National Park from the north entrance. Stop at Dickey Ridge Visitor Center to get oriented, then visit the Fox Farm for a taste of yesteryear Virginia rural lifeways. Walk to the top of Compton Peak, surveying the domain below. Or just make a relaxing trip on Skyline Drive, one of the world's first scenic motorways.
The North Fork Shenandoah River presents river floating. Outfitters are situated in town to help you accomplish the goal.
Food/Shopping/Entertainment
Since Strasburg is the antique capital of Virginia, perusing for them comes natural. Visit the Strasburg Emporium, an agglomeration of antiques under one roof, as well as numerous other shops in town.
WINCHESTER
Photo Credit: Robert Harris, @robertharris
GPS Coordinates: 39.18565, -78.16333
Visit Winchester for nearby Virginia history as well as a variety of outdoor recreation opportunities. Located at the northern end of the Shenandoah Valley, visitors to Winchester traditionally explore Civil War history here, as it figures prominently into Winchester's character. Manor houses, plantations, and museums can be toured, too. However, the nearby proximity of Shenandoah National Park, the Shenandoah River and other outdoor venues add another component to any Winchester excursion.
What You Can Do There
Both the Appalachian Trail and the lower Shenandoah River provide adventure travel corridors for visitors to Winchester.
The Appalachian Trail north of Shenandoah National Park gives hikers great opportunity for solitude. Here, you can enjoy 50 more miles of the AT in Virginia. Elevations are generally lower than Shenandoah National Park, and the section has numerous trail shelters. A neat option is to hike the AT as it passes through Sky Meadows State Park. There, you can incorporate additional state park trails with the Appalachian Trail to form loops.
You can pick up Skyline Drive at the northern end of Shenandoah National Park and tour the park with attractions located off Skyline Drive, including 100 or so more miles of the AT, plus connector trails exploring waterfalls, pioneer cabins and more.
This lower section of the Shenandoah River near Winchester is a good paddling choice, since it is below the confluence of the North Fork and South Fork Shenandoah Rivers, thus has adequate water year-round. Outfitters are conveniently located in nearby Front Royal. Tackle Class I and II rapids in a kayak, canoe or even inner tube. Float a tube on the hottest days of summer. Watermelon Park near Berryville is a good access for paddlers.
The Winchester Green Circle is a linear trail for walkers, joggers and bicyclists that will loop around the city. Stay tuned as the path continues to grow until its completion. It will also link to other paths in the city.
Food/Shopping/Entertainment
Music lovers have the unique opportunity to check out the home and museum of country music legend Patsy Cline. Take a 45-minute tour of the Winchester residence of the first woman singer to join the Grand Ole Opry. The house is listed on the National Register of Historic Places.