Charms of the Chesapeake
Day One
Begin your journey in Virginia Beach.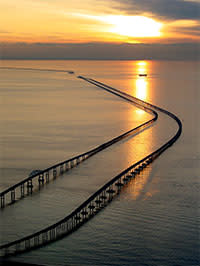 See the Chesapeake Bay Bridge-Tunnel, designated "One of Seven Engineering Wonders of the Modern World". The Chesapeake Bay Bridge-Tunnel is a four-lane 20-mile-long vehicular toll crossing of the lower Chesapeake Bay.
Stop at One Island on the Bay (aka Sea Gull Island) located on the southernmost of the Bridge-Tunnel's four manmade islands, 3-1/2 miles from Virginia Beach. This manmade island provides an opportunity to stop, stretch your legs, grab a bite to eat, cast a line, bird watching, or just take in the natural beauty and sounds of the Chesapeake Bay.
Enjoy dinner on the Chesapeake Bay Bridge, then continue to Atlantic Avenue, Virginia Beach. Check in to your Virginia Beach ocean front hotel.
Day Two
After enjoying breakfast at your hotel, tour the Norfolk Naval Station. This is homeport to more than 80 ships of the Atlantic Fleet, and the world's largest naval installation. Narrated guided bus tours pass by Atlantic Fleet training centers, aircraft carriers, cruisers and destroyers, amphibious assault vessels and sleek submarines.
Enjoy lunch and entertainment as you sail on the Spirit of Norfolk, where two enclosed decks and a 187-foot vessel gives you the feel of an ocean going cruise.
After lunch, tour Nauticus, The National Maritime Center, an exciting science and technology center exploring the power of the sea. This high-tech, virtual reality "museum" allows visitors to explore the rich life of the ocean realm and the role the port of Hampton Roads has played in world maritime affairs.
Visit the Battleship USS Wisconsin, one of the largest Battleships ever built. This mighty ship was used during the Korean Conflict, the Vietnam War, and the Gulf War.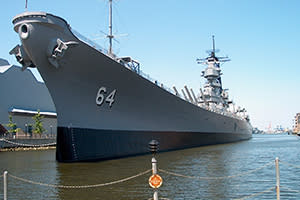 Tour the Hampton Roads Naval Museum and the USS Wisconsin. The museum's mission is to study and interpret the history of the U.S. Navy in Hampton Roads.
Tour the Douglas MacArthur Memorial. The MacArthur Memorial traces the life and military career of 4-star General of the Army Douglas MacArthur and honors those who have served in the United States Armed Forces.
Return to the hotel to rest and freshen up for dinner at Rockafeller's Restaurant, overlooking a picturesque inlet.
Day Three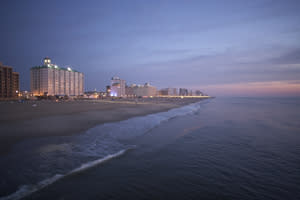 Enjoy some free time at the beach and boardwalk this morning. With 35 miles of breathtaking ocean and bay front vistas, Virginia Beach has long been a beach-lover's paradise. The recently refurbished Virginia Beach oceanfront boardwalk is nearly three miles long and ideal for strolling and biking.
Tour the Military Aviation Museum in Virginia Beach. The Military Aviation Museum is home to one of the largest private collections of World War One and World War Two era military aircraft in the world.
Tour The Chrysler Museum of Art and discover an acclaimed encyclopedic collection of over 30,000 objects spanning almost 4,000 years of art history.  Highlights include Louis Comfort Tiffany's work. You may also see a glass blowing demonstration at the new Chrysler Museum Glass Studio, located adjacent to the Chrysler Museum of Art.
Visit Mermaid Winery, Norfolk's first winery, and enjoy some of their many creations, made with Virginia-grown grapes.
Enjoy a farewell dinner this evening at Freemason Abbey, a unique setting in an old church in Norfolk.
Day Four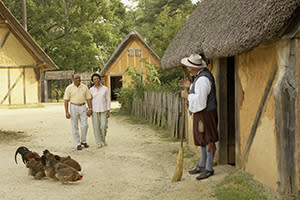 Enjoy breakfast at your hotel before departing for a guided tour of Jamestown Settlement commemorating the first permanent English settlement in the New World. It features full-size replicas of the three ships that arrived in 1607. The reconstructed Jamestown Fort is unique and seems to come to life with the costumed interpreters present to perform 17th century activities, and interact with the crowds. Don't miss the Indian village and wonderful museum exhibits.
Take a guided tour of Yorktown Victory Center. Recapture the drama of the American Revolution.  Powerful new galleries tell the story of everyday people who lived during the war. Costumed interpreters demonstrate 18th century military and domestic life on a re-created 1780's farm site and in a re-created Continental Army encampment.
Check in to your local Williamsburg area hotel. Enjoy dinner this evening at a Colonial Williamsburg Tavern followed by a performance at Colonial Williamsburg.
Day Five
Enjoy a guided tour of Colonial Williamsburg.
Enjoy lunch on your own in Colonial Williamsburg. Merchants Square is the shopping hub of downtown Colonial Williamsburg and includes many fine stores and restaurants.
After lunch, visit your choice of other buildings and museums included with your ticket.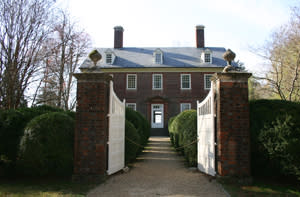 Tour Berkeley Plantation. Located along the James River, this picturesque plantation was the setting of the first official Thanksgiving in 1619, and is where "Taps" was composed.  Good Housekeeping magazine suggests: "If you only have time for one plantation, Berkeley should be at the top of your list."
Depart and continue to Richmond. After checking in to your hotel, enjoy dinner in the Historic Shockoe Slip district. 
Day Six
Tour The Virginia State Capitol. Thomas Jefferson's neo-classical marvel features a hidden dome, pre-historic fossils in the floor marble and the world-famous statue of George Washington.
Visit St. John's Church, built in 1741 and where Patrick Henry gave his famous "Give me Liberty or Give me Death" Speech.
Visit hallowed ground of the Virginia War Memorial. On its soaring glass and marble walls are the names of over 11,600 Virginia heroes who gave their lives to keep our country free.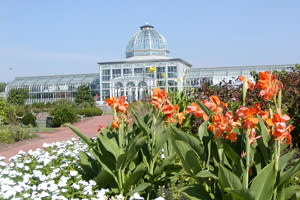 Enjoy lunch on your own this afternoon in the Lewis Ginter Botanical Garden Cafe.
Return to the hotel to freshen up and relax before dinner and a show at Hanover Tavern. The tavern has seen a fair share of historic figures, including Patrick Henry, George Washington, Lord Cornwallis, Marquis de Lafayette, Edgar Allen Poe, Charles Dickens, and more. Today the tavern houses a notable Civil War Museum, restaurant, and overnight inn.
Day Seven 
Enjoy breakfast at the hotel this morning before departing for Fredericksburg.
Take a leisurely walking tour of Historic Downtown Fredericksburg and note the many fine late 19th and early 20th century homes so carefully restored. As you stroll through old town, you may note such historic attractions as the home of Mary Washington.
Visit Rising Sun Tavern. The "tavern wenches" at the Rising Sun today entertain us as though we have just stepped off a stagecoach in this lively interpretation.  A taproom, gaming tables, musical instruments, innkeeper's storeroom and office may be seen as well as other accessories needed to run a proper tavern.
Tour Kenmore, the elegant plantation home of George Washington's only sister and her patriot husband Colonel Fielding Lewis. The Garden Club of Virginia undertook extensive redesigning and replanting of Kenmore's gardens in 1992.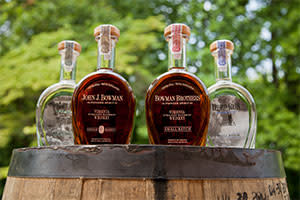 Visit the A. Smith Bowman Distillery.  Originally opened as a dairy and granary, the farm was so abundant that they needed a use for the excess grain.  After the repeal of prohibition, a licensed distillery was build.
Enjoy lunch in one of Downtown Fredericksburg's many local eateries.
Visit the National Museum of the Marine Corps at Quantico. Experience what it means to be a marine! Enter a recruiting station. Step aboard the bus taking you to boot camp. Stand astride the famed "yellow footprints" and hear the roar of your first dreaded drill instructor issuing commands!
Pay your respects to America's fallen servicemen & servicewomen at Quantico National Cemetery. Dedicated in 1983, this beautiful National Cemetery consists of 725 rolling, wooded acres located in Quantico, Virginia.
Check in to a local Alexandria area hotel before enjoying dinner at a local restaurant in Old Town Alexandria.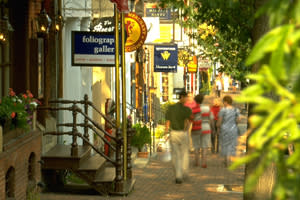 Take a driving tour of Old Town Alexandria with a costumed guide.
Visit Christ Church, a beautiful example of Georgian church architecture, dating from 1773. 
The Stabler-Leadbeater Apothecary Shop, run for five generations by a Quaker family, was the second oldest drugstore in the nation until it closed in 1933. It is now open as a museum and gift shop.
See the George Washington Masonic National Memorial offering one of the finest views of Washington, plus an extraordinary collection of Colonial-era treasures. 
Head back to your hotel and prepare for check-out in the morning.
For additional information or assistance in booking this tour, contact:

Mid-Atlantic Tours & Receptive Services
Post Office Box 1390 Stephens City, VA 22655
540-869-1864 Phone
540-869-1826 Fax
mars@takeafuntrip.com
www.takeafuntrip.com