Getaway To The Northern Neck And Chesapeake Bay
Escape to the quiet, laid-back land by the Bay with outdoor activities, day cruises, crabbing from the pier, nature walks, biking and delicious seafood.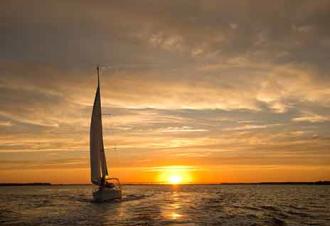 Camp at Chesapeake Bay Camp Resort with RV or tent campsites, air-conditioned rustic cabins or stay in lodges located 3 miles northeast of Reedville on a scenic tidal creek. This is a great place to bring the kids as well as the family dog (on a leash).
Enjoy on-site activities such as volleyball, swimming pool, fishing, crabbing, sailing, miniature golf, badminton, horseshoes and a game room.
Or check out Bethpage Camp-Resort in Urbanna. It is a complete recreational resort with over 1,000 RV sites and 30 cottages on the waterfront. Enjoy a waterpark, two pools, a swimming lake with beach, volleyball and much more.
Enjoy a Chesapeake Bay and/or Smith Island cruise! Cruise across the Chesapeake Bay from historic Reedville at the tip of Virginia's Northern Neck to quaint Smith Island, only 13 miles away, yet a world apart. You'll see the crabbers and the fascinating soft shell crab "farms" as you come into Smith Island. Or charter a boat from Deltaville for fishing and crabbing or rent a kayak or paddle boat from Jackson Creek Outfitters.
Visit the village of Ewell where you can take the walking tour, enjoy a fresh seafood lunch and visit local gift shops.
Other activities include driving or biking along a scenic byway, visiting wineries in the Northern Neck and visiting historic homes, such as Stratford Hall Plantation -- home of Robert E. Lee -- George Washington's Birthplace and Historic Christ Church, built in 1670.
WHERE TO STAY:
WHERE TO DINE:
MORE INFORMATION:
The best food tells a story of the place it is from. Eating an oyster in Virginia captures the…
Virginia's Chesapeake Bay region features George Washington's birthplace, the estate of…