History & Wine: Five Wineries Paired with Historic Natural Bridge
Easy to get to, hard to forget.  There are so many ways to have fun in the Shenandoah Valley and Blue Ridge Mountains when you're based in  the middle of it all at Natural Bridge!
Day 1: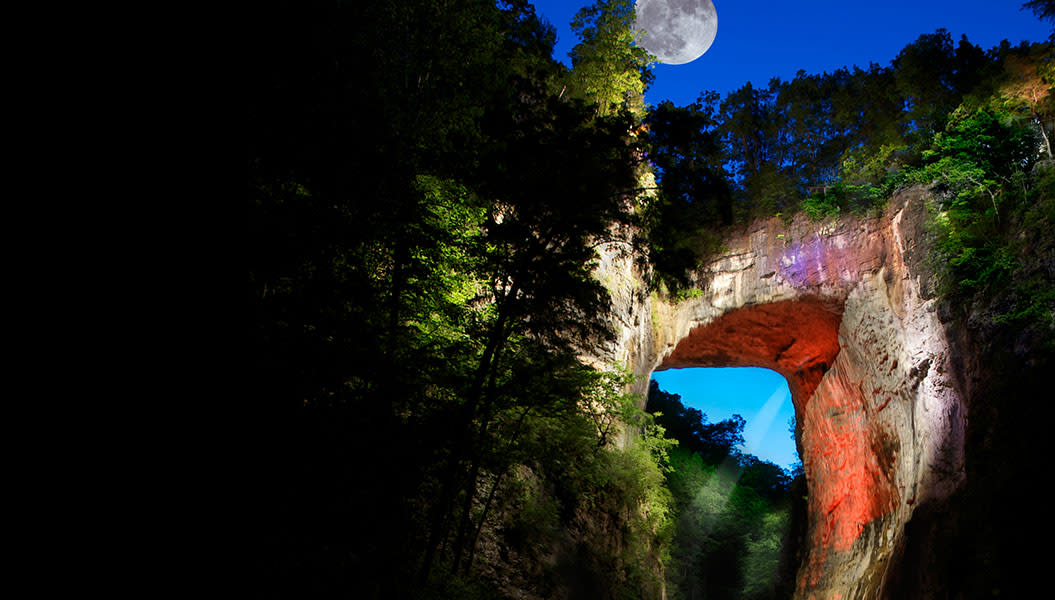 The spectacular National Historic Landmark and natural wonder, the Natural Bridge, is the icon you want to center your 48 hours around. It's not only impressive in size, but inspiring. Take your time taking it in along Cedar Creek Trail, and be sure to photograph it from both sides. Wander up to discover Lace Falls and the Monacan Indian Village, an interpretive exhibit that introduces you to the Woodland Indian tribe whose descendants still reside in the area.
After you're sufficiently inspired and perhaps thirsty, enjoy a relaxing dinner in the Red Fox Tavern and order a glass of the Natural Bridge label wines from Barboursville Vineyard. If it suits your palate, you can take home a bottle of your own from the gift shop located near the Hotel's front desk. Wander back down to the Bridge at sunset for the presentation of the "Drama of Creation" and perhaps rest your head at Natural Bridge Historic Hotel for the night. Another option is a cabin at Yogi Bear's Jellystone Camp Resort.
Day 2:
After breakfast, drive north on I-81 to Rockbridge Vineyard in Raphine. Taste the wines and tour the vineyard. While you're in the neighborhood, visit at Wade's Mill, a working grist mill producing grits, cornbread, and more. Care to see another historic farm site? The Cyrus McCormick Farm is only a few miles away on Route 606.  Enjoy the scenic drive back down Route 11 and stop in historic Lexington to explore, shop, and eat lunch at Southern Inn. Return to Natural Bridge and kick back in the Red Fox Tavern or on the veranda. If you care to sample more Virginia wines, there are several to choose from.
This fall getaway was submitted by Natural Bridge Historic Hotel & Conference Center. See NaturalBridgeVA.com for more travel opportunities at Natural Bridge.
Virginia State Parks are consistently rated the best in the nation. For more than 80 years…
Visit a Virginia winery with your friends and family to discover exceptional, award-winning wines…