Primland Resort: Your Mountaintop Retreat
Perch yourself high on the mountain and soak in the views. This will be one memorable season.
Day 1
Arrive to Primland Resort after reveling in the stunning beauty of Patrick County. Primland is a refined mountain getaway with world-class outdoor activities spread across nearly 12,000 acres. This afternoon, choose from Orvis endorsed wingshooting, whitetail deer and wild turkey hunting, ATV tours, flyfishing, horseback riding, 18 holes of championship golf, and more.
Ladies especially enjoy the tranquil Primland Spa. Rooted in Native American healing as well as European spa rituals, you'll leave feeling relaxed and renewed.
After you wind down, settle in for an amazing, upscale farm-to-table dinner at Elements. For a nightcap, you'll find 19th Pub available until 11 p.m.
Day 2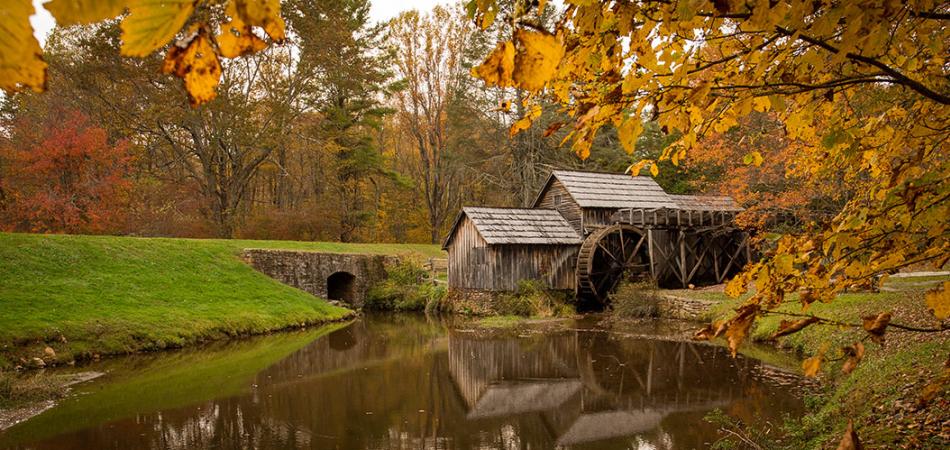 Explore your surroundings today. Mabry Mill is four miles away and is known as the most photographed site on the Blue Ridge Parkway. If you head out early enough, you'll find their buckwheat pancakes to be a most enjoyable breakfast.
Need to do a little shopping? Visit Greenberry House for a selection of handspun yarns, vintage books, bottles, and silver, and more. Works by the artisans of Southwest Virginia can be found at Mountain Meadows Farm and Craft Market. Expect to find stained glass, pottery, gourd art, quilts, handbags, and ornaments, for starters.
Grab lunch  at the Crooked Road Cafe.  It's a relaxed atmosphere to make you feel right at home.
Wine lovers will want to head north on the Blue Ridge Parkway for the afternoon. Chateau Morrisette Winery is your destination and you can easily spend the rest of the day there. Tour and taste their award-winning wines and stay to enjoy dinner in the restaurant onsite, if you like.
Don't dilly-dally too much, as you have a date at the Primland Observatory for a tour of the universe. Removed from light pollution, this state-of-the-art observatory will show off the wonders of the sky.
Day 3

If you haven't had enough breathtaking moments, be sure to stop at Lover's Leap after you check out of the resort. It's a beautiful photo opportunity!
Sports buffs (or at least motorsports buffs) will want to swing by the Wood Brothers Racing Museum just five miles southeast of the resort in Stuart. Gifts for you and the little ones can be secured at Mattie B's, and then you're on your way!
Visit a Virginia winery with your friends and family to discover exceptional, award-winning wines…
The Old Dominion has some of the country's best classic designs and modern layouts. It has one…