Getaway to Buggs Island/Kerr Lake
Enjoy every watersport imaginable at Buggs Island/ Kerr Lake - Virginia's largest lake and the location of the world record blue Catfish catch! It also is home to John H. Kerr Dam.
Things to Do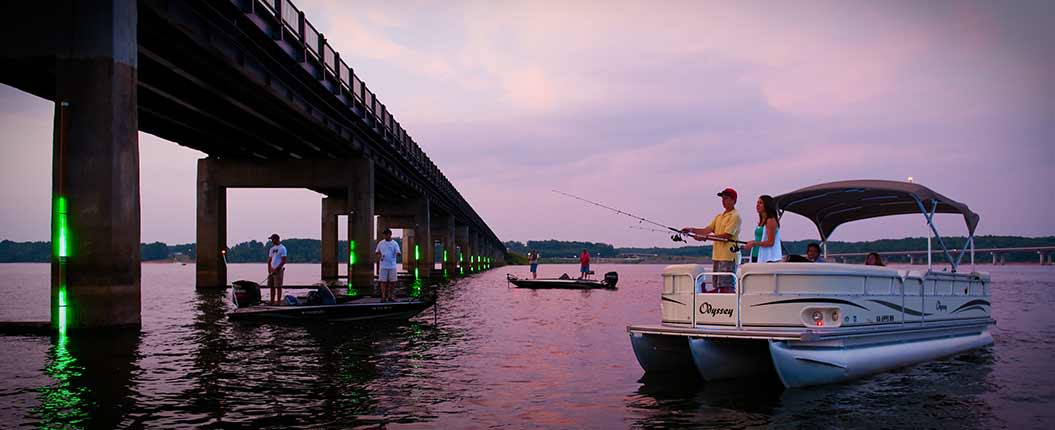 Plantations, Native-American heritage, beautiful gardens and museums surround Buggs Island/Kerr Lake, so if you get bored with camp life, enjoy these suggested side trips in Mecklenburg County.
Occoneechee State Park also is located on Buggs Island/Kerr Lake. The visitor center there has a replica Native American lodge and museum, which contains authentic artifacts found near the lake.
Prestwould Plantation was built in the early 1790s and is a National Historic Landmark known for being the most documented late 18th-century Africian-American site in America.
MacCallum More Museum and Gardens features organically maintained botanical gardens, an arboretum and wildlife sanctuary. Meander along paths lined with boxwoods, dogwoods, statues, fountains and other eclectic works of art.
Visit the South Hill Model Train Museum and the Virginia S. Evans Doll Museum in the South Hill Depot/South Hill Chamber of Commerce. There's a wildlife exhibit in there, too!
Where to Stay and Dine
Take your pick of five campgrounds on the Virginia side in Mecklenburg County, and enjoy hiking, horseback riding and fishing. Locals say it offers the "best bass fishing in the state."
OTHER PLACES TO STAY:
WHERE TO DINE:
Spend the day (or week!) at the lake. Fishing, camping, picnic areas, boat launches…
Explore your favorite subjects from art, science, and history to technological innovations and space…