Getaway to Mathews and the Chesapeake Bay
Do Mathews and celebrate life on the Chesapeake Bay!
Day 1: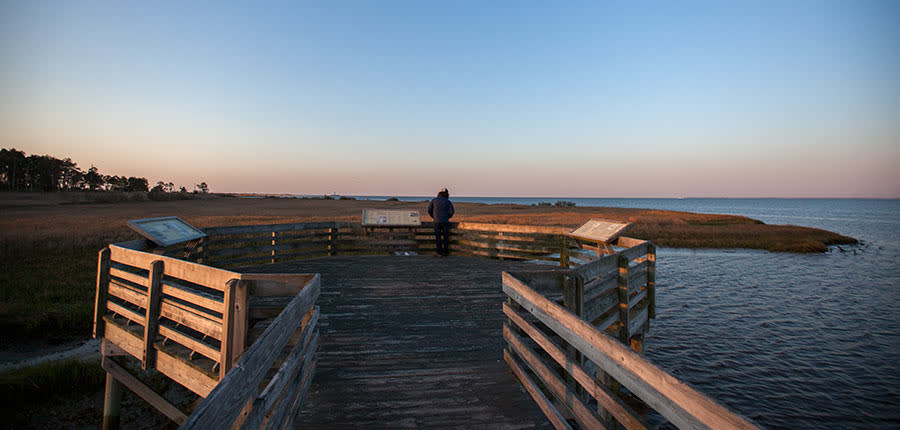 Time your arrival in Mathews on Friday afternoon to join a free guided tour of the historic village led by a Historical Society docent. Tour times are 5:15 and 6pm.  For those true history buffs with a flare for unique preservation, you will start at the Sibley's General Store and the old James Store on Main Street.   Be prepared to have a heavenly state of mind as you stroll the village and see a pictorial retrospective of life in a small rural town on the Chesapeake Bay.  Local consignment shops offering natural treasure as well as bargains will be open late and armed with refreshing treats for guests.  After just enough exercise prepare for a delicious dinner at one of the restaurants which have a flare for the past.
Wake up in one of the many scenic cottages or B&B's along the Bay to the sights and sounds of nature, like The Inn at Tabbs Creek. Be sure you bring those binoculars so you can catch an up close and personal view of the wildlife because we are the special birding capital!
For birding, be sure to visit Horn Harbor - a site on the Virginia Birding & Wildlife Trail that is often home to loons, grebes and northern gannet in the cooler months. And as you drive back into the village you can take a short side trip to Williams Wharf to the scenic East River and browse the B Williams General Store which has been converted into a steamboat museum. By now it's time for some serious seafood eatin'!  Check out The White Dog Bistro, winner of the 2016 Virginia is for Lovers Culinary Challenge in the Fresh Catch category. If you are a bluegrass fan, try Southwind for the free music "Mixed Grill".
Bed and breakfasts across Virginia offer unforgettable getaways for couples and families looking for…
Virginia's Chesapeake Bay region features George Washington's birthplace, the estate of…